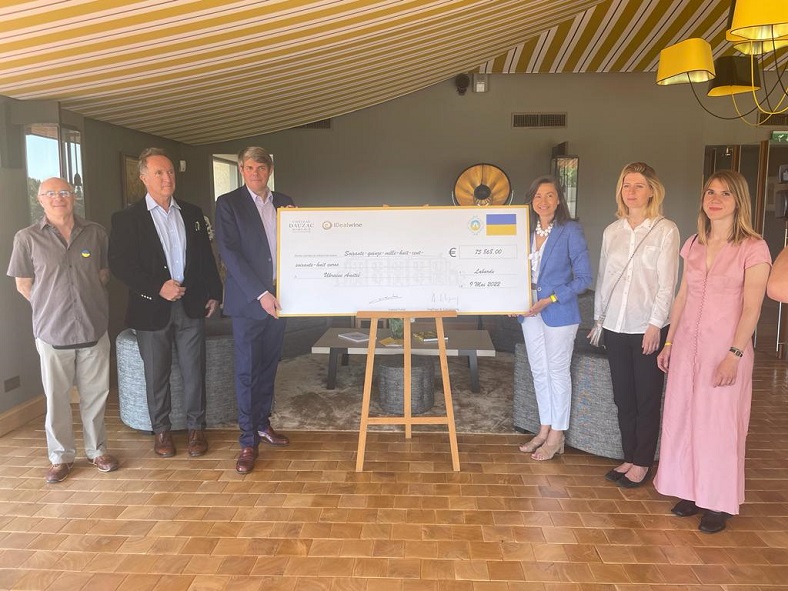 Do you remember the auction we hosted to raise money for the Ukraine Amitié association? Thanks to your generosity, we've handed over the final cheque in Bordeaux, and the money will be used to help civilians suffering greatly due to war in the country.
Over €75,000 raised for humanitarian association
This Monday (9th May), Angélique de Lencquesaing made her way to Bordeaux where she would hand over a cheque to the Ukraine Amitié association at Château Dauzac. It was the estates General Director, Laurent Fortin, who initially reached out for our solidarity, and this due to his role as Honorary Consul of Ukraine for Nouvelle-Aquitaine. At iDealwine, we organised a charity auction from the 1st to the 15th of April with the help of generous wine professionals, vintners, and collectors. In all, donations amounted to 300 lots, equivalent to 1,300 bottles when scaled to the classic 750ml size. By the end of the auction, the hammer came down on a total of €75,868 raised for the association, all of which will be used to aid the civilian population of Ukraine.
Which lots came out on top?
Among the large formats, Bordeaux bottles, and mature vintages, some were particularly coveted, leading to some fierce bidding wars in the auction's closing hours. Unsurprisingly, Bordeaux stood out, this being the region at the centre of the project. Some of the high performers included a six-bottle lot of 2005 Château d'Yquem (€2,619, €437/bottle, +42%), an imperial of 2010 Lynch-Bages (€2,424), and the superb 2009 from Château Smith Haut-Lafitte, in magnum format, which sold for €932. Burgundy was nicely represented by a bottle of the 2003 grand cru La Tâche from Domaine de la Romanée-Conti, generously donated by an iDealwine clients, which went under the hammer for €4,962 (+20%). There was also a six-bottle lot of Guigal's Côte-Rôtie La Landonne in its 2005 vintage that put the Rhône in the spotlight. Other notable results came from Domaine de Terrebrune with its 2010 Bandol (€1,063) and Belargus' 2020 Anjou Noir in double-magnum format (€668), both of these being partner domains to iDealwine. The Champagne region also got a look in, with a magnum of 2007 Brut Nicolas François Billecart from Maison Billecart-Salmon going for €548.
An original donation came from Jane Anson, who added a place on her week-long tour of Bordeaux's finest châteaux to the auction. It featured exclusive tasting sessions at such famous estates as Lafite-Rothschild, Margaux, Haut-Bailly, Lafleur-Petrus, and Troplong-Mondot. The visit went under the hammer for €6,326.
A moving moment
Meeting the members of Ukraine Amitié and some of the refugees they've been helping made the fundraising effort all the more real for Angélique. The association was initially created to promote Ukrainian culture and bring local Ukrainians together for collaborative projects. Evidently, the outbreak of war in the country has shifted the focus of their mission considerably. Made up entirely of volunteers, Ukraine Amitié is now fully dedicated to sending essential items to Ukraine's civilian population. Pleased to have been able to contribute to their efforts, Angélique was 'impressed by the reactivity of the wine community, both in donating wines to auction and in bidding generously on the lots. We're glad that our fine wine platform could be used to help support the people impacted by this conflict'.
The whole team at iDealwine would like to thank the Bordeaux estates that responded to Laurent Fortin's appeal in such a short space of time. Their keen support was key to launching the auction and encouraging further donations.
We also thank those who placed such generous bids for a good cause.