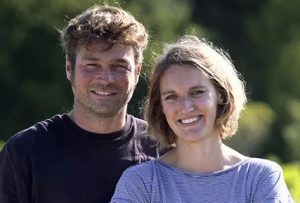 Rocher des Violettes is a young domain in the Loire Valley, which is managed by Xavier Weisskopf. Founded in 2005 through sheer determination, it now produces benchmark wines with its elegant chenins being amongst the finest and most successful in the appellation
A Young Man's Self-sacrifice
Xavier Weisskopf discovered his purpose almost by chance after completing his baccalauréat, he started a diploma of two years in Crop Protection in Auxerre. This young 18 year old man, who already had an interest in brewing beer, was living in a small apartment overlooking the vineyards of Chablis when his passion for wine took root and he decided to study for a degree in Viticulture and Oenology in Beaune. He later went to work for celebrated winemaker Louis Barruol at Château de Saint Cosme in
Gigondas, where he soon dreamed of running his own vineyards.
In need of money to do this, Xavier only spent the bare minimum for the subsequent three years, eating chestnuts morning, noon and night and never turning the heating on during the winter months and by doing this he managed to save 35,000€ by setting aside 1200€ from his monthly wage of 1500€. Using this money as a deposit and having Louis Barruol very kindly naming himself as his loan guarantor, Xavier Weisskopf was able to borrow enough money to buy a plot in Montlouis. The troglodyte cellar, without a door or windows, that Xavier Weisskopf rented in Amboise to set up his winemaking business, also doubled as his home for 2 years as he could not afford to rent an apartment. He did not pay himself a salary between 2005 and 2010 and so, fortunately, after finishing her studies, his partner Clémence joined him and worked odd jobs just to fill the fridge.
Firm and pure wines
The first 7 hectares that he took over at the start of his journey were immediately converted to organic viticulture and were certified in 2008. Over the years, Xavier and Clémence Weisskopf have continued to purchase parcels of land and now the domain is spread over a total of 17 hectares, 14 are chenin blanc and the remaining 3 are cot, cabernet franc and pinot noir. The vines are treated with a great deal of care all year round and of course, no weedkillers, fungicides or insecticides are used. Some of the plots are ploughed, whereas others use cover crops. The domain employs a low intervention winemaking technique and homoeopathic sulphur is the only input used. The grapes are pressed upon arrival to the warehouse using two horizontal pneumatic presses. Xavier prefers to hard press his wine, and although this is an uncommon practice, as many of the domains opt for soft presses to avoid extracting herby aromas, he believes that these aromas blend perfectly with the maturing process and help to balance his wines, not to mention the antioxidants that come from them. The wine is cold settled and then left to spontaneously ferment, however, the white wines almost never go through malolactic fermentation. The cuvées are all gently filtered and the total sulphur level is around 50mg/L.
What the experts say
Bettane+Desseauve ***:
Xavier Weisskopf manages 9 hectares in Montlouis and 4 in the Touraine appellation, which are organically farmed. His lands are planted through massal selection from older vines, which produce high-quality cuvées. The purity of the white wines is impressive particularly in an appellation which does not lack in talent. He is an elite winemaker, one of the most skilled in the sector.
RVF * :
The old vineyard, which is farmed without using any chemical fertilisers or products, is scattered throughout the town of Saint-Martin-le-Beau, extending for 13 hectares, with 9 hectares in
Montlouis and 4 in the Touraine appellation. The grapes are harvested by hand, then transported in small crates to preserve integrity and to limit oxidation. There are very few other wines in the region that offer the same purity, integrity and finesse as the white wines from Xavier Weisskopf.
The wines:
Le Grand Clos 2019 et 2020 :
This Montlouis is produced from the domain's oldest Chenin vines which are planted on a parcel on the hills above Saint-Martin le Beau, on the edge of the Forest of Amboise. This cuvée is vinified in barrels and then aged in 500L oak casks (30% new) for 11 months. This very nice cuvée stands out for its very pure fruit aromas (citrus, white fruits), its taut quality, balance, richness, and clean structure and it will age with style.
Touche Mitaine 2019 :
The four hectares of Chenin from which this cuvée is produced lie in the Saint Martin Le Beau municipality. Harvests are carried out by hand, with several passages through the vineyards. Three-quarters of the fermentations are carried out in casks of 5-10 wines and the other quarter in stainless steel vats. The wines are then matured for seven months. Le Touche Mitaine is a tender, dry wine with great aromatic finesse of white and yellow fruits. On the palate, the wine has a lovely minerality imparted by the clay and flint soils. Enjoy this wine young if you're looking for freshness; after a few years it will reveal its full complexity.
Vin de France Chenin orange 2020 :
If you're wanting to be surprised, we highly recommend you try the orange wine from Domaine le Rocher des Violettes. To craft it, this talented producer grows his Chenin grapes organically before macerating the destemmed bunches for three weeks in wooden vats. No sulphur is added during the vinification process.
We recommend opening this bottle at least two hours before serving. It has a delightful, golden appearance with flecks of orange, as well as a generous aroma of white fruits (apples, pears),
flowers, quince, and marmalade. Enjoy it within its first 8 years alongside a hearty dish like crustacean, buttery mashed potato, or goats' cheese.
IGP Val de Loire Pinot-Noir 2019
The grapes are fully destemmed to produce this cuvée. The wine is matured for a year in Allier oak barrels already used for 4 to 5 wines. A delicate and elegant wine with aromas of crunchy red fruit from Xavier Weisskopf. On the palate, the wine is elegant, delicate and smooth. It is recommended to decant this wine prior to serving and can be enjoyed straightaway or left in the cellar for up to 5 years.
Touraine Cabernet franc 2017
To craft this single-varietal Cabernet franc, the domain Rocher des Violettes from the Loire Valley grows 6,500 vines per hectare. At around thirty years old, these plants are grown organically and are pruned using the Guyot method. They enjoy a continental climate with influence from the ocean, and benefit from a clay and limestone rich soil. The yields are limited to 30 hectolitres per hectare.
In the cellar, the grapes are destemmed and vinified in cone-shaped, wooden containers. The wine is stirred during the three-week vatting phase. It is then matured in oak casks for a year.
Made to be aged for around 8 years, this is an indulgent and concentrated wine structured by ripe tannins. It has a frank and well-balanced finish. It will pair nicely with roasted poultry, sweet
potato gratin, or an autumnal salad of pecan nuts, roasted butternut squash and red onions.
Touraine Côt 2019
This wine is known in the Loire Valley as a Cot but is actually produced from the Malbec variety. The vines, which vary in age from 5 to 129 years old, are spread throughout many parcels in
Chesnay, Bel'Air, La Rochère, Grand Poirier and Les Borderies and thrive on the clay-limestone rich soil. The grapes are harvested by hand with two-thirds of the harvest being fermented in whole bunches and the rest being destemmed before macerating for 3 weeks. The grapes from each of the plots are pressed and vinified separately using indigenous yeast and are then aged for a year in tanks and 500-litre barrels in the domain's troglodyte cellars, which are carved out of the local tufa stone. The year-round temperature of the cellar is between 13 and 14 degrees, which provides an optimal condition for ageing wines.
The Cot is a Malbec in its original form, with its dark colour and aromas of plums, spices and hints of herbs. It coats the palette with structured tannins and is juicy and fresh with an aromatic
and charming taste. Best enjoyed after a few years in the cellar.