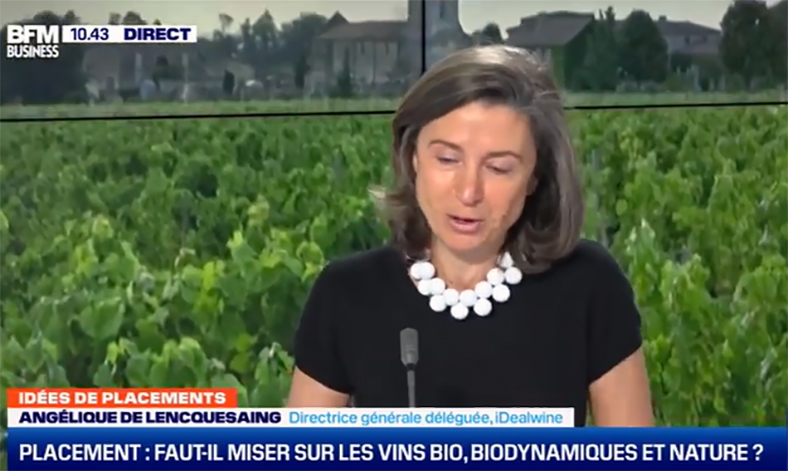 Angélique de Lencquesaing answered questions from Cédric Decoeur on BFM Business. A chance to give an overview of 2020 with a focus on the rise of natural wine.
The start of the year is the moment to take stock, especially after a year as strange as 2020. Let's have a look at what has happened in the auction world and what we can learn in terms of wine investment.
Let's say that this year had three main phases linked to the global health crisis and the restrictive measures that have impacted the economy. The growth seen at the start of the year was cut short by what we now know as the first of several lockdowns. It was impossible to travel, much harder to evaluate cellars, and complicated to send bottles in the ways we're used to; all of this weighed on our sales. In the second half of the year, clients really showed up, both in terms of purchasing and selling their collections, clearly seeing the advantages of a digital and global sales platform. Our auctions were dynamic right up to the final days of the year, so 2020 closed on good figures, both for volume and value sold. This is a performance we especially appreciate in the context!
What are the main trends you've seen emerge?
In terms of the most expensive bottles sold in 2020, the top three is made up once again of Burgundy names, with Domaines Leroy, d'Auvenay, and Romanée-Conti. The latter remains on top in terms of the most expensive lots sold, with their famous assorted cases: one of these cases was sold for over €53,000 in the 1990 vintage. The finest Burgundy names are still must-haves in any enthusiasts' cellar.
Spirits also occupy a place of choice in our rankings, with the most expensive individual bottle at iDealwine in 2020 being a cognac; a Rémy Martin Louis XIII, sold for €16,578.
Spirits are gaining popularity at auction, we're seeing this around the world, right?
Yes, the worlds of spirits and wine are distinct but not so far apart! Fans of spirits and wine share a great affinity, as we've seen in launching our new auction platform FineSpiritsAuction in partnership with La Maison du Whisky. Our first auction on this site took place in November, and our top sale was a 1984 bottle of Japanese whisky from the Yamazaki distillery; this went under the hammer for €12,744, the winning bid placed by an iDealwine client.
So is this something to consider as an investment?
Yes, especially as the bottles are easier to conserve. They can be kept standing up, unlike wine which should be lying down. However, this is still a whole universe that needs to be studied before you commit – there's plenty to learn!
How are the figures shared between regions? Is it too early to say?
The share of regions at auction is important when determining what a good collectors' cellar might look like, especially in terms of evolving with the times. The phenomenon we observed at the start of the first semester was confirmed at the end of the year, with a very clear drop for Bordeaux proportionally. Bordeaux's sales share has dropped from 40% to 33% in value. In volume, this figure has changed from 43% to 35%.
Bordeaux's share has thus diminished to the advantage of other regions, including traditional ones like Burgundy, the Rhône, the Loire, and Champagne, as well as some fine, non-French regions. These represent 4% of sales, 60% of which are fine, Italian wines.
You mentioned something about a cellar evolving with the times – are there 'trends' in the world of wine?
Well indeed, this question of trends and style is a big one at the moment. We've been following this for several years now from the perspective of what sells at auction. We shouldn't forget that what happens at auction often gives us a good idea of upcoming trends. What we're following especially closely at the moment is the evolution of viticultural methods, something that more and more wine enthusiasts are looking into. Our analysis aims to determine what the profile of tomorrow's wine lover might look like, what their tastes will be, and what they seek in their purchases.
Are you talking about organic wine?
Yes, of course, and more widely about eco-friendly viticulture and future generations of producers. Before organics, we can think about responsible agriculture. Lots of domains are evolving and gradually converting their methods. Some are opting for more ecologically-minded production without necessarily seeking certification. Others are going further, converting to organics and even biodynamics.
What percentage of your overall sales fall into these categories?
This is what's striking. In 2019, the surface area of France's vineyards cultivated organically was around 12%, a percentage that has been increasing in recent years. Consumption of this kind of wine still represents a minimal share of the market, lower than 4%. So what's happening at auction is really surprising.
This is because organic, biodynamic, and natural wines represent not 4% but 25% of the total wines sold last year! And if we add "eco-friendly" wines from non-certified organic domains, this proportion is up to 47%. More than just a trend, what we're seeing is a real groundswell. Especially when we consider the number of estates that are working with responsible agriculture, as Is the case with numerous Bordeaux properties. It shows a real concern for the environment.
And how about natural wine? Looking at social media, we get the impression that this is the only thing wine lovers of tomorrow are drinking.
Indeed, the phenomenon of natural and organic wine has been at the forefront of our analysis for several years. There are wine bars in certain Parisian neighbourhoods where the list is made up entirely of organic cuvées. Is this a sign that natural wine will be the only kind sold before long? It seems that we've passed, in twenty years, from the hold of Robert Parker over the wine industry to the all-consuming influence of social media. We should watch out for how this can skew our perspective. Also, it can be difficult to be precise about the 'natural' category, as there are several kinds of methods and labels floating around. At iDealwine, we have our eyes on one movement, which is the Triple A label. This kind of wine, which is characterised by a desire to minimise exterior influences on the cuvée, particularly sulphur, represented almost 4% of the bottles sold at iDealwine in 2020. This is a considerable proportion when we consider how French consumption of organic wines (including all organic, biodynamic, AND natural cuvées) was 4% in all!
If natural wines are more fragile and don't travel so well, are they attractive to a global clientele?
In this domain, it's even more important to choose carefully, as natural cuvées can be less stable, sensitive to temperature changes and movement in transport; all of this can reduce a wine's ageing capacity. But there are some big names that have begun to stand out in recent years.
Do we find these kinds of wine in all regions?
Certain terroirs are more suited to natural production experiments. The Beaujolais is a pioneering region in the matter, with the Loire and the Jura also serving as petri dishes for natural stars. As time goes on, we're noticing more and more natural producers popping up across regions.
Are the prices really soaring?
You might be surprised by the evolution of these fine natural wines.
At the top, we have Burgundy! Domaine Bizot in particular. A jeroboam (equivalent to 4 bottles) of 2009 Echezeaux was sold for €7,368.
Another name making the headlines is Domaine Overnoy in the Jura. Here, a famous vin jaune is produced, which last year reached €1,658 in its 1983 vintage.
There are also some domains you might not even have heard of, such as Les Jardins Esméraldins in the Loire. The Genèse cuvée from 2000 sold for €1,363.
In the Beaujolais region, it's still Yvon Métras' Ultime cuvée that takes centre stage. In its 1999 magnum format, it sells for around €860.
We also find natural wines in Bordeaux (Château Le Puy is a pioneer of this), as well as abroad. This is a global phenomenon, with enthusiasts from around the world seeking these bottles. This won't be the last you hear of natural wines. It's more than just a passing trend for producers to put the environment at the heart of their work.
See our selection of natural wines
Request an estimate for your wines
Find out more about reselling your cellar