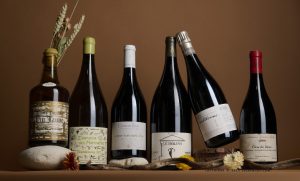 Have you heard of the book Raisin – 100 grands vins d'émotion? It's basically the French Bible for great natural wines and it was used as a guide when building the collection that we have in our auction today. When taking a closer look at the bottles, you'll realise that this is the perfect selection of wines to convince those who are sceptical of natural wines that they are also spectacular, precise wines without any defaults.
The private collection, which is being sold at auction as we speak (or rather, as we type), is comprised of around 1240 lots of 1490 bottles with a significant number of them being large formats. This diverse collection doesn't exclude any French regions and is formed of wines that are, for the most part, difficult to find, especially when considering the age of the vintages.
Getting to know great natural wines
After having spent many years exploring much more conventional and classic wines (some of which you can also find in this auction, such as wines from Château Rayas and Clos Rougeard), the collector moved on to natural wines.
When he picked up the book Raisin – 100 grands vins d'émotion on its release, he realised that his tastes and cellar corresponded with the wines mentioned in the book. It made him want to discover other rare, excellent natural wines that he didn't already know. "I am interested in wines that are, in my eyes, the best in that moment of time," the collector explains. "Rare or artisan wines or those that are produced in small quantities also grab my attention."
All the wines in this auction have something in common; they are perfectly suited to ageing. The wines can be enjoyed when young, but they are generally better after being left in the cellar to age. On that note, many of the wines in this auction have reached the point where they are now at their best.
Wine kept in ideal conditions
The bottles have been looked after with great care. The wines were stored in a professional cellar (stabilised temperature near 11°C year-round, humidity above 90%) and have only been moved now to be put up for auction.
The biggest signatures found in this collection
Now let's get to the real reason you're reading this article: the wines! Below, you'll find some of the most beautiful wines in this auction along with the most well-known and sought-after bottles in today's natural wine market:
From Burgundy
Vosne-Romanée 2016 Domaine Bizot
Bourgogne le Chapitre 2016 Bizot
Grand cru Chambertin Clos de Bèze 1998 Domaine Prieuré Roch
Nuits-Saint-Georges 1er Cru Clos des Corvées 1999 Domaine Prieuré Roch
Corton rouge 2016 Maison en Belles Lies
Nuits-Saint-Georges 1er cru Les Argillières Domaine de Chassorney Frédéric Cossard
From Champagne
Brut Grand Cru Blanc de Blancs 2002 and 2005 Selosse
Blanc de noirs Les Ursules 2008 et 2009 Domaine Roses de Jeanne
Côteaux Champenois Blanc 2014 Domaine Aurélien Lurquin
Côteaux Champenois MPQR 2019 Domaine Romain Hénin
From Jura
Chardonnay 2015 Domaine des Murmures
Trousseau 2016 Domaine des Murmures
Poulsard 2016 Domaine des Murmures
Vin jaune 1999 Domaine Overnoy
Sonorité du Vent 2016 Domaine des Miroirs
Arbois-Pupillin Ploussard En Aspis 2018 Domaine Bruyère-Houillon
Grandes Teppes VV 2008 Ganevat
Trousseau Clos Bareth 2020 Thomas Poppy
Vin jaune 2010 Domaine Labet
From Rhône
VDF Le Dolium 2014 Domaine Bénetière
Côte-Rôtie Cordeloux 2009 and 2015 Domaine Bénetière
Cornas Reynard 2015 Domaine Allemand
Vin de France 2014 Domaine La Grande Colline
From Bordeaux
Saint-Julien 2010 Domaine du Jaugaret
From the Loire
VDF Les Nourrissons 2016 et 2018 Domaine Bernaudeau
Pouilly-Fuissé Clos Reyssié 2008 Domaine Valette
Les Noëls de Montbenault 2016 et 2017 Domaine Richard Leroy
Chinon 1990 Domaine des Roches
From the other regions
Fleurie Ultime 2018 Domaine Yvon Métras (Beaujolais)
Vieilles Vignes 2009 Domaine de l'Arbre Blanc (Auvergne)
Les épines à quoi servent-elles 2020 Aurélien Lefort (Auvergne)
Vin de France 2017 Domaine Pedres Blanques (Roussillon)
Gérard Schueller (Alsace)
Take a look at the catalogues associated with this sale. You just might find the perfect wine for the events you have coming up towards the end of the year.
Next week, we'll be having a look at the up-and-coming winemakers among the natural wine producers included in this auction. Be ready to discover the wine from the stars of tomorrow.
Happy bidding everyone!
Go to the sales catalogue
30/11/2022 – 10H00 : CP – Vins Etrangers 1996-2020
30/11/2022 – 10H30 : CP – Vins from France 1997-2020
30/11/2022 – 11H00 : CP – Beaujolais 2003-2017
30/11/2022 – 11H30 : CP – Alsace 2005-2020
30/11/2022 – 12H00 : CP – Loire 1997-2019 – White
30/11/2022 – 12H30 : CP – Loire 1990-2020 – Red
30/11/2022 – 13H00 : CP – Jura 1997-2020 – White
30/11/2022 – 13H30 : CP – Jura 2005-2020 – Red
30/11/2022 – 14H00 : CP – Rhône 2003-2016
30/11/2022 – 14H30 : CP – Rhône 2017-2020
30/11/2022 – 15H00 : CP – Champagne NM
30/11/2022 – 15H30 : CP – Champagne 2005-2016
30/11/2022 – 16H00 : CP – Burgundy 2002-2020 – White
30/11/2022 – 16H30 : CP – Burgundy 1998-2020 – Red