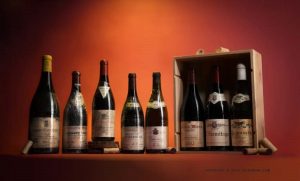 As the auction for this brilliant private collection went live, we sat down with the owner to find out about his passion for wine, the way he built his collection and what led him into the world of fine wine.
Gastronomy and wine
For this collector, wine is more than a passion; it is an integral part of his life. He discovered wine about thirty years ago through his love of fine food, which is something he has always enjoyed. Later, as he became more accomplished in the kitchen, he discovered that pairing wine and food could transform his meals, creating some brilliant results. He was particularly inspired by the food of Alain Passard along with his creativity and generosity, all of which place him among the greatest culinary geniuses of his generation. Passard's most recent creation is an haute-couture amalgamation of lamb and pigeon, which was inspired by the work of Thomas Grünfeld. Our passionate food lover is fond of Alain Passard's restaurant which he visits regularly. He is also willing to travel hundreds of miles for "a table that is worth the journey" whether it's in France, Europe or the rest of the world.
This passionate wine lover likes exceptional products. He tells the story of the time he discovered a Japanese person who grew vegetables that originally came from where he lived in Touraine. There were turnips and incredible Jerusalem artichokes that possessed the same sort of excellence he enjoys from artisan producers and top wineries. According to him, it is best to respect the purity of the product, whether that be in the kitchen or in the winery, rather than have the flavours be lost after using more technical methods.
He first discovered Bordeaux wines and very quickly became interested in the wines from Burgundy which is where he remained.  Our wine lover never tired of the brilliant nuances found in Pinot Noir which change depending on their terroir. He lists many exceptional winemakers such as Lalou Bize Leroy, an extraordinary woman, a true winemaking genius who enhances the terroir and Pinot Noir, finishing the season with her passion intact and an exceptional demand for her wines that are a reflection of their terroir. "Winemakers in Burgundy create wines that don't cover up or distort the variety, the terroir, the vine and the vintage. They choose to highlight these four elements," he says.
Magical wine tasting
His greatest wine tasting memories?
A tasting at Domaine Coche Dury with Jean François Coche Dury, a man who is admired for his great humility and, of course, the quality of his work. He remembers tasting a gorgeous La Tâche 1990 followed by a Montrachet. At first, our wine lover was surprised by this order, but he quickly understood why you would have a Montrachet after a La Tâche 1990. The Montrachet was a tremendous wine, full of complexity that would have completely overshadowed La Tâche. This will always be one of his greatest tasting memories.
"For me, wine is like a painting," confides this lover of modern art, "with the winemaker as the artist."
Our collector prefers to focus on a handful of great domains that he particularly likes to better understand them, rather than see them disappear.
He enjoys Domaine Méo-Camuzet, and you'll find several bottles from this winery in the auction.  He is sorry that some people find the domain's wines too woody. According to him, the wine is perfectly matured, but you have to remember to give the wine some time. Undeniably, it's one of the greatest domains in Vosne Romanée.
Bordeaux and the Rhône Valley are also represented by some lovely cuvées. The collector recommends the superb 1982 from Château Léoville Las Cases. He also has a soft spot for the Château Rayas, which are available in the 2006, 2008 and 2009 vintages, making them lots to follow closely.
Château Rayas has a special place in our collector's heart. He fondly remembers the first time he came across one of their wines. It was part of a blind tasting, and he went on to discover that this exceptional wine he thought was a great Burgundy was in fact a 1998 from Châteauneuf du Pape.
It is, of course, heartbreaking for this collector to part with the bottles he has become so attached to. However, he realized that he would not be able to enjoy all the bottles sitting in the depths of his cellar before they go past their best. The majority of the bottles, which are ready to drink now, come from the finest vineyards and were bought from the domains that produced them.
Most wines kept in ideal conditions
About 98% of the bottles in this auction came directly from their domains. They have been kept in chalk tunnels on the edge of Paris at the optimal temperature and humidity (which is why a lot of the labels are damaged) ever since they were bought. What is more, these bottles remained there in those ideal conditions until they were put up for sale today.
Happy bidding everyone!