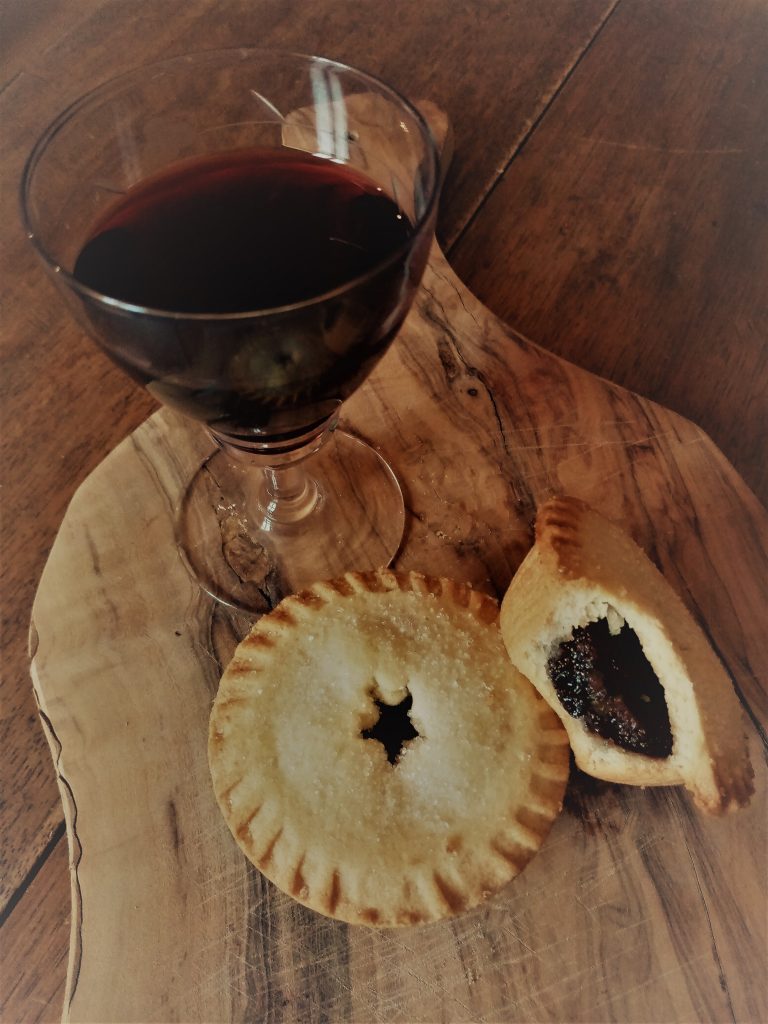 There are few things that ring in the Christmas period better than the first mince pie of the year! A staple in December across the United Kingdom, Ireland, Australia, New Zealand, and New England in the United States; mince pies have been around for hundreds of years, dating to at least the 13th century in England.
Mince pies most ardent supporters (this author!) keep an eye out from mid-November, when the delicious mini pies start to arrive in bakeries and supermarkets, while the purists save themselves for homemade variety in December.
Like so many traditional dishes, this dish is inextricably linked to the time of year it is eaten. Just as the French don't eat Galettes des Rois in March, Pannetone is nowhere to be seen in Italy in June, and the Germans would not look at a Stollen in September – mince pies mean just one thing, Christmas has well and truly arrived!
For the uninitiated, what is a mince pie? A whole world of sweet buttery goodness, it is a small pastry pie filled with mincemeat. Despite the name, most mince pies do not contain meat (as they did centuries ago), and although most are vegetarian or adaptable to plat-based diets, some pies do contain suet, which is animal fat used in cooking.
Mince pies are filled with finely chopped fruit that has been mixed in seasonal spices and soaked in whisky (or other spirits). Mostly dried fruit is used: raisins, sultanas, currants, dried figs, and mixed peel. Lemon and ginger add a nice kick, pecans and almonds give a little crunch, apple and sugar add something sweet, and cinnamon cloves and nutmeg add some spice. Once soaked in alcohol, the preserved fruit mixture can be bottled in October or November, ready to go into pastry and the oven in December, on demand. Mince pies are best served warm but not hot, dusted with icing sugar and with a dollop of cream, homemade brandy butter, or a drizzle of custard on the side.
So, what do drink with it? Sherry is the traditional tipple-of-choice for mince pie lovers in Britain. But rules are made to be broken, and at iDealwine, we have listed five tried and tested alternatives. They are just as good, but a little more unusual than choosing sherry – promise.
Straight to the south of France but stopping just before the Spanish border, our favourite mince pie and wine pairings are with the naturally sweet wines Vin Doux Naturels (VDN) from the Roussillon region. Made using the mutage method, the wines are comparable to Port, but much lower in alcohol.
Maury organic Maury 1969, Mas Amiel
A warm, full-bodied wine with exceptional freshness. An iconic wine produced by a domain which has significantly contributed to the renaissance of this outstanding appellation.
Lots of other Maury options here.
Banyuls – 2017 Quintessance from Domaine Coume del Mas
This exceptional Banyuls is only produced in certain vintages. The bouquet reveals aromas of prunes and stewed fruit. To taste, it is incredibly smooth and mellow. The wine's sweetness does not overpower its fresh finish, which is why it is the perfect partner to a mince pie.
Browse our other Banyuls here
Rivesaltes – 1971 Rivesaltes, Domaine Casenobe
This is such a special wine (read all about Rivesaltes in this blog post). Known for its finesse, this wine is overflowing in wonderful aromas and delightfully complex flavours. One of the "safe bets" ​​of the appellation, Casenobe makes wines mostly from Grenache Noir. Truly unique, Rivesaltes can be cellared for decades, even a century – although we'll happily sip at it now with a stack of mince pies.
Find your birthday vintage or gifting option for Rivesaltes here
Gewürztraminer – vendanges tardives
Late harvest (vendanges tardives) of Gewürztraminer varietals in Alsace or Germany are a mince pie match made in heaven. So many German and central European winter desserts are spiced with cinnamon, cloves, and candied fruit; that mince pies are no real stretch.
From Domaine Ostertag, this Gewürztraminer Les Jardins Selections des Grains Nobles 2017
From Domaine Hugel, a two-bottle set of 1985 Gewürztraminer Vendanges Tardives
From Domaine Trimbach, a 1983 Reserve Personnelle Gewürztraminer Vendanges Tardives
You are spoiled for choice in Alsace! You could also opt for bottles from Deiss, Boxler, Zind-Humbrecht and Bott-Geyl. 
Champagne – of the 'winey' variety
Often the answer to many of our questions (existential or otherwise), yet it may come as a surprise that Champagne works well with mince pies. In this case, we are recommending a more vinous or 'winey' Champagne. A Blanc de Noirs for example, or a saignée method Rosé Champagne would work well with the nutty sweetness of the pies.
Rosé de Saignée from Olivier Horiot,
Blanc de Noirs from Champagne Philipponnat,
Blanc de Noirs 1er Cru from Champagne Gonet-Medeville
Searching for a Champagne that's a bit off the beaten track? Don't take our word for it, wine blogger Word on the Grapevine has selected five Champagnes that are perfect for Christmas, that you probably haven't tasted before. Let us know if you enjoy them with mince pies or pair with other festive treats!