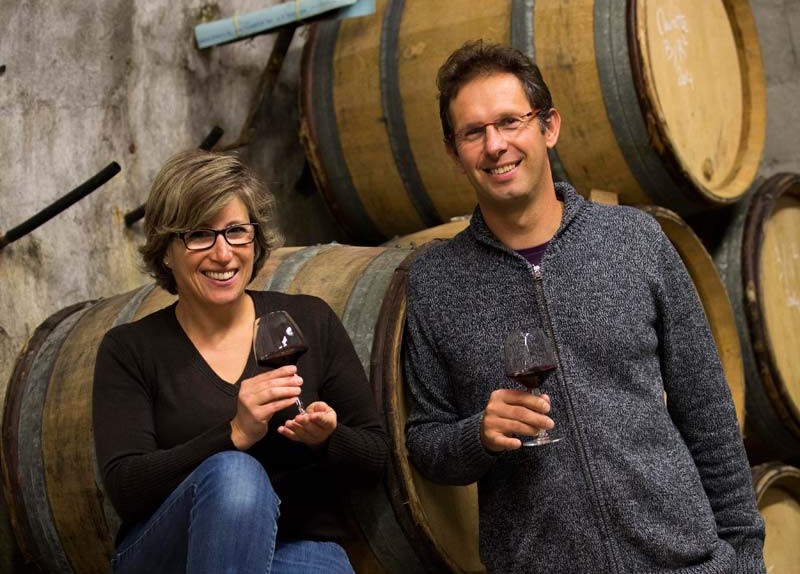 Domaine des Accoles, in the Ardèche region, is the fruit of a family venture that began over a decade ago. This young estate has already found time to convert to organic and biodynamic production, winning over wine lovers with its distinctly modern style.
The magnificent Domaine des Accoles is located in the Ardèche, more precisely in Saint-Marcel some kilometres from the Rhône and the region's stunning gorges. With this sumptuous background in mind, the domain came into being in 2011, and we've been very proud to count it among our partner domains for five years now!
Florence and Olivier Leriche studied together in Bordeaux, then in Dijon, mastering disciplines that would turn out to complement each other especially well in the world of wine; Olivier was a student in agricultural and viticultural engineering, and Florence got her degree in plant protection. In 1998 they took over the management of Domaine de l'Arlot, a biodynamic estate in the Nuits-Saint-Georges area of Burgundy. Seven years later, they set themselves the task of renovating a house near Privas, and it was here that began their mutual love affair with the terroirs of the Ardèche. When they saw, in 2010, that some vines were up for sale in Saint-Marcel d'Ardèche, they knew what they had to do, and Domaine des Accoles was born, a wine domain covering a little over 21 hectares of land.
Whilst their venture is relatively recent, the vines are anything but; planted over fifty years ago on clay-chalk terraces, 12 different grape varietals are cultivated. Indeed, 'accoles' is an Occitan word for terrace. No pesticides or synthetic additives are used in the vineyard, and grass is encouraged to grow there. Organic agriculture was the couple' first port of call, so the domain has always been run with this philosophy in both mind and practice. Biodynamics came a bit later, in 2015; this was the year when they received their official certificate. The winery is located in a former mill, and this is where the magic happens. After the harvest, a certain number of whole bunches are kept to be vinified with the rest of the grapes, a process carried out using only native yeasts and a gentle pressing that could be described as a kind of 'infusion' method. Minimal sulphur is used, then the wine is matured in a way that prioritises the fruit's freshness.
Nine cuvées are crafted at this lovely domain, and we have some of our favourites at iDealwine. Not heavy in character, they all share a fresh profile with a fruitiness that takes nothing from the wine's elegance. We really enjoyed tasting these cuvées, which is why we're so pleased to recommend them to you.