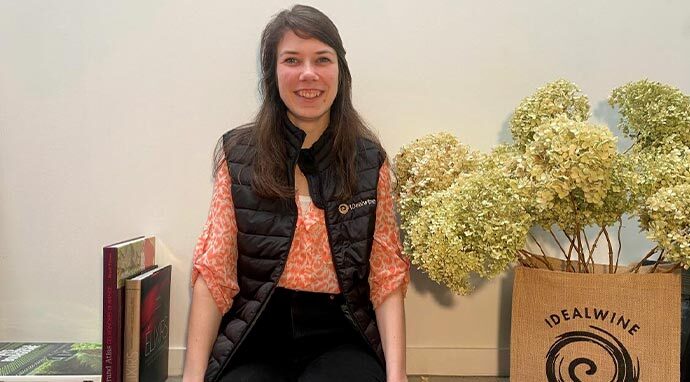 This week, we are introducing you to Jessica, our talented translator from Wales. After working as a freelance translator for iDealwine for 18 months, she became a permanent member of the team in November 2022. Here, she tells us a bit about herself and how she ended up translating for the world of wine.
Hello Jessica, can you tell us a little about yourself?
Hi, I'm Jessica, the translator for English texts at iDealwine. Originally from the Brecon Beacons in Wales, I moved to France over two and half years ago now to explore the professional world here and continue improve my French. While I love my life in France, there are times when I'd love nothing more than to walk along the Brecon and Monmouth Canal or go hiking on the mountains I grew up with like Pen y Fan or Table Mountain in Crickhowell.
What journey did you take to be the translator here?
I studied translation and interpreting at Swansea University in Wales, which included a year abroad. I spent that year studying in Germany and Belgium and exploring as much of Continental Europe as I could. I loved my years in Swansea, living right beside the sea and exploring the beaches on the Gower Peninsular.
Once I had obtained my degree, I moved to Germany where I worked as a translator and project manager for a translation agency there. After a few years in the German-speaking world, it was time for a change. New country, new language, and, well, a new exciting adventure. I was working as a freelance translator when I first discovered iDealwine and after working closely with the team, you can now find me among them.
And why iDealwine?
The world of wine, the tasks and the team are all massive pluses for me. When I saw that they were recruiting, I jumped at the chance to join them and here I am.
My interest in wine started when I realised that there was a whole universe hidden behind Bacchus' nectar, with wine and food pairings being of particular interest to me and I try to find new ideas when I can. In order to consolidate my knowledge, I sat the Wine and Spirits Education Trust Level 2 in Wines in 2021 and passed. The aim is to obtain my level 3 next year.
What is your role in the company?
I am the dedicated French to English translator at iDealwine. What exactly does that entail? Well, I translate emails, blog posts, product descriptions and website pages. Not to mention, supporting the team when they have a question about English or need a small text translated to help iDealwine shine around the world.
What's a wine that has left a lasting impression on you?
A few months ago, I represented iDealwine at Matter of Taste in Zurich. While there, I had the chance to try lots of different excellent wines, one of which was Châteauneuf-du-Pape Croix de Bois from Chapoutier. I am still thinking about it now! The wine was brimming with strawberries supported by touches of pepper, while the tannins were silky and the wonderful length left spiced pepper on the palate.
What is your favourite wine region?
For me, it has to be Bordeaux, a classic I know. I love the deep, powerful red wines which bring together red fruit aromas, blackcurrant, blackberries and woody and spiced notes. When it comes to white wines, I would choose a Gewürztraminer from Alsace every time. And for apéro, it has to be a Provençal rosé or a sparkling wine for me.
Can you tell us a vineyard you've visited?
Last summer, a friend and I had a day out in Saint-Emilion, visiting vineyards. We had a great under the Bordeaux sun, discovering the town and its wines. Among the châteaux we visited that day were Château Haute-Nauve, Château de Ferrand, and even Château Grand Corbin. It was such an amazing experience trying their spectacular wines. But the château that left the greatest lasting impression on me was Château Pavie Macquin, sat on the plateau with an impressive view looking out across the Saint-Emilion area. The property's wines are true gems.
What's a wine event you've been to?
Last year, I attended the Act for Change symposium organised by VinExposium. This two-day event was fascinating as it highlighted the issues that winemakers face today and will face in the future. There were so many brilliant topics discussed such as how to evolve production methods and solutions against the problems that the ever-changing climate causes. The wine sector is forever changing and attending these types of events is always informative, giving me nuggets of information that I can use to improve my work.
What wine do you dream of trying?
One wine springs straight to mind – that of Château d'Yquem. I particularly like sweet wines and it would be a dream come true to taste this Sauternes reference one day.
Breaking the fourth wall for a moment, I can say that it really was a strange experience translating a blog post about myself, but still a lot of fun. I really love the variety of blogs that iDealwine produces and you can even sometimes find me writing one of two posts of my own.
If any fellow Brits are reading this article, thinking that it'd be great to order some wines from iDealwine but don't want to be get hit by any fees after placing your order, never fear for iDealwine has a new delivery system in place. Taxes, duties and import fees are paid upfront when you finalise your order on the iDealwine website so there will be no nasty surprises when the postie delivers your orders.