Joseph Colin is one of four children of Marc Colin, the renowned Burgundian producer. He owns vines in Saint-Aubin, Santenay, Chassagne and Puligny. In 2005, following his brother Pierre-Yves' departure, he invested much of his time in the family domain, domain Marc Colin, working side-by-side with his younger brother and sister. It was only recently that Joseph began producing wines under his own name. Following Burgundy tradition, he inherited some of the finest parcels. In 2016, he produced 1,800 bottles symbolically, but it wasn't until 2017 that he began farming all of his seven hectares. He now produces 19 cuvées, all of which are simply incredible. Following in his father's footsteps, he has contributed to improving the image and reputation of the Saint-Aubin appellation. This appellation stands out from neighbouring appellations in the Côte de Beaune for its steep slopoes situated at different altitudes, facing different directions and slight differences in terroir.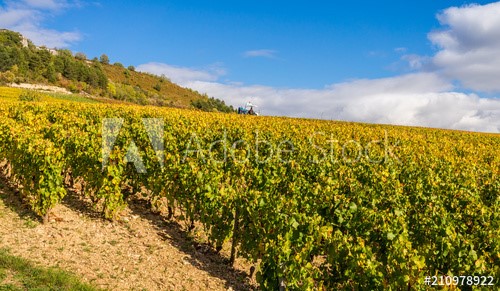 The winemaker limits the yields of his younger vines, only allowing 6 or 7 bunches to grow on each single vine, offering lovely concentration. Joseph's impressive pedigree translates into absolute mastery as a winemaker. Regarding vinifications, he believes in using as little Sulphur as possible, allowing the wine to express its purity. Each cuvée is made differently but on the whole, only a little Sulphur is added just before bottling. He produces crystalline, precise wines with lovely freshness. Truly elegant Burgundy.
Compendium means 'synthesis' in Latin, referring to the blend of 7 of the appellation's lieux-dits. This wine is accessible and should be drunk in its youth. There are aromas of white flowers (lily) and flint. On the palate, the wine is vibrant and fluid with a certain unctuosity. Perfect with fish (cod) or white meats.
Chassagne-Montrachet Joseph Colin 2017 (red)
This wine is produced from 30-50-year-old Pinot Noir. It exudes small red fruits on the nose (cherry, strawberry). The same aromas are present on the palate. The wine is supple and balanced with polished tannins and a nice finish. This wine can be drunk young and will express its full potential from 3 to 5 years of aging. It will go perfectly with a boeuf Bourgignon or a mushroom-based dish.
Puligny-Montrachet Le Trézin 2017
This Puligny-Montrachet combines the freshness and purity of the terroir. There are aromas of almond paste and hazelnut lifted by touches of green apple. The buttery, mineral aromas are also present. On the palate, the wine is nicely concentrated, taut and mineral, faithfully reflecting its limestone terroir. You will be surprised by its long, lingering finish.
Saint-Aubin 1er Cru Les Frionnes Joseph Colin 2017
Les Frionnes is a premier cru from 40-year-old vines, located at 300 metres of altitude on the steep hills of Saint-Aubin. This is one of the coolest climats in the appellation. The wine is matured in Burgundy barrels, with ¼ new oak. The wine exudes aromas of white flowers and flint. With a little of bottle aging, the palate is glycerine and silky with incredible tension.
Bâtard-Montrachet Grand Cru Joseph Colin 2017
This Bâtard-Montrachet exudes aromas of butter, dried fruits and spices. It is a wine of undeniable harmony and will perfectly pair with fine foods such as foie gras, caviar or lobster. A great wine; open after 15 years of aging.
Chevalier-Montrachet Grand Cru 2017
This climat is located in the Puligny municipality. It owes its name to the former lord of the village, who was known as the Chevalier (knight in English). This truly fine wine should be aged at least 15 years. The Chevalier-Montrachet has a complex nose with buttery notes and dried fruits and spices. The wine is unctuous, with magnificent depth and length.