Jean-Michel Comme and his Château Pontet-Canet have been hugely influential in the world of biodynamics and his wines have earned him a loyal following. Jean-Michel was kind enough to take the time to chat to us about his biodynamic journey…
iDealwine: Tell us how you went about effectuating the change to biodynamic wine production
Jean-Michel: "A lot of hard work went into the move to biodynamics, hard work that started well before Pontet-Canet could actually call itself biodynamic. At the time nowhere in our region was really doing it so we went into it quite blind. After much contemplation I arrived at the conclusion that the biodynamic approach was the only way forward. It all started 20 years ago when my wife (Corinne) discovered the works of Francis Chaboussou. He says that what you feed a plant is of paramount importance to its health. This was a revelation for us. This work brought to light the role of pesticides in plant physiology. Today, it makes sense that what you feed a plant affects its health but at the time this was an innovative thought. We finally set the wheels in motion a few years later. Everyone thought we were crazy but certain domains like Domaine Humbrecht and Domaine Leflaive were making beautiful biodynamic wines and that gave us the confidence we needed to go forward with it. The biodynamic method resonated well with us; it has a global dimension that the organic method just cannot compete with. We knew that that the organic approach wasn't enough for us, we wanted to see the bigger picture and incorporate the vineyard as a whole. The biodynamic method was the answer. For me, biodynamic farming is an altogether different kettle of fish to organic farming. It's a totally different way of thinking. You could compare it to the difference between Chinese medicine and western medicine. In western medicine, as in conventional or organic viticulture, the idea is to eradicate 'disease' which is considered the cause of the problem. Obviously, organic farmers will use 'natural weapons' but the idea is the same; destroy the enemy before the enemy destroys you. In Chinese medicine, as in biodynamic farming, the disease is understood as a cry for help. It's a response to an imbalance in the organism (or plant). It's this imbalance that is the root of the problem. To attack only the disease and not rectify the root of the problem is to manage the problem, not treat it."
© Instagram chateaupontetcanet
iDealwine: How did you learn about the biodynamic method?
Jean-Michel: "Through reading a lot and spending a long time reflecting on it. It wasn't all that easy as at the time there was a lot of quite 'off the wall' information about it and I had to sift through and find the relevant bits and piece it all together. For the first few years we were helped by François Bouchet who gave advice on biodynamics. We started in our own Château du Champ des Treilles before starting it in fourteen hectares in Château Pontet-Canet in 2004.
2007 caused us a lot of woe at Pontet-Canet. There was a big outbreak of mildew and Alfred Tesseron made the decision-which he believed to be the right decision at the time- to treat the vines with pesticides. This destroyed three years of work spent making the vineyard biodynamic and we had to start from scratch. Alfred later saw that this was a mistake but it was a bit of a necessary evil because at the time we weren't ready and we had not yet mastered biodynamics. That was a steep and painful learning curve for us but it was necessary and we have never (touch wood!) been caught off guard like that since. Of course, I'm not saying that we are immune but at least we've given ourselves the best chance. We've developed an approach that goes deeper than biodynamics, it's at the heart of our work and I think we've gained a deep knowledge of the subject. Since then, our wines have improved in quality and the domain's reputation has improved too."
iDealwine: What would you say to those that claim biodynamics is just folklore.
Jean-Michel: "I'm not a convert and I don't try to convince people who have no interest in learning about this approach. I will merely explain it if somebody asks me about it. I think one of the problems is that people are often ill-informed on the subject.
The same could be said for me at the beginning of my career. I found the principles of biodynamics too wacky yet today I regret not starting sooner! I studies sciences and engineering as well as oenology and I have always been quite pragmatic. It's very difficult to explain biodynamics to the general public. You need to explain it gradually without rushing to the complicated bits. Finally, I would say that biodynamics is above all about observing and reflecting upon the subtleties of living things. It's often just common sense and quite simple but the modern world has fallen out of touch with it. We have a very mechanical way of doing things these days. Biodynamics allows you to get back in contact with nature and be in harmony with living organisms. It is a school of teaching that would benefit from being presented more favourable and progressively to the general public. When biodynamics is explained properly you find that there is really nothing wacky, magic or esoteric about it at all. Its bad press is the result of bad explanations and misinformation. There is actually a firm logic behind biodynamics and you could even say that it's only the tip of the iceberg: there is much more beyond it. Biodynamics doesn't just come out of nowhere; it's deeply interconnected with life and our history. We must regard it as a whole. Since the beginning, humanity has tried to understand its environment. Today much of our knowledge of life has been lost but biodynamics remedies this. It's not about sorcery and folklore. Biodynamics has a similar story to homeopathy: at the moment we are unable to prove scientifically its effectiveness because it deals with small actions and interactions that are too subtle to be measured. I find it paradoxical that certain people can deny the existence of homeopathic medicine when about half of the population use it!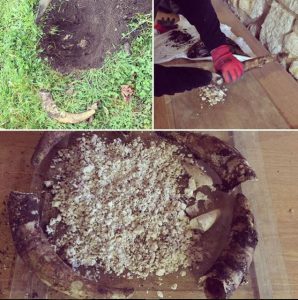 Horns filled with silica are dug up © Instagram chateaupontetcanet
To work biodynamically means to ensure that the plant is as balanced as possible and in good health. We try to make the plants more resistant by listening to and observing nature so we can gain as much information as we can. I think that we have become rather handicapped in this field. We need to learn how to listen to nature again and understand it as a living thing. Our ancestor have been doing it for centuries and using the four elements as a sort of framework for it? It really merits our observation and it's so simple to observe! You don't need drones and satellites!
In any case, my own experience has showed me that biodynamics is the way forward. I have worked at Château Pontet-Canet for 29 years and it's amazing how after 15 years of applying the biodynamic method the wines are better than ever! I am far more convinced by biodynamics now than I was when I started doing it. Like I said though, I'm not trying to preach biodynamics; people must do what they want."
iDealwine: What's been most difficult in the switch to the biodynamic method?
Jean-Michel: It wasn't all that hard to apply biodynamic methods but morally it can be quite difficult. You have to place a lot of trust in it and it required all my willing and determination. Biodynamic viticulture isn't just a job, it's a way of life and has been a personal philosophical journey for me. You just can't see it as simply a means to an end; you have to be totally invested in it! The vineyard is my one true passion and I have dedicated my life to it.
iDealwine: Animals play a very important part in your approach, can you tell us a bit about their role?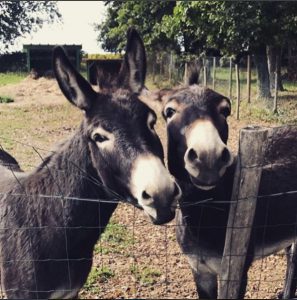 Tic and Tac, the Château Donkeys © Instagram chateaupontetcanet
Jean-Michel: "Yes, they play a fundamental part in all of this both in preparing the vineyard for the biodynamic method (they've grown up here so they have a deep connection with the land) but also in everything that else they provide. The cows provide milk for the workers and enliven the soil. Every animal has its own personality, its own qualities and its own use in the ecosystem of the vineyard. The horses provide animal traction but they also give out a special energy that is unique to them. We also have two donkeys that bring a special energy to the vineyard when we need it."
iDealwine: Alongside the change to biodynamics, what has changed in your approach in the chai? And what has been your most important change?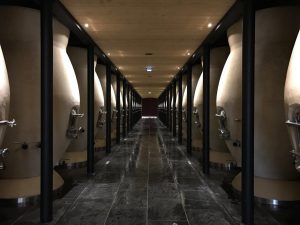 40hl vinification vats
Jean-Michel: "Maturation in amphora (concrete mixed with some of the terroir) started in the 2012 vintage and doesn't really have anything to do with biodynamics. It was above all a consequence of our desire to produce wines free of any artifice (no pruning, no deleafing, no green harvesting, no debudding for a small harvest based on a natural balance of the vine stock) and express in the grapes, and therefore the wine, the naked soul of our terroir. I would say, however, that the transition to maturating the wine in amphora was a product of our philosophy in the vineyard. We could certainly take this further but for now we have other projects to focus on. The next step is to mature 50% of the wine in amphora (instead of the current 35%) and 50% in new oak. However, more than 50% of the wine in amphora would really change the style of the wine and I'm not sure that the 'world of wine' (merchants, journalists, consumers) are ready just yet for a unoaked fine wine, whatever some people might say. But things are definitely changing and I think we're going in the right direction!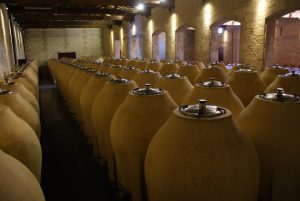 9hl Amphorae
Another new addition is our vat-house for vinifications. It was built in 2017 and incorporates the biodynamic philosophy in a big way: the building is unique in that it has practically no electricity apart from the 12V LED lights with shielded cables to reduce the magnetic field as much as possible.  There are no plug sockets so that the grapes and the wine don't come into contact with magnetic or electromagnetic fields.
This absence of electricity means that everything must be done by hand: from reception of the harvest to destemming…the harvest stays in the vat and all we do is a little bit of punching down to keep the pomace wet. There is no pumping over and no noise! The vats are rounded which lets the harvest move without constraints. I suppose it's a bit like Feng Shui but for wine! These amphorae were inspired by Roman amphora from the 2nd century. We modified the shape so that the amphora corresponded to the golden ratio. The building is insulated with natural hemp so that everything within can breathe well. This new vat-house has 32 vats of 40hl which accounts for about a third of the harvest. Every building has been conceived as part of the whole to keep everything in balance.
We have also started a geothermic project so that our energy supply can be in tune with our biodynamic approach. We have dug 67 wells 100m deep so that the whole property is the natural temperature of the soil (15°C) all year round. This has allowed us to drastically reduce our energy consumption. We also have housing for our full-time workers as well as accommodation for our harvest workers.
The biodynamic work here at Pontet-Canet is part of something much larger than just an 'ethical approach'. Biodynamics allows us to improve not only the quality of our wine but every aspect of our domain."
iDealwine: Do you think that you will influence others in Bordeaux to switch to the biodynamic method, particularly the Grands Crus Classés?
Jean-Michel: "Yes I think we've really paved the way for others and many domains are starting to do it, even in Bordeaux. If my work has helped anyone else decide to take it on then I'm happy."
iDealwine: How have other domains in Bordeaux reacted to your success and your transition to biodynamics?
Jean-Michel: "The way biodynamics is regarded has changed enormously. 15 years ago people were incredulous, even aggressive in the face of it. Not nearly as many people have that attitude towards it today. Now, many domains are fascinated by it and would like to start implementing it themselves, so yes things have changed; Besides, I'm not sure that Bordeaux necessarily that far behind other winemaking regions. If we look at the glass half full, we could take the example of Pauillac that already has 3 organic properties (certified or in the process of); I find that encouraging. There are nonetheless some difficulties in some of the larger Bordeaux domains where the farming structure means that it is difficult. The workers here are employed by somebody else (like me) which means they can't cultivate the vines the way they would if they were their own.
But things are changing. There's no simple formula and we have noticed this at Pontet-Canet. You can't have a 'one size fits all' approach but every place, grape variety and moment has a different need. You need to make adjustments according to the terroir. You need to go into it without expectations and understand the particular environment that you're dealing with so you can adapt accordingly.
There is also the important question of finances. We are lucky at Pontet-Canet that the owners are so understanding, like, for example, with the wells we wanted to build for the geothermic energy. Also, when we wished to have our own cows on the domain that ate our grass and hay so we could prepare our own 'local' manure they facilitated that. That really helped in our quest for a biodynamic vineyard.
At my own domain we don't have our own cows so we prepare our manure with the neighbour's cows! It's almost perfect but not as good as what we have going on at Pontet-Canet."
We would like to thank Jean-Michel for his kindness and taking the time to talk to us. We can't wait to visit Pontet-Canet again (lots of us here have already had the pleasure) which, in our opinion, produces some of the best wine in Bordeaux thanks to Jean-Michel's exceptional work as director and the great support he receives from the owner of this enterprise, Alfred Tesseron.
See all wines from Château Pontet-Canet currently on sale
See all Bordeaux wines currently on sale
See all wines currently on sale on iDealwine
Search for the price of a wine
Other things to read on the iDealwine blog:
Pontet-Canet | A quest for the ideal
Bordeaux wines now contain three times fewer pesticides than less than 4 years ago