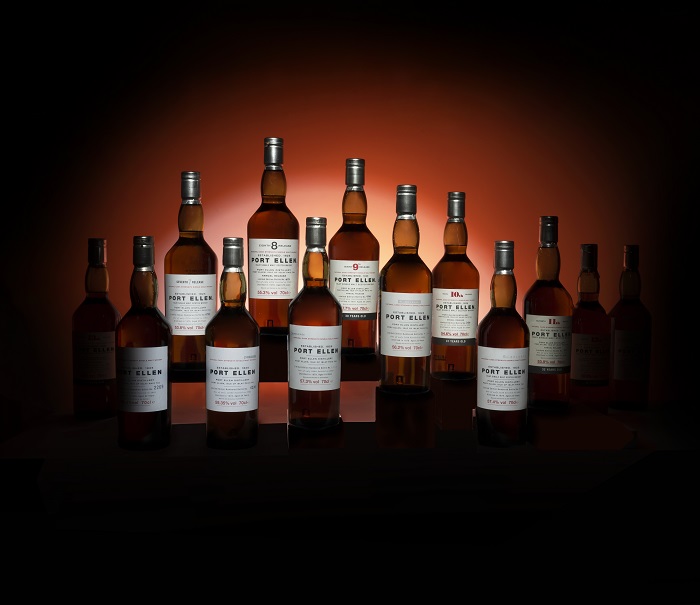 The match between the Land of the Rising Sun and that of bagpipes, the Loch Ness Monster and haggis keeps whisky lovers in suspense. After Japan's success at the last auction, this one takes us to Scotland, the home of wonderful distilleries such as Springbank, Brora, Macallan and Port Ellen. Japanese whiskies were not to be outdone and you can find superb bottles from Chichibu and Karuizawa. Rhums agricoles (agricultural rums), Cognacs, mature Armagnacs and rare Chartreuses will also attract lots of attention during this auction.
SCOTLAND TAKES PRIDE OF PLACE
ISLAY TAKES CENTRE STAGE THANKS TO RARE BOTTLINGS OF PORT ELLEN
Islay captures the limelight with Port Ellen thanks to a range which, produced every year, increases in value. Diageo's Special Release, rare bottlings produced by the distillery, are not to be missed.
Islay is also home to Octomore with its whiskies containing mind-blowing levels of peat and Ardbeg, which is represented by several limited editions like Supernova, Alligator, Perpetuum, Galileo, Ardbog, Renaissance, Uigeadail and Corryvreckan.
SKYE, TALISKER, SPEYSIDE, LOWLANDS: UNBELIEVABLE VINTAGES
We couldn't write this post without mentioning Skye and Talisker. The distillery is represented by some wonderful vintages and ages which include a 35 year from 1977, a 20 year old from 1981 and a 30 year edition from 2006.
From Speyside, Macallan shows off what it's got with a 18 year old 1969 Sherry Wood, while Brora, from the Lowlands, presents Special Releases from 2002 to 2013.
JAPAN AND THE USA: WHISKIES TO FOLLOW
Are you of a curious nature? Then, have a look at the selection of Japanese whiskies with the stars of the show coming from Karuizawa, both its own productions and those it owns through the trading side of the business. Some examples include 36 Views of Mount Fuji, Asama and Artist #10, bottled by La Maison du Whisky. Besides whiskies from this distillery? There are two of the rarest bottlings from Chichibu's Intergalactic Series, Edition 1 and 2, both now impossible to find.
From the United States of America, you will find a number of Blanton's single casks, the Antique Collection and a rare version of Parker's Heritage Collection.
RUM, CHARTREUSE, COGNAC AND ARMAGNAC
The number of rare bottles will undoubtedly start fierce bidding battles. Among those that are likely to attract many rum aficionados are bottlings from Velier.
From Caroni : There are the annual releases as well as a trilogy bottled to celebrate La Maison du Whisky's 60th anniversary.
From the Demerara Collection: Diamond, UF30E, Enmore and Port Mourant
French rums aren't to be outdone either. J.M., Depaz, La Favorite, Damoiseau, Courcelles, Trois-Rivières and even Neisson make an appearance in this auction.
Released in 2000, Épiscopale du Troisième Millénaire should not be missed if you love Chartreuse. While those of you who prefer mature vintages should take a look at the Cognac and pre-phylloxera Armagnac in the auction.