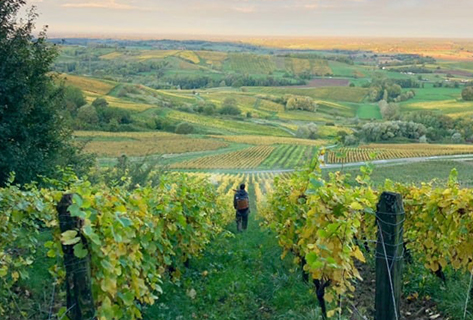 Located in Arbois (Jura region), Domaine de la Pinte is a vineyard that has long remained modest but that has begun to make more of a name for itself in recent years. This is especially the case when it comes to fans of organic, biodynamic, and natural wines. Let's get a closer look at a domain that merits a little more attention.
Domaine de la Pinte was created in 1953 in Arbois by Roger Martin. The vineyard, located in the lieu-dit 'La Pinte à la Capitaine' stretched across 14 hectares that the Roger planted with Savagnin. At the time, this was the largest of the region's Savagnin domains. From 1955 the wine grower began to undertake significant work on three vaulted cellars made of cut stone (each cellar measuring 70 metres in length). This was a necessary investment so that there was enough space for seven successive harvests, the ageing time for a vin jaune being seven years.
Today it's Roger's son, Pierre Martin, who runs the show, with management of the domain organised by Bruno Ciofi between 2009 and 2015, followed by Samuel Berger. Berger is helped by Emmanuelle Goydavin who looks after vinification, maturation, and exports. Pierre Martin expanded the domain to 34 hectares that are made up of 17 hectares of Savagnin, 6 of Chardonnay, 7 of Poulsard, 2 of Trousseau and 2 of Pinot noir, all of these across Arbois and Pupillin.
The vineyard is mainly rich in marl. The Savagnin is planted in the blue marl of Lias, whilst the red varietals (Poulsard, Trousseau, Pinot noir) are in the red marl of Trias. The Chardonnay wines are cultivated in the lighter, chalk-clay soils of Pupillin.
A long tradition of eco-friendly work
Since 1999 the domain has been certified organic, receiving official biodynamic recognition in 2009. The soil is ploughed only on the surface so as not to destabilise it; compost and manure are used to encourage harmony between the different elements of the earth (micro-organisms, minerals, micro-fauna) by increasing microbial activity and the forming of humus in the ground. The harvests are carried out by hand. The biodynamic methods help to bring life to the soil, marl being particularly hard. This approach also improves the diversity of the yeasts naturally present on the grapes – these come into use later when the juice is fermented.
Once the grapes reach the winery the vinifications are much like those carried out for natural wines. They aren't quite the same since a small amount of sulphur is added to the juice before fermentation and, rarely, during maturation. The quantities are limited, though, and sometimes no sulphur is added at all. The juice is transferred using only gravity where possible.
This domain produces all the classic kinds of Jura wine, representing the different local varietals as well as the regional specialty vin jaune. There have been periods where the quality of wine has varied, but we can assure you that the whole range has now reached a really pleasing level, all whilst keeping prices attainable…