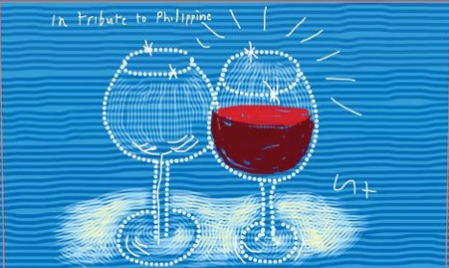 The label for the 2014 vintage of Mouton Rothschild has just been unveiled. In the year of the death of the figurehead owner, Philippine de Rothschild, it was a personal friend of the family, David Hockney, who designed the 69th Mouton-Rothschild label, bearing this message: "in tribute to Philippine".
The Mouton labels
In 1924, the year in which Baron Philippe de Rothschild bottled his first vintage at the château, he decided to call upon the graphic designer Jean Carlu to create a special label. It met with a mixed reception, and so it was back to normal for Mouton… until 1945.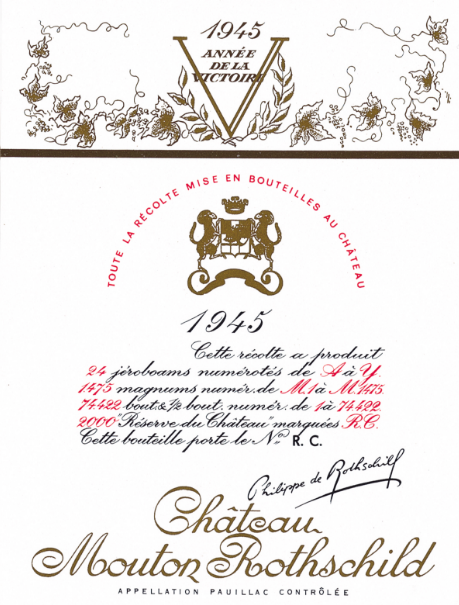 To celebrate the liberation of France, the Baron decided to embellish his bottles with a V for Victory. The 1945 vintage was exceptional in more ways than one, and immediately became a collector's edition. Since then, the label has changed every year, with a succession of great artists being represented: Picasso, Prince Charles, Soulages, Jeff Koons, Dali and even Warhol.
David Hockney
The design of the 2014 label was entrusted to the British artist David Hockney. Just like his friend Philippine de Rothschild, David Hockney is a colourful personality. In 1990, he declined a knighthood and an offer to paint the Queen. However, she doesn't appear to have held it against him, as he was awarded an Order of Merit in 2012 and selected to produce a stained-glass window of Elizabeth II's reign in Westminster Abbey.
In 2017, to mark his 80th birthday, an exhibition will span his exceptional career at London's Tate Britain gallery from February to May. There'll also be a chance to view his work at the Centre Pompidou in Paris before the collection is shown at New York's Metropolitan Museum.
The 2014 vintage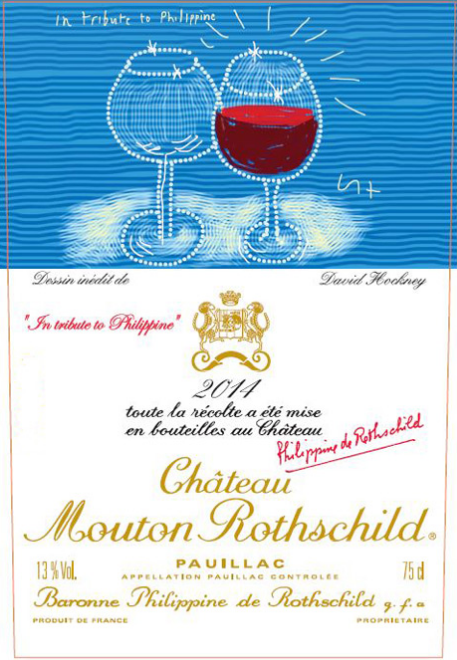 2014 will forever be remembered as the year of the death of Philippine de Rothschild, a formidable Mouton ambassador. An actress at the Comédie française under the pseudonym of Philippine Pascal,
she embodied this Pauillac premier cru classé, which enjoys a relationship with art unmatched by any other Médoc cru. Her friend David Hockney, with his pop art background, paid her a final tribute in the form of this joyous, colourful work. It depicts two glasses – one empty and one full, illustrating the nervous wait for the annual miracle of the harvest and the creation of the grand vin.
2014 was characterised by a very damp summer and fairly low levels of sunshine. However, the year was saved by an exceptional Indian summer, which allowed the grapes to reach perfect maturity. Those who have had a chance to sample the wine speak of a superb Mouton, for drinking between 2020 and 2040… so you'll need to stay patient for a little while longer yet.
53 Moutons together in one lot
What better way of looking back at Mouton's history than to bring together 53 different years and 53 different labels? So a word to the wise. This unique lot, representing the space where art and wine meet, is on auction at iDealwine until 30th November…
Lookup a price estimate for a wine
Lookup all Mouton for sale
To read further on iDealwine Le Blog:
Sulphure in Wine: is it good or bad? 
Not yet a member? Quick and free registation on iDealwine.com