With an exceptional terroir and impeccable craftsmanship, this name, mythical in the universe of biodynamics and French viticulture, sets the imagination in motion…Let's take a closer look at this hallmark of the Loire and an interview with its most iconic winegrower.
A legendary domain if ever there were one, La Coulée de Serrant even boasts its very own AOC (much like Château-Grillet in the Rhône Valley), and it is safe to say that it has been recognised as a land of great wine for centuries. The vineyard was planted in the 12th century by Cistercian monks; the former monastery still stands today and is classed as a historic monument. Since then, the vineyard has remained where it is unintermittedly. The 2018 vintage is therefore its 888th consecutive harvest and has turned out to be an exceptional year. Whilst 2017 was tainted by ice and some heavily reduced yields, the 2018 vintage has proven to be much more generous, producing up to 25 hectolitres per hectare. In terms of its health the harvest was also perfect. Tractors were hardly used in the vineyards, which were treated with biodynamic preparations rather than the usual Bordeaux mixture. If the harvest was indeed healthy, all the same it took 3 weeks to carry out, the vineyard being passed through 3 times in order to better gage the maturity of the grapes and to sort them while still on the vine. Le Savennières Les Vieux Clos is a superb wine made entirely from Chenin grapes, aged in old barrels and of an ever more belated maturity due to the hillside location that proffers such rich minerality from its rocks. The Savennières-Roches-aux-Moines Clos de la Bergerie has its origins in the peaks of Savennières and its slopes which plunge sharply to meet the Loire. The terroir's high schist content confers a long finish to the wine. Finally, le Clos de la Coulée de Serrant whose vineyard comes to an end in a contour of the Loire succeeds in surprising with its density and its very particular aromas. The 2018 is assuredly a great wine.
The appellation stretches across 7 hectares, exclusive property of the Joly family. Wine from La Coulée de Serrant has a longstanding reputation, having been considered the beverage of choice for a very long time. Louis XI nicknamed it 'la goutte d'or' (the golden drop), Louis XIV even visited the domain, whilst the Empress Josephine 'was mad for wine from la Coulée de Serrant'. And still to this day it is considered one of the most famous French white wines.
The 7-hectare vineyard is ideally situated, overlooking the Loire, at the point where the Serrant stream meets the river. The proximity of the river and the Coulée creates a unique microclimate. The Chenin vines, cultivated by massal selection from the domain, are between 40 and 80 years old.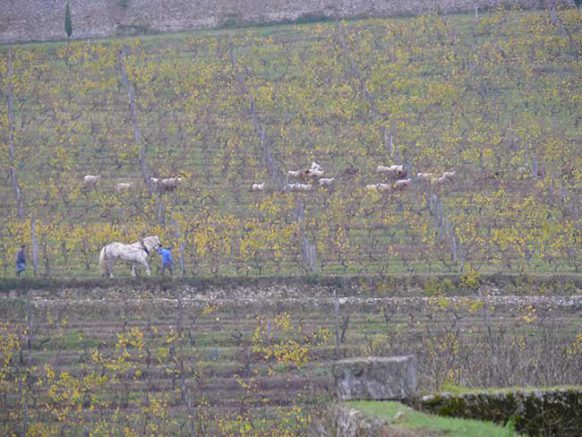 The wine-making process doesn't require much intervention, taking its course slowly and naturally. There's no settling process (the lees are considered a living element, rich and useful for successful fermentation), no refrigerating process to remove tartar and reduce acidity (considered too severe and damaging for the wine); only indigenous yeasts are used. There is no fining process or temperature control during fermentation: the idea is to let the fermentation happen on its own, naturally. Vinifications and élevage are undertaken in 500- or 600-litre barrels, with no new wood, then the wines are bottled seven to eight months later. Nicolas Joly makes use of sound to support the work of the yeast, with a range of 432 hertz (440 or 442 wouldn't have any effect). This limits potential deviations that can arise during fermentation.
Today Virginie, Nicolas Joly's daughter, is gradually taking over control of the domain, an estate whose wines have a recognisable style and great maturity.
An exceptional terroir, a complete and flawless biodynamic viticulture, and vinifications that are free of all technology and artifice are the magic ingredients in the Coulée de Serrant recipe. A domain which is unique in its genre and produces sublimes wines, prized for their elegance, strength, maturity, density, substance and energy. One to try at least once in your life…
We recommend decanting these wines several times, or to open them 24 hours in advance.
The philosophy of the domain
"The truth is in the taste! These days lots of wines are 'good' because lots of technology has been used in the cellar to produce them, they are well-made, faultless sometimes, but soulless, too – they don't evoke any emotion. At la Coulée de Serrant, we don't use any technology. The goal is to practice an agriculture where life is allowed to flourish on its own. Photosynthesis must be supported because this is the process by which the bud of the vine turns to leaves, flowers and then fruits, thus energy is captured to create matter. This energy has to be optimally caught by the plant, and for this to happen it must not be disturbed by an inundation of chemical products. If the work in the vineyard is done well, there is practically nothing to do once it reaches the cellar. The role of the winemaker is to bring the wine into the world, not to shape it. I often say that a beautiful terroir is like a musical instrument, it needs good 'acoustics' in order to express its place well. Biodynamics provide the best acoustics when the process is well-understood. A good winemaker is himself the musician: it's their decisions which will indirectly be carried into the bottle. I am a 'conservative' winemaker: I think the wine creates itself and it isn't the place of the winemaker to construct it artificially – it's a question of helping the vineyard to express itself. That's why I only use indigenous yeast (which are specific to each place, each plot) and no new wood. A great terroir, if it is living of course, already has all that it needs without recourse to artifice. Sterilised filtration, the use of ascorbic acid or potassium sorbate as alternatives to sulphur do not feel right to me. Sorbate, which allows makers to write 'sulphur free' on their labels, is to me a sort of poison – in fact, Brussels has spoken several times of banning it. Too close a filtration (down to a third of a micrometre) means that the soul of the wine stays in the filter. Applying small doses of sulphur is to me a better alternative. In some cases, it's possible to do it 'sulphur free' since wine contains a small amount of sulphur naturally, but this isn't always possible if the wine is sent to far-flung countries or during seasons that are too hot. A bit of sulphur doesn't change the taste of the wine.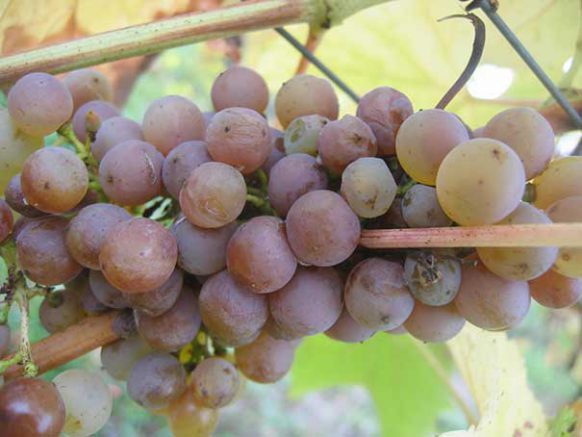 At La Coulée de Serrant, we only use natural sulphur, volcanic if possible. We also treat the vines with sulphur and it's much better than using products that poison them. Sulfur is often poorly understood. Let's not forget that cruciferous plants (mustard greens, rocket etc) also produce sulphur! So why would anyone make an enemy of it? To sell artificial products!
One of the greatest assets of La Coulée de Serrant is really its exceptional terroir. It isn't for nothing that we're talking about an ancient vineyard, carefully selected by the Cistercians. They chose the best spots, often close to a body of water, since the reflection of the sunlight is very beneficial to the vine. And when one has a place of such quality, it is a duty to respect its heritage, indeed to amplify it, and to best carry this out, we could say that the biodynamic process is 'heavenly'…
Biodynamic viticulture, when profoundly understood, allows the plant to convert energy to matter as well as possible, in order for the grape to contain all that makes a vintage original, its characteristics, and its subtleties (heat, rainfall, light, temperature variation, prevailing winds etc). In biodynamics, subtlety is everything; we often work with very small doses, put into action within an hour (3-100 grams per hectare) and quickly distributed throughout the soil and the leaves; it's difficult to understand how that might work. I often make a comparison with the telephone, which allows us to hear the voice of another from 10,000km away and in a split second: each biodynamic preparation is like an earpiece for life, allowing the plant to better receive the cosmic waves and energy that nourish it from spring to autumn. The quality of light is also very important and is linked to a very useful preparation made from quartz. In fact, each biodynamic preparation has a link with an element of the solar system, without which our Earth would be but a corpse. It must never be forgotten that planet Earth doesn't itself possess any life, it receives life because it is part of the solar system; without this, all life would be wiped out, or just about. Life is pushed forward by cosmic waves. Each plant has a micro-frequency and receives its own message of life. The problem is that now this link between the Earth and the sun has been disturbed by numerous man-made elements, most notably the millions of satellites launched. These terrestrial pollutants mean that life does not reach Earth as easily, the vital message which arrives on an astronomic frequency being continually weakened. In this context, biodynamics is even more necessary, since this method allows the vine to connect to its Dionysian essence, thus letting it 'be'. It's as though we were in a room with 200 people all shouting at once, and the biodynamic method would be the mobile phone that lets us speak to someone at the end of the room nevertheless! In short, biodynamics is used to intensify the ability to listen to the systems which give life to the earth, and to reduce the polluting shields built by human civilisation. The process allows for the stimulation of microbial life whilst chemical products kill it. Biodynamics is the link to a subtle system that generates life. The only 'negative' effect is that all the animals seek refuge in our vineyard!
For that matter, lots of domestic animals do indeed have a place here (cows, goats, horses, donkeys, sheep, bees); the cows make the compost. Each new species that arrives can be understood as another string added to the instrument that is our terroir. The animals and the diversity of plant life are a response to the singular culture of the vineyard which nature doesn't like very much in the end. Here there are meadows which could produce very good wine, but they remain unplanted for this reason.
To summarise, I would say that for me, conventional viticulture prevents the place, the terroir and the vintage from being truly embodied in its wine, from expressing itself. Photosynthesis is being poisoned by standardised products and treatments. Herbicides destroy the vine's capacity to nourish itself from the soil. This can produce good wines that are well-made, but they cannot be placed, they have no soul and no story to tell. On the other hand, with biodynamics it is possible to retain this link between a vintage and its terroir, to let them be expressive. It's a bit like the difference between natural beauty and beauty through plastic surgery! Also, wines that are too 'technological' are often good to begin with but do not remain so for very long, whilst biodynamic wines tend to demonstrate the opposite: after a few hours or days, they become magical!"
See all wines from Clos de La Coulée de Serrant
What the guides say about La Coulée de Serrant:
La Revue du vin de France  
The exceptional Coulée de Serrant vineyard covers the edge of a schistose cliff that plunges into the Loire, near Angers. The nature of the area and the quality of its exposure has allowed it to stand out for centuries. Nicolas is a brilliant agitator of ideas and pioneer of biodynamic culture, which he has practiced at La Coulée de Serrant since 1981, when it first obtained certification.
Bettane & Desseauve
On a small curved valley on the northern slope of the Loire lies an Eden hidden in an open landscape. The Coulee de Serrant is a place where life is exulted. Nicolas Joly, as an apostle to biodynamics, has made it an iconic brand known around the world. With a sharp sense of observation and experimentation, he has raised this promontory of red shale to its highest level, and even managed to classify these 7 hectares of old Chenin vines as an appellation itself.