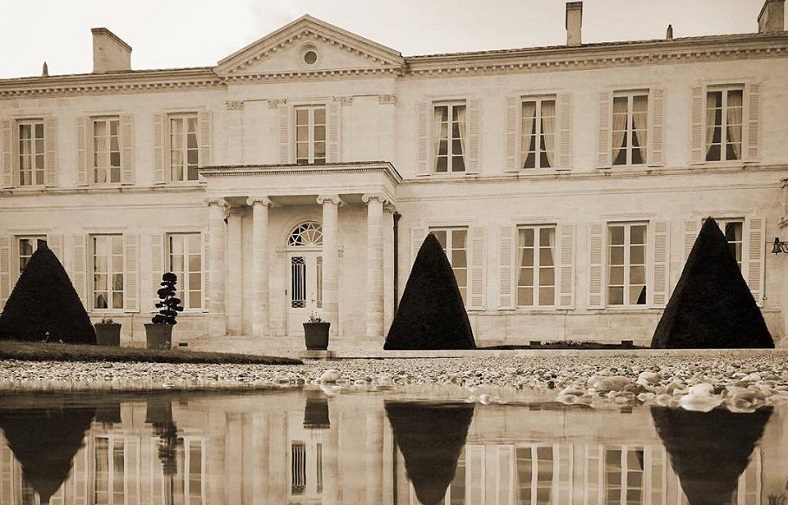 A fourth grand cru classé, Château Branaire-Ducru has crafted some quite remarkable wines over the course of its vintages. Co-owner of the château and president of the Saint-Julien appellation, François-Xavier Maroteau accorded us a special interview to get to know his wines better.
Saint-Julien
The Saint-Julien appellation spans across two plateaux: Beychevelle, where we find the famous Châteaux of Beychevelle, Gruaud Larose, and Lagrange, and Saint Julien, where the Léoville trio reigns (Las Cases, Barton, and Poyferré).
Unlike some of its neighbours, Saint-Julien is a relatively small appellation covering 910 hectares. There, nineteen properties (seventeen of which are family-owned) share the vines among them, wit eleven classified growths taking up 85% of the surface area.
The Château
This story of this château begins in 1680, when Jean-Baptiste Braneyre bought some parcels from the Duke of Epernon, owner of Château Beychevelle at the time. The estate was then passed on to the Duluc family, and little by little gained its renown. In 1824, the château that we know today was built and given the name Branaire, in homage to the ancestral line.
Located on the Beychevelle plateau just a kilometre away from the Gironde estuary, Château Branaire-Ducru is surrounded by vines that cover almost 60 hectares divided into seventy parcels. With around fifteen different kinds of soil, the estate has access to exceptional diversity for this more modest of Bordeaux appellations. This variety in the earth allows for a range of grapes to be grown, especially Cabernet sauvignon (63%), Merlot (28%), Petit Verdot, and Cabernet franc. "When we blend the wines, the weather, the vintage, and this diversity of terroir all contribute to an interesting complexity. Add to this the fact that we cultivate four different varietals and you'll understand where the lovely balance comes from," explains François-Xavier.
The property is dedicated to responsible agriculture and has started to carry out a few organic-inspired tests on some of the parcels. The team uses what's known as 'biocontrol', this being the application of certain synthetic products made in a way that doesn't impact nature. Whilst being fully organic would mean using only natural products, "the most important thing is to make really high-quality wines whilst respecting my terroir".
Vinification and maturation
Since 1991, vinification takes place in a modern winery tub that functions using gravity. The harvest isn't pumped in order to preserve the best elements of the fruit. The idea is that the domain avoids being too invasive during vinification. The bunches are totally destemmed and lightly trodden before being transferred to vats. The grapes macerate for around three weeks, with stirring carried out if necessary; this depends on the quality of a given vintage.
Extraction is as measured as possible. When it comes to blending, the free run juices are mixed first of all, then topped up with around 13-15% press juice. This addition is considered by François-Xavier to be like "the salt and pepper of a dish".
The finest cuvée is aged for a long time, between sixteen and eighteen months, with around 60% new wood. The second wine spends a year in wooden containers (20% new wood). The casks used were made using a medium toast so the fruit can still express itself. "The cask is there to complement the wine, not overpower it."
This is a meticulous and skilful process led by oenologist Eric Boissenot.
The wines
"The signature of what we make lies in three elements: the purity of the fruit, incomparable freshness, and elegant tannins." Duluc can be savoured after four or five years, though it has an ageing potential of twenty-five to thirty years in all! The fine cuvée can be uncorked young, though ideally it should be aged in the cellar for at least ten years…this one has the ability to reach sixty, seventy, or even eighty years of age.
"One thing is for sure, the moment we decide to taste a wine depends on our personal taste. Lots of Bordeaux wine certainly ha great ageing potential, but many of these cuvées can be enjoyed young, whilst they're still fruity. Quality in wine has never been as high as it is today, and in generally they are much more accessible than they were a few years ago. On of the biggest challenges for the region is to bring our wines up to date so that Bordeaux is no longer considered a wine of the past or a bottle just for Christmas. At Branaire-Ducru, 75% of our production is exported and 25% sold in France. This French base is very important for the château."
When it comes to serving the wines from this estate, the advice depends on which vintage you're uncorking and how long it has been aged for. A 2005 would do well to be decanted, whilst a 2004 can be opened just before tasting. A 2010 should be left to aerate in a carafe around an hour before serving.
As for food and wine pairings, François-Xavier proclaims that "a good wine will go with (almost) anything!". Dishes involving red meat, white meat, or fish will all be welcome at the table with a Château Branaire Ducru.
See all the wines from Château Branaire Ducru available here