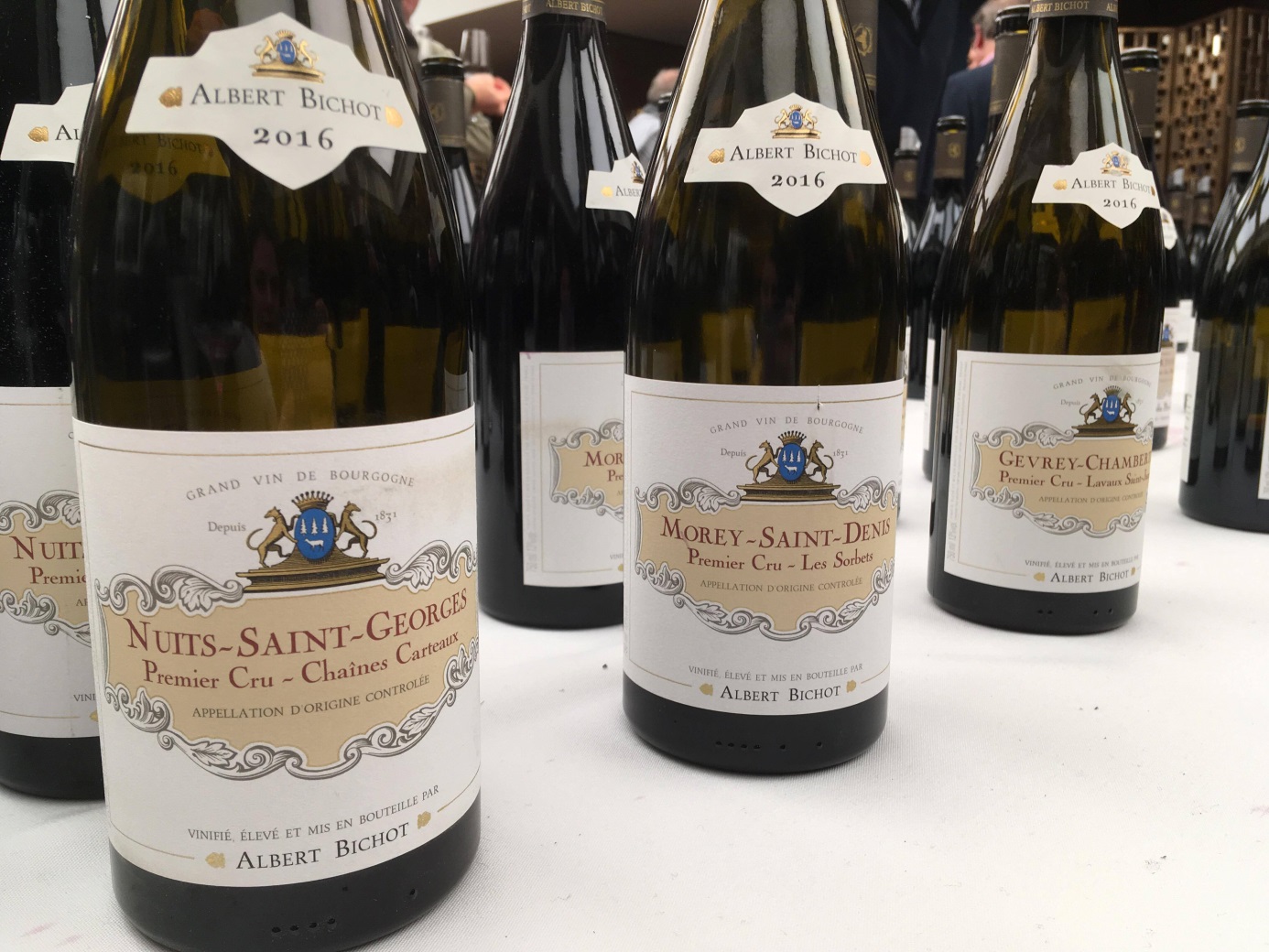 Monday 27th November, in the iconic wine member's club 67 Pall Mall in London, the spotlight is on the Albert Bichot house. Arthur de Lencquesaing and Léa Fallourd, from the international team based in London, experienced a preview tasting of the 2016 vintage. A unique opportunity to taste and compare their great diversity of wines spread across all Burgundy.
2016 is a vintage which you can acquire with much confidence. When talking with Albéric Bichot, we understand that this vintage is characterized by fully matured grapes, although 2016 was not a relaxing year for winegrowers. Spring saw frost and hail, and harvests started quite late, on 17th and 18th September. Winegrowers had a few moments of stress, but the result is there. Thanks to the early frost and hail, grapes have concentrated juice. The late harvests have given a true phenolic maturity to the wines that boast fine tannin. Through these wines, we can identify the precision of the different terroirs supported by the roundness of the fruit. Charming wines, to open within five to ten years. In comparison, the maturity of the 2015 vintage gave more powerful and warm wines.
Let's start with the white wines. Such an impressing tasting, with many Premiers and Grands Crus from Burgundy on the table giving us a rare occasion to compare meticulously the different terroirs and climates with all their specific features. First, a proper and diverse range of Chablis Premiers and Grands Crus, with nine references from different climates showing all the delicacy of this appellation. These Chablis were perfectly smooth and melted, with an appreciable freshness. Many white appellations were on display: Mercurey, Nuits-Saint-Georges, Meursault 1er Cru, Beaune 1er Cru, Puligny-Montrachet 1er Cru, Corton Charlemagne Grand Cru. Our favourite was the Chassagne-Montrachet 1er Cru "Morgeot", with its smooth palate of distinctive notes. We also discovered a novelty of the house, something we had never heard of before, the Crémant Blanc de Blancs Pure, which is a sparkling Crémant from Burgundy, made with 100% Chardonnay. The creamy bouquet opens on a more fresh palate, a great alternative to Champagne!
The reds ranged from less complex wines to more precise ones, from Moulin-à-Vent, to Richebourg Grand Cru, passing by Pommard, Nuit-Saint-Georges, Chambolle-Musigny, Vosne-Romanée, Echezeaux, Bonnes-Mares. What's fantastic with the Bichot House is that you can travel through Burgundy without leaving London, although it is always better to go to Burgundy: this is exactly what we did with the all team of iDealwine back in May this year, tasting and exploring the vineyard and the cellars of Bichot.
This selection showed the influence of the terroir on the Pinot Noir. The same grape variety is more discreet and easy-to-drink with the Moulin-à-Vent Domaine de Rochegrès; more spicy and fruity with the Corton Grand Cru "Clos des Maréchaudes" Domaine du Pavillon; and more complex and tannic with the Grands-Echezeaux Grand Cru Domaine du Clos Frantin.
Since 1831, this house delivers wines of a constant quality and is today carefully looked after by Albéric Bichot, who represents the 6th generation of the family. iDealwine is delighted to have a long-standing partnership with the House.
See Albert Bichot wines currently for sale
See Burgundy wines currently for sale
See all wines currently for sale
Register here to access auctions and fixed-price sales
Receive a free estimate of your cellar
Read further on iDealwine Le Blog: