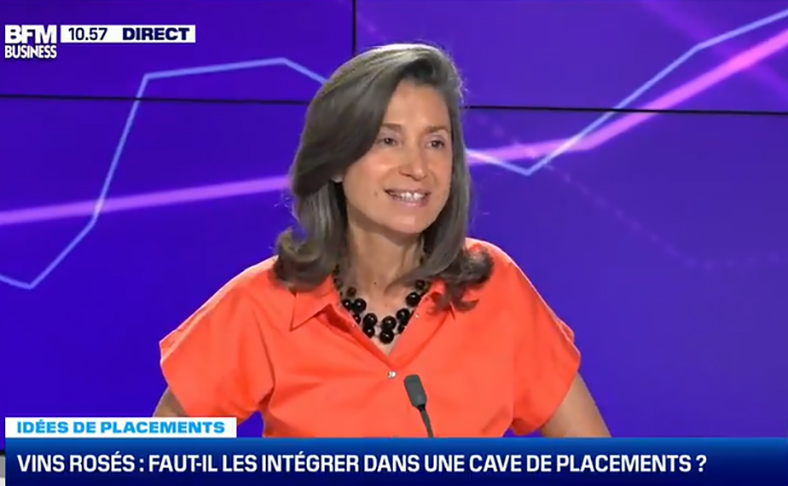 Every month, Angélique de Lencquesaing talks to the BFM Business channel about the wine market with a particular focus on the investment side of things. With the summer season very much upon us, it was time to chat rosé.
So, does rosé have a place in discussions around investment?
We know that rosé has a reputation for being light and summery, but perhaps not of the highest quality. In fact, the rosé market is more nuanced than that. Of course, you can find these wines at bargain prices, but some of them sell for up to (and even over!) €100!
France is one of the biggest players in the rosé market, right?
Absolutely, not only does France produce a third of the world's rosé, but we're also its top consumers. We drink 35% of the bottles produced, amounting to an average of 15 litres of rosé a year per inhabitant!
You mentioned the high prices for certain rosés, but the average price is very, very low…
It's worth underlining that France produces top quality rosés. The really low prices we see tend to be imported wines, often from Spain. The global average price for rosé is €1.57, but those made and sold by France are almost triple that, at €3.57.
We're still quite a way from the €100 you mentioned before…
Yes, of course, some wines are destined for quite a specific market. If we take the US, for example, rosé has an elegant reputation, it symbolises an art de vivre and can be sold for top prices. For instance, Château d'Esclans' famous Garrus cuvée fits this profile well. In France, wine lovers have also learnt that fine rosé cuvées can even age for a few years in the cellar without losing any of their qualities; indeed, the opposite can be true. The tart and lively character of a young rosé makes way for a more mellow wine with gently spiced hints. Some of these top rosés become the kind of bottle we love to serve at the table with delicate dishes.
How has the pandemic affected the rosé market?
It's still a little bit early to understand the full global impact of the pandemic for 2020. On a more local level, though, we do have some figures. Provence, for example, has revealed its earnings from last year, and it's quite impressive to see! This landmark region for fine rosé exports 43% of what it produces. And, even though wine exports have reduced overall (by 1.7% in volume and 6.1% in value), Provence's rosé was actually exported 6% more in 2020! Lockdown weighed on many producers, but it looks like they were able to pick things up again once the summer came around.
And the US?
A combination of the pandemic and the Trump tax slowed exports to the US last year. But this gap was largely filled by a dynamic European market, particularly the UK (+51%), the Netherlands, Belgium and Germany. Whilst rosé is mainly a summer drink in France, it's worth noting that it is enjoyed throughout the year in other countries.
You've said that Provence drives a high-end image for rosé. Are the top rosé's at auction also from this region?
Provence produces 38% of France's rosé. And in this region we find what is probably the most coveted of all rosé wines, which is that of Château Simone in Palette. These cuvées can be aged and they develop magnificent, peppery aromas with an underscore of rose. The price of these bottles isn't astronomical either, with the estate's more expensive cuvées going under the hammer for around €40 in recent months. Provence's Bandol region is also home to some popular names such as Tempier, Pibarnon, and Terrebrune; Baux de Provence has the superb Domaine Hauvette; and the minuscule appellation of Bellet is also desirable. This latter spot is actually at risk of disappearing due to a property speculation, its location being in the heights of Nice. All of these estates, as well as others I could mention like La Bégude, La Tour du Bon, and Clos Cibonne, cultivate unique grape varietals and experiment with vinification methods that create truly exciting wines. Their ageing potential goes way beyond their first summer…
Does Corsica make fine rosé too?
Corsica is a home of fine wine, full stop! And rosé is an important part of this. The island's top winemakers craft rosé cuvées, like Jean-Charles Abbatucci's Faustine, V             accelli's Unu, and Clos Canarelli's Figari wines. To the north, the Patrimonio appellation's Yves Leccia produces magnificent rosés, but these can only rarely be found at auction. Fans of these wines tend to keep them and savour them.
Where else can we find good rosé?
Well, if we look at the rosé with the highest hammer price at iDealwine, it's actually a bottle from the Rhône valley. More specifically, this cuvée comes from Tavel, an appellation dedicated to rosé production and where the tiny Domaine de l'Anglore has become a true icon. Taking 5th place for top Rhône bids in our 2020 ranking, this estate is also in our top 50 best-selling producers, coming in 37th place! A 2011 Magnum from Anglore went under the hammer for almost €500 in one of our auctions last year.
How do you explain this success?
This 7-hectare domain run by Eric Pfifferling, a former beekeeper, became one of the region's pioneering estates for natural wine, a movement that shows no sign of slowing. Anglore wines are now almost unfindable on the traditional market, so clients seek them at auction and are willing to pay quite a lot. However, these figures won't grow infinitely, and the prices have indeed stabilised of late.
Are there any other rosé cuvées that stand out at auction?
We shouldn't forget that rosé wines represent a real minority of bottles sold at auction (just over 1,000 bottles in 2020 out of around 176,000). But another name that always performs well is Emmanuel Reynaud (owner of Château Rayas), whose full-flavoured Parisy is deep in taste and colour, and sells for €90 at auction. Otherwise, from the Loire valley, we've recently auctioned Sancerres by François Cotat, and from Burgundy we can't not mention the lovely Fleur de Pinot by Sylvain Pataille. The Languedoc also has its share of beautiful rosés, these ones rarely auctioned for over €30.
Whilst we often see still rosé as a summery drink, fine sparkling rosé is a wonderful variation of champagne, like those by Dom Pérignon (€5,526 for a 1959 vintage), Roederer with its rare Cristal rosé, and Bollinger. This is perhaps where the real investment rosés are hiding…