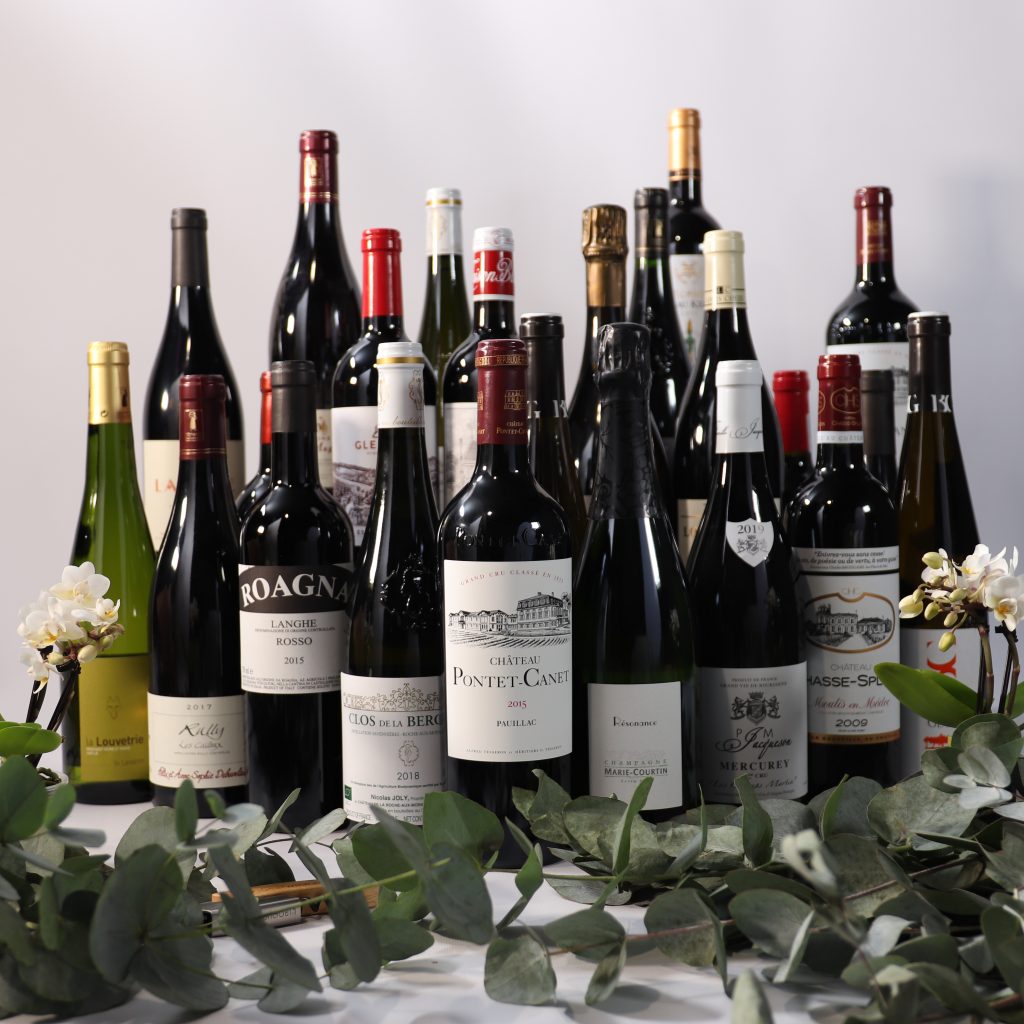 This selection has been carefully put together to offer range without compromising on quality. And this hasn't gone unnoticed, with the Revue du vin de France writing "As with every year, the online sales and auction site has graced us with a very nice selection of about 200 vintages. This is one of the most remarkable offers of the season" 😊
Nearly 200 fine wines feature in our selection. No destocking of unsold or lower quality vintages, rest assured, but rather a haute-couture selection at considered prices, which the team is keen to promote during this key buying period for wine lovers.
The finest signatures of the vineyard
Some very prestigious wines are included this year, such as Château-Pontet-Canet 2015, Dugat-Py's Gevrey-Chambertin Coeur de Roy Très Vieilles Vignes 2018, Laurent Roumier's Clos-de-Vougeot 2017, and Opus One 2017, alongside Jamet's Condrieu Vernillon 2018.
Rising stars, organic and biodynamic wines, and non-French cuvées
As well as these established signatures, iDealwine has set itself the task of promoting rising stars and amateur wines. The 2015 Bourgueil Bretêche from Domaine de La Chevalerie will be alongside Jacquesson's Cuvée 742, Cédric Bouchard's Roses de Jeanne 2018, the champagnes of Marie Courtin, Fanny Sabre, Domaine de Montcalmès, Christophe Peyrus, Jean-Baptiste Arena, Paul & Marie Jacqueson…
The iDealwine identity is also represented by a number of wines and estates certified as organic or biodynamic, such as the savennières-roche-aux-moines from Clos de la Coulée de Serrant, the jasnières Les Prémices from domaine de Bellivière or the riesling Les Eléments from Bott-Geyl. Some natural wines feature prominently, such as Ganevat's Kopine.
The vineyard has no limits and we are also keen to offer you the best wines from regions around the world: Sassicaia 2018 from Tenuta San Guido, Almaviva 2018, Roagna, Glenelly Estate…
Mature vintages
As a specialist in old vintages, we come into our own by offering ageing vintages and even mature years in our selection. In the spotlight, Château de Fargues (1996 and 2005), Château Climens (2005), Château Moulin Saint-Georges (2008) Château Chasse-spleen (2009), Crozes-Hermitage – Domaine de Thalabert Jaboulet (2010), and Château Quinault-l'Enclos.
Pleasing prices
Of course, the Wine Sale is also the great moment to find bottles that are kinder on your wallet, and we've picked quite a few for our selection. There's the muscadet-sèvre-et-maine sur lie La Louvetrie by Jo Landron, as well as some cuvées from beyond France, such as Vinos de Madrid La Bruja de Rozas 2015 (Comando G), Langhe Rosso 2015 (Roagna) and Le Difese 2019 (Tenuta San Guido).