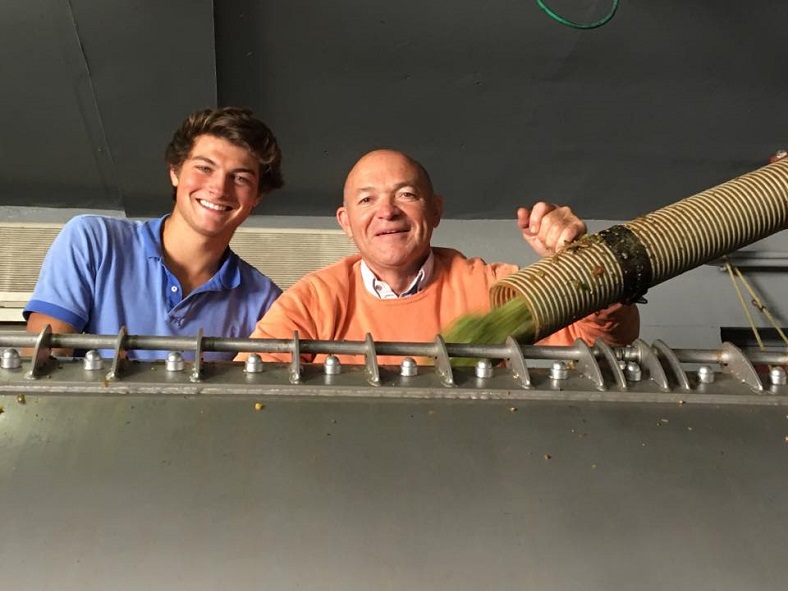 From a lineage of Burgundy vignerons, Alain Gras decided to settle in Saint-Romain to work on promoting this little-known appellation to enthusiasts in search of new ground to cover. With impressive cliffs that protect the vines from the wind, chalky soils perfectly adapted to the crafting of fine wine, over one hundred hectares planted in the area, and a passionate winemaker to top it all off, we haven't been hard to convince. These wines are frank and elegant, and they go for really accessible prices.
The village of Saint-Romain has kept itself rather in the background, surrounded as it is by a star-studded Burgundian case including Meursault, Puligny-Montrachet, Pommard, and Volnay. Away from the spotlight, however, there is much to be said for this charming village shielded from the wind by imposing cliffs. From this place of elevation, you can see Saint-Rom22ain resting below, a beauty spot in the rural landscape with its characterful little church and the ruins of a château. The vineyards of Domaine Alain Gras are protected behind the slopes, facing south-east and north-east. The earth there is rich in marl, chalk, and clay, a perfect concoction for the creation of fine, white wine. There are also 38 hectares of Pinot Noir grown here. With Saint-Romain being one of the smallest Villages appellations of the Côte de Beaune, the wines produced here are naturally rare.
Alain Gras has found his place as a true ambassador of the Saint-Romain appellation. From a lineage of Burgundy vignerons that dates back five generations, he settled in Saint-Romain in 1979 with his wife Nathalie, arriving with a firm mission to promote the appellation's value. The domain now has twelve hectares of vines between Saint-Romain, Auxey-Duresses, and Meursault, used to make both red and white cuvées. The earth is worked with a great respect for the terroir, and the vines enjoy a wonderful location that brings minerality and freshness to the eventual wines. This is good to note, as Burgundy Chardonnay can sometimes lack these features in its overwhelming roundness. Additives are avoided as far as possible, and the harvest involves limiting yields and picking only the best bunches.
Vinification is carried out in the traditional fashion, with the aim of bringing a certain elegance to the final product. The reputation of Domaine Alain Gras is something that has been built slowly but surely over the years, with these bottles now appearing on some of the finest dining tables in the country and the world. Their charismatic and artistic producer continues to develop his passion, having now passed it on to his son, Arthur Gras. Representing the next generation of vignerons, Arthur works with his father in the vineyard, the winery, and the cellar to pursue a craft with deep roots. Their cuvées are made to be frank in style, and can be enjoyed in their youth or after a certain stretch of cellaring. And to offer such enjoyable cuvées at affordable prices is a deal that you mustn't miss! We particularly like the reds for their flavourful profile, and the white cuvées exude a minerality that really enlivens the palate.
See all the wines from Domaine Alain Gras here
What do the critics say?
La Revue du vin de France
Fans of a good deal will find just what they want for their cellar from this serious Saint-Romain producer. These wines are frank and immediate in their style, making them easy and pleasant to drink. With the prices as they are, there's really no reason to say no.