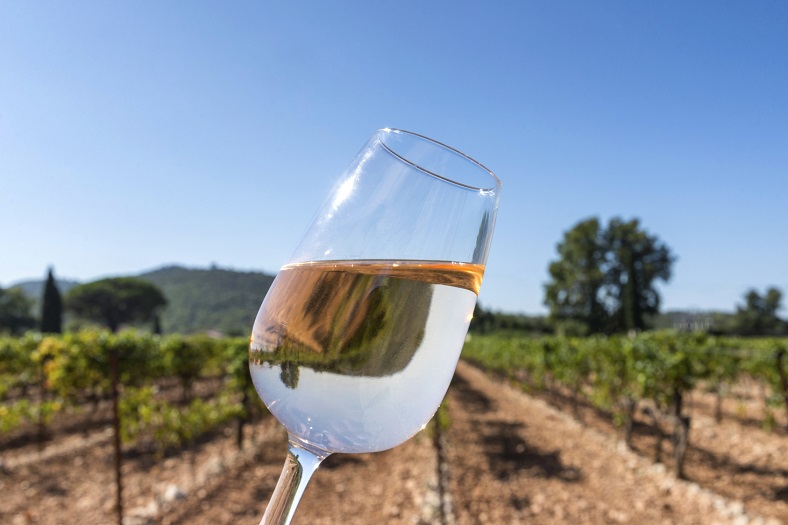 As the mercury rises, you might be asking yourself about keeping your wines in the heat and how best to enjoy them! Here we have five golden rules to keep you and your favourite cuvées happy this summer.
Adapt how you serve your wines
Each type of wine has an ideal serving temperature, and this can be more complicated in the summer months. In order to preserve their finesse, sparkling wines (Champagne, Vouvray) and dessert wines (Sauternes, Bonnezeaux, Jurançon) should be enjoyed really cool (6-8°C). Similar for dry whites (Muscadet, Sancerre) that will be nice served at 7-10°C. Slightly more structured wines such as those from Burgundy, and rosés from Tavel and Bandol, are to be appreciated at the slightly less cool 10-13°.
If you want to appreciate a red wine for its generous bouquet rather than the strength of its alcohol, serve a light cuvée from a region like Beaujolais, Sancerre or Alsace slightly cooled (13°). Something a bit more structured from the likes of Bordeaux or the Rhône should be served between 15° and 18°.
But how do you manage to keep the temperature of a wine down during a heatwave? You can simply refrigerate it for an hour or two beforehand, invest in a cooler bag, or keep the bottle in a bucket of cold water throughout the meal. We have a whole article on the subject of keeping wine cool, check it out!
Take care when transporting bottles
If, like some of us at iDealwine, you're the kind of holiday-goer who likes to set off with a few nice bottles to offer to family and friends, you have to keep them safe on the way! Same goes for if you'll be visiting some domains this summer to take home a selection of special cuvées. The high temperatures a car can reach when exposed to the sun for too long are potentially damaging to wine. Keep them at the back of the boot or under a seat, turn the air conditioning on, anything to prevent them from being spoiled! Just something to keep in mind when you're packing the car.
Have fun choosing your wines
Who doesn't dream of enjoying a delicate and lively wine during the summer months? If you're after a varied selection, look no further than iDealwine! Our site is bursting with fresh and flavoursome gems.
Whether it comes from Provence, Tavel, Savoie or Burgundy, rosé is a longstanding summer favourite, and it can be opened either as an aperitif or alongside a lovely, al fresco meal if it has enough body and flavour.
Here are some suggestions:
The freshness of a white is not to be overlooked! And if you're a fan of the northern regions, there are plenty of bottles waiting for you from Sancerre, Muscadet, Burgundy and Savoie.
The perfect time for an aperitif, now might be a good moment to get the champers out! This lovely weather calls for a sparkling wine with minerality and a bit of vivacity.
And as for those who just can't be without a trusty red, we have plenty in the way of flavourful and fluid wines from Beaujolais, the Jura, Savoie, Sancerre and Alsace. We also have a range of sharing wines perfect for this kind of occasion that are generously fruity and from such regions as the Rhône and the Languedoc.
Try some super food and wine pairings
Barbecues, mediterranean vegetables, fish, seafood platters, fresh cheese…Summer is a flavourful season when we might have a bit more time to spend trying new recipes. And, of course, each dish calls for a lovely bottle to serve alongside!
Light, bubbly cuvées pair wonderfully with the kinds of finger food served for an aperitif. White wine finds its perfect match with starter dishes, fish (with or without sauce), poultry and cheese. And rosé will more often than not make a lovely accompaniment for mediterranean vegetables, grills and fish like salmon and tuna.
As for the reds, especially if they're light, they'll go well with meat cooked on the barbecue, charcuterie platters and savoury tarts.
Trust in iDealwine to keep things going smoothly
Why not order your bottles to be delivered directly to your holiday home? This means one job less when you arrive, and more time to enjoy your pre-prepared summer soirée.
Another option, if you're not going to enjoy the wines straight away, is to have them kept in our temperature-controlled warehouse. You can choose to postpone the delivery of your bottles if you'd prefer them to avoid the strong heat. This is simple, when you place your order simply choose a delayed delivery when you pay.
We hope that these tips and recommendations help to kick-start a rich summer full of discoveries! Take a look at our full selection of wines to get inspired.