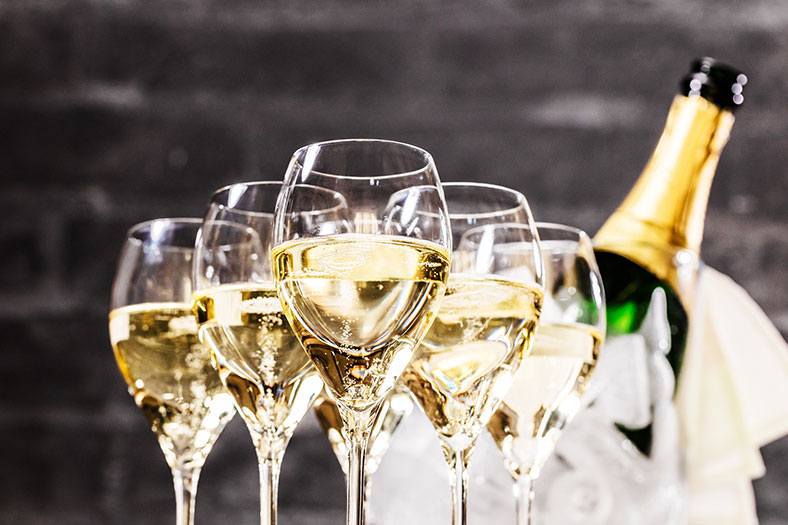 As you know, iDealwine has unique access to sales statistics thanks to its position as a wine auction house, one of the best online ones in the world, no less. This allows us to see the latest market trends and rising names before others. And today, we are sharing some secrets with you about the Champagnes that have been shining brightly at auctions throughout August. We're giving you all the information you need so that the Champagne market is no longer a mystery for you.
In this article, we're going to look further than the icons and names that have been in vogue for a while and focus on the new names that we have seen take off at auction. Before we dive into the auction world, we just had to mention in case you didn't already know (😉) that iDealwine sells many beautiful bottles of Champagne at fixed-prices from the likes of Bollinger, Krug, Roederer, Taittinger, Pierre Péters, Savart, Suenen, Marguet, Jacquesson, Larmandier-Bernier, Chartogne-Taillet, and Bérêche.
Even if it is no newcomer (Emmanuel Brochet took over the estate in 1997), this 2.5-hectare micro-domain located at the heart of the Villiers-aux-Nœuds commune, just south of Reims, produces superb organic Champagnes that are full of character, vinous and fine all at the same time.
In August, a lot of three bottles of Hauts Meuniers Extra Brut 2009 sold for €738, making that €246 per bottle.
See the Champagnes from Emmanuel Brochet for sale
Jérôme Prévost (La Closerie)
La Closerie is a tiny 2.2-hectare domain located in Gueux (Montagne de Reims) created by Jérôme Prévost, a former pupil of Anselme Selosse. The estate is formed of just one sole vineyard, Les Béguines, which is home to only one variety, Pinot Meunier. These fine and complex Champagnes will no doubt charm you with their beautiful fruit, subtle vegetal aromas and exquisite bitters.
This summer, a lot of three bottles of Les Béguines Extra-Brut went under the hammer for €751, or €250 a bottle. The lot was being followed by seven people.
See the Champagnes from Jérôme Prévost for sale
This is another small estate of less than 3 hectares, located in Mesneux on the smaller Petite Montagne de Reims. Elise Bougy took over the family domain, which was created by her great-grandfather, in 2016 and converted it to organic and biodynamic practices. She vinifies the wines in the most natural way possible and they are known for their elegant, precise and quaffable profile.
In August, a lot of two bottles Côteaux Champenois Les Mesneux 2021 sold at auction for €375, making that €187.50 a bottle. Even if all the bottles didn't find a home on their first appearance at auction, different lots were closely followed by potential buyers (using the 'Track' function on the iDealwine website). For example, one bottle of Champagne Chétillon de Haut Grand Cru (non-vintage) had 14 people tracking its price. So, there's a certain amount of interest for this domain…
See the Champagnes from Elise Bougy for sale
Founded in 2020, Maison Jérôme Lefèvre unites Champagnes Delalot (the family domain in Charly-sur-Marne and Saulchery) and Jérôme Lefèvre (plots bought in 2019 located in Mont-de-Bonneil and Essômes-sur-Marne). This organic domain inspired by natural wine offers new cuvées every year.
In August , a lot of one bottle of Côteaux Champenois (non-vintage) was sold for €102 after having been ferociously fought over by no less than 23 different bidders. The lot was also tracked by 30 people.
Pascal Doquet has been a winemaker for over 40 years as he has worked on the family estate since 1982. His domain which is just over 8 hectares in size and located in Vertus is organic with vinification driven by natural yeast and careful maturation.
A lot of three bottles of Champagne Grand Cru Champ Alouette Mesnil Extra Brut 2004 went under the hammer for €304.
See the Champagnes from Pascal Doquet for sale
Antoine Bouvet took over the family domain in Mareuil-sur-Aÿ at the centre of the Montagne de Reims in 2011. He converted it to be organic and biodynamic and has opted to make his wines in the most natural way possible (natural yeasts start fermentation). The Champagnes boast a rich style with subtle oxidative notes and a wonderful tautness.
During the month of August, a lot of two bottles of Brut Les Coutures 2018 sold for €175, making them €87.50 each. It was being tracked by 8 people.
Thomas Perseval joined the family estate located in Chamery on the Montagne de Reims in 2005. He converted the 2.5 hectares to be organic in 2012 and the wine is made with as little intervention as possible (natural yeasts and no filtering, fining, or dosage). These are some complex and flavourful Champagnes.
This summer, a lot of two bottles of Champagne Art Terre 2019 went under the hammer for €138 or €69 each. This lot caught the eye of 14 people who tracked it until the auction closed.
See the Champagnes from Thomas Perseval for sale