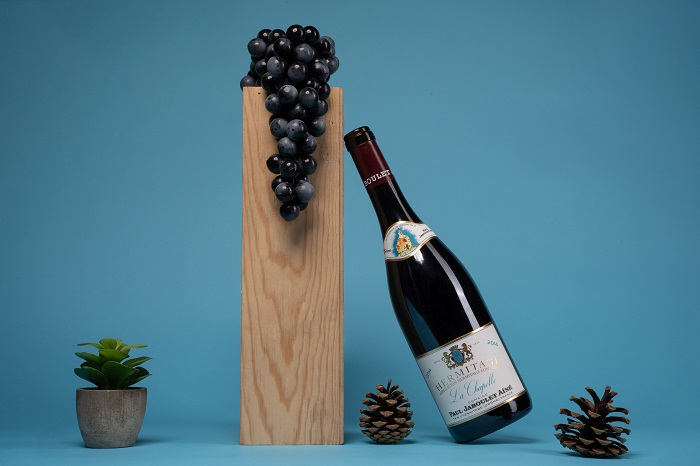 Amongst our large selection of northern Rhône wines, what are the ones that you should absolutely have in your cellar? Let us guide you through our Aladdin's cave with 10 wines that will let you travel to each of the northern Rhône appellations with examples of sparkling, white and red cuvees.
Sparkling
Saint-Péray Les Bulles d'Alain from Domaine Alain Voge: Alain Voge continues the local tradition of making sparkling Saint-Péray using the traditional method (the same method used to make Champagne), creating the Brut Nature Les Bulles d'Alain. A beautiful sparkling wine, fresh and mineral, which would be perfect with fish from the river. Gracious and delicious, this is a wine that you don't have to wait to enjoy.
Whites
Saint-Péray Version Longue from François Villard: Suitable for ageing for around 15 years (after being matured in wood for 18 months), this Saint-Péray possess an amazing creaminess, floral notes, a delicateness and a slightly saline finish. A delightful 100% Marsanne wine.
Condrieu Jardin Suspendu by Pierre-Jean Villa: A sophisticated wine, elegant and floral, that would go very well with a creamy risotto. Discover the nuances of the wonderful, aromatic Voignier variety.
Reds
Cornas from Domaine Aléofane: From young vines planted in 2017, this fresh and harmonious wine unites black fruits, violets and pepperly notes. The first vintage was produced in 2020.
Côte-Rôtie Les Schistes from Domaine Clusel Roch: The domain's famous cuvée is accessible, refined and elegant with a wonderful tannic structure. It contains aromas of black fruits, liquorice and rose.
Côte-Rôtie La Landonne by Jean-Michel Gerin: One of Gérin's signature wines from Côte-Rôtie's famous "La Landonne" vineyard, an exceptional terroir.
Saint-Joseph Les Granits by Chapoutier: Using the grapes from the oldest Syrah vines in the appellation, Maison Chapoutier produces a Saint-Joseph that is both delicate and balanced with charming peppery notes typical of the variety.
Crozes-Hermitage from Domaine Aléofane: An ample Crozes-Hermitage, flavourful with delicate tannins. It has real potential but wait a little while before opening this Rhône gem.
Crozes-Hermitage from Domaine des Entrefaux: With unparalleled crisp fruit flavours, this vibrant wine remains consistant throughout the vintages.
Hermitage La Chapelle by Paul Jaboulet Ainé: Sitting between legends and reality, this legendary wine with exceptional longevity only reveals the finesse of its aromas after many long years ageing.
Shop all northern Rhône Valley wines