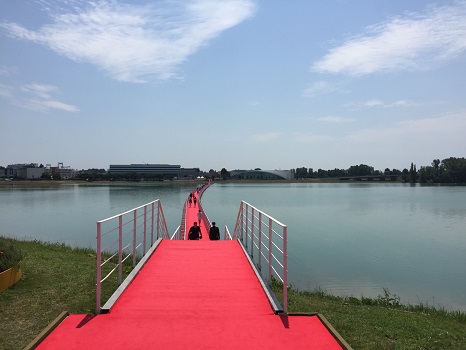 Vinexpo, the long established Bordeaux wine-and-spirit trade fair ended on 21st June on a successful note. iDealwine team represented by Cyrille Jomand, Angélique de Lencquesaing and Raphaël de Fonscolombe, covered the event with a packed schedule full of meetings and interesting exchanges.
For the 19th edition, Bordeaux reaffirmed its position as the world capital for fine wines, gathering the main actors of the wine scene for four intense and exciting days.
During this event, which takes place every other year in Bordeaux, the city, in all its finery, welcomes visitors from all over the world. This year, 30,000 people from the wine industry came to Vinexpo to meet 2,300 exhibitors from more than 40 nationalities. The Chinese were once again much awaited, not only as visitors but also as producers, increasing their number of stands from 4 in previous edition, to 22 this year. Spain, the country guest of honour was logically in the spotlight this year with a ​​2,000m² space in the exhibition's centre, a tasting area with ​​112 wines and a series of events.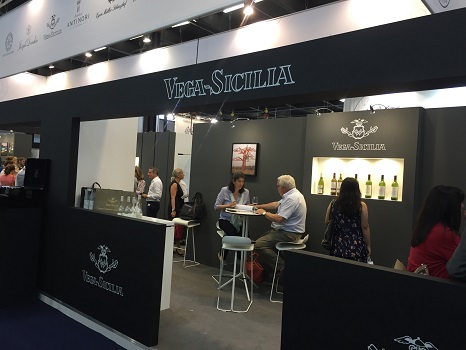 Compared to previous years, a breath of innovation was felt in this edition, marked from the first day by the signature of a partnership between Vinexpo and Tmall, the leading e-commerce platform managed by the Chinese giant Alibaba. New regions such as New York were present. One of the highlights of the event was undoubtedly the WOW (World of Organic Wine) space dedicated to organic and biodynamic wines, a real success which will be renewed next year in Honk Kong Vinexpo.
Moreover, Vinexpo director Guillaume Deglise decided to boost business opportunities this years and Vinexpo team organised about 2,000 "One to Wine Meetings" facilitating discussions between visitors and exhibitors. Often compared to the other main European fair, Prowein, in Dusseldorf, Vinexpo seems to have made progress this year to be more business oriented. It went on for 4 days, instead of 5 previous years, in the wake of Prowein that lasts only 3 days. Guillaume Deglise reckons a shorter fair is more in the spirit of the times, although some winegrowers admit Vinexpo gives more time for people to appreciate the moment, compared to other ones which are marathons of meetings and appointments, certainly efficient and practical but clearly less enjoyable and in the spirit of the wine industry. Smaller stands (6m²) were also available, allowing winegrowers with smaller budgets, to participate to this occasion, broadening the scope and profile of exhibitors.
Several activities gave rhythm to this event: masterclasses organised by Bettane + Desseauve, a blind tasting by 2016 World's Best Sommelier Jon Arvid Rosengren, or engaging conferences (biodynamic wines taste, trade with China, Brexit, neurosciences and tasting). iDealwine did not have a stand (it would not be justified), but our team proceeded to a series of meetings with our partner domains – or those who could soon become partners – and among them the great foreign producers and members of the Bordeaux trade. But also, many tastings, especially to discover the 2016 vintage via the Union des Grands Crus and an incursion at the stand of Winetech, which this year brought together many start-ups currently moving the lines in the wine sector.
Guillaume Deglise is also aware of the importance of Vinexpo to help wine producers meet new demand. An increasing number of wine importers and buyers from America and Asia make up for a decrease in European buyers. Moreover, the organisation is questioning the date of Vinexpo. First, because it is not long after the En Primeur and this year scorching temperatures complicated the organisation (air conditioning, wine and meal temperatures). It also follows Prowein in March and the Italian fair Vinitaly at Easter, both capturing buyers that don't make the effort to attend Vinexpo afterwards. Indeed, Prowein this year attracted 58,500 visitors and 6,400 exhibitors. However, the wine sector seems to agree that compared to Düsseldorf, Bordeaux offers a more premium and glamourous set up thanks notably to the surrounding vineyards.
The shift initiated by Guillaume Deglise and his team has been overall very positive, especially in terms of content and business opportunities. Congratulations to the organizers of this fascinating and very successful occasion! Next step, Vinexpo New York in March 2018!
Extra photos for you to see how it was:
Buy Bordeaux wines on iDealwine
See all wines currently on sale
Register here to access auctions and fixed-price sales
Receive a free estimate of your cellar
Read further on iDealwine Le Blog: