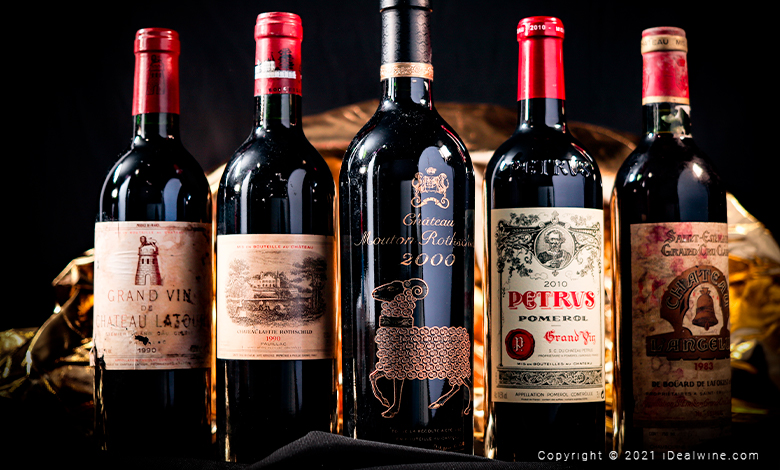 We're rounding off our tour of auction results from the first semester with a stop in Bordeaux. Keeping in line with its reputation, the region's best-performing bottles are fine, mature reds from areas including the Médoc, Pomerol, Saint Emilion, and Graves. So, have the trends we observed last year been confirmed so far in 2021?
This analysis is based on the top 20 highest-price Bordeaux wines sold over the first six months of 2021, with the hammer prices scaled to classic bottle size. To better represent the variety of wines sold at auction, we've included just one cuvée per property (the most expensive one).
The reign of mature reds
Naturally, Bordeaux's top table reflects the kind of wine it's known best for. Of the twenty bottles featured in the ranking, seventeen are red cuvées, with two dessert whites and a single dry white completing the list. As well as taking up more places than their lighter counterparts, the red wines in this ranking also dominate the top spots. On the podium, we have a bottle of Petrus in its 2000 vintage, which sold for €4,421, a 2018 Château le Pin with a hammer price of €3,193, and a 1982 Château Lafite Rothschild, which went for a winning bid of €3,070.
Almost half of the bottles are half a century old, with the oldest vintage – a 1914 Château Haut-Brion – marking the outbreak of the First World War. The frequent appearance of mature Bordeaux vintages at auction is down to the large quantities produced by certain châteaux. Among the highest-priced, it's unsurprising to see years that have long been considered the finest, with 1945, 1947, 1982, 1989 and 1990 all making an appearance.
Pomerol storms ahead
Pomerol wines demonstrated impressive growth in last year's auctions, and we analysed this in our annual wine market Barometer. This success hasn't waned in 2021, with the top two Bordeaux wines coming from this sub-region, defined as it is by its rarity (covering 785 hectares in all). Pomerol also appears in 8th place – a two-bottle lot of 1959 Château Latour à Pomerol – 10th place – a 2015 bottle of Château Lafleur – and 20th place – a 1989 double magnum of Château Clinet.
The four Saint-Emilion Grands Crus Classés A perform well: Château Angélus, Château Ausone, Château Cheval Blanc, and Château Pavie. Remember, though, that Cheval Blanc and Ausone have decided not to apply for the 2022 ranking…you can read more about that here.
The Médoc takes up six places in all, most notably the bronze position which is, for now, held by Château Lafite Rothschild, whose 1982 vintage went under the hammer for €3,070.
In the sub-region of Graves, age and rarity are front-page news, with Château Haut-Brion's 1914 selling for €1,910, and La Mission Haut-Brion represented by a 1947 that achieved a hammer price of €2,333.
Yquem, the flagbearer for dessert wines
The first white wine to feature in this top 20 is, of course, from the legendary Château d'Yquem, the region's flagship producer of dessert wines, crafting cuvées that stand the test of time like no other. Found this time in 9th position, a bottle of Yquem's 1950 went under the hammer for €1,474. This type of wine does indeed gain in value once it has aged for a good few decades. The 1950 vintage has been given a score of 17/20 by iDealwine, a year characterised by particularly rich and unctuous nectars in this part of the world.
17th place has also been taken by a wine with a sweeter disposition. Proudly representing what a Bordeaux white can do is a six-bottle lot of Château Gilette including two bottles of 1983, two 1989 and two 1990 vintages. The top bid for these beauties comes out at an average of €921 per bottle.
Highest-priced Bordeaux bottles, 1st semester 2021
| | | | |
| --- | --- | --- | --- |
| Position | Colour | Lot | Price scaled to 750ml |
| 1 | Red | 1 bottle Petrus 2000 | €4,421 |
| 2 | Red | 1 bottle Château Le Pin 2018 | €3,193 |
| 3 | Red | 1 bottle Château Lafite Rothschild 1982 | €3,070 |
| 4 | Red | 1 bottle Château La Mission Haut-Brion 1947 | €2,333 |
| 5 | Red | 1 bottle Château Haut Brion 1914 | €1,910 |
| 6 | Red | 1 magnum Château Mouton Rothschild 2000 | €1,903 |
| 7 | Red | 1 bottle Château Latour 1929 | €1,722 |
| 8 | Red | 2 bottles Château Latour à Pomerol 1959 | €1,535 |
| 9 | Dessert white | 1 bottle Château d'Yquem 1950 | €1,474 |
| 10 | Red | 1 bottle Château Lafleur 2015 | €1,386 |
| 11 | Red | 2 bottles Château Margaux 2015 | €1,203 |
| 12 | Red | 1 bottle Château Ausone 2010 | €1,105 |
| 13 | Red | 2 bottles Château Cheval Blanc 1990 | €1,075 |
| 14 | Red | 1 bottle Château Ducru Beaucaillou 1945 | €982 |
| 15 | Red | 1 bottle Château Pavie 1945 | €982 |
| 16 | White | 1 bottle Château Laville Haut-Brion 1948 | €982 |
| 17 | Dessert white | 1 bottle Château Gilette – Crême de tête assortiment 2 bt 1983, 2 bt 1989, 2 bt 1990 | €921 |
| 18 | Red | 1 bottle Château Montrose 1990 | €749 |
| 19 | Red | 1 bottle Château Angélus 2005 | €749 |
| 20 | Red | 1 double-magnum Château Clinet 1989 | €675 |