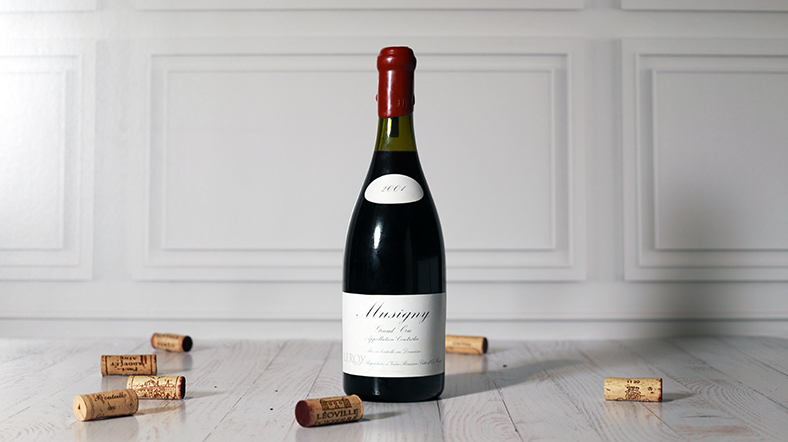 Have a look at our ranking of wines that received the highest bids in 2020. Do you know them all? Have you been lucky enough to try any? For once, the top place bottle was a bit of a surprise…
An intense and dynamic year despite the global crisis
For iDealwine and the auction market more broadly, 2020 was a rich and intense year in spite of a global context marked by the pandemic and its extensive effects on the economy. We want to thank you again for your support during this time!
40 auctions were held at iDealwine.com over the course of the year, including six private collections (sales dedicated to the exceptional cellar of one particular seller). Over 175,000 bottle went under the hammer (+4%), as part of 93,000 lots (+12%), for a total of over €23 million, which is an increase of 8%. Cyrille Jomand, iDealwine's CEO, explains 'The products put up for auction saw a huge success, with unprecedented rates of bottles sold per sale. The market turned out to be dynamic this year, allowing us to comfortably secure our position as a leader in online auctions. The only obstacle came from a sourcing perspective, since the lockdown and its restrictions prevented us from offering as many bottles as we'd have liked to during the spring.'
At the same time, sales of fixed price wines (those that come directly from domains), saw an even stronger acceleration of 46%. Both auction and fixed price sales combined, iDealwine's total sales figure for 2020 amounts to €33 million, a 15% increase on 2019.
Burgundy heads up the highest-priced bottles – A Musigny from Domaine Leroy on top
Burgundy has been making steady progress over the years in our rankings of the top 50 lots and bottles, and the trend shows no sign of slowing. 36 of the highest-priced lots are from this prestigious region (compared to last year's 29), and 39 of the highest-priced bottles, which is four more than in 2019. Indeed, the top spot in both tables has been taken by Burgundians: the highest bid we saw last year was for a 2001 Musigny from Domaine Leroy, which was sold for €17,499. The top lot was a 12-bottle 1990 assortment from Domaine de la Romanée-Conti, this for €53,172. This is the first time that a bottle from Domaine Leroy has got gold at the podium, pushing Romanée-Conti from its usual spot (the only other exceptions being a 1961 Hermitage La Chapelle by Paul Jaboulet and a 50-Year-Old The Balvenie single malt scotch whisky from the Banffshire distillery). Aside from these emblematic names, Domaines Georges Roumier, Leflaive, Auvenay (also owned by Lalou Bize-Leroy) and Liger-Belair also stand out.
Bordeaux, holding on with some superb signatures
Bordeaux's share of the top spots in our ranking has been diminishing for several years now, since many of the highest prices from this classic region don't quite match those we see in Burgundy. Still, it takes up 8 places in the ranking of top bottles. This is likely due to our decision not to scale prices to a 750ml bottle, Bordeaux being a great producer of large formats; 7 of the bottles placed are magnums and 1 is an imperial.
Thanks to its global reputation, Bordeaux has still managed to distinguish itself by marrying high prices (especially for the Premiers crus classés) with a certain quantity: 13 of our highest-priced lots are from Bordeaux with, for example, a 6-bottle lot of 2000 Château Mouton-Rothschild which sold for €9,701.
Aside from Burgundy and Bordeaux, we find one bottle from the Rhône, a 1990 bottle of Jean-Louis Chave's Cathelin cuvée at €6,140. There is also a 1959 Dom Pérignon rosé at €5,526, and a Louis XIII Rémy Martin Rare Cask Cognac at €16,578.
Here are the tables in full:
Top 50 highest-priced lots of 2020
| | | | | |
| --- | --- | --- | --- | --- |
| Rank | Region | Name | Price incl. VAT | Buyer |
| 1 | Burgundy | 12 Bottle Assortiment 1990 du Domaine de la Romanée-Conti Domaine de la Romanée-Conti 1990 | 53 172,40 € | UNITED KINGDOM |
| 2 | Burgundy | 12 Bottle Assortiment 2009 du Domaine de la Romanée-Conti Domaine de la Romanée-Conti 2 caisses (1 Romanée Conti – 2 Romanée Saint Vivant – 3 La Tache – 2 Richebourg – 2 Echézeaux – 2 Grands Echézeaux) 2009 | 46 909,60 € | FRANCE |
| 3 | Burgundy | 13 Bottle Caisse Domaine de la Romanée Conti 1 Romanée Conti – 3 La Tache – 3 Romanée Saint Vivant – 1 Richebourg – 2 Grands Echezeaux – 3 Echezeaux 2012 | 40 524,00 € | BELGIUM |
| 4 | Burgundy | 13 Bottle Assortiment 2014 du Domaine de la Romanée-Conti Domaine de la Romanée-Conti 2014 | 40 524,00 € | UNITED KINGDOM |
| 5 | Burgundy | 9 Bottle Assortiment 2016 du Domaine de la Romanée-Conti Domaine de la Romanée-Conti 2016 | 36 840,00 € | ITALY |
| 6 | Burgundy | 1 Bottle Musigny Grand Cru Leroy (Domaine) 2001 | 17 499,00 € | SWITZERLAND |
| 7 | Burgundy | 3 Bottle Criots-Bâtard-Montrachet Grand Cru d'Auvenay (Domaine) 2011 | 17 314,80 € | UNITED KINGDOM |
| 8 | Burgundy | 1 Bottle Romanée-Conti Grand Cru Domaine de la Romanée-Conti 2009 | 16 578,00 € | SWITZERLAND |
| 9 | Charente | 1 Bottle Cognac Louis XIII Rémy Martin Rare Cask —- | 16 578,00 € | FRANCE |
| 10 | Burgundy | 3 Bottle Chevalier-Montrachet Grand Cru d'Auvenay (Domaine) 2011 | 16 578,00 € | FRANCE |
| 11 | Burgundy | 6 Bottle Caisse Domaine de la Romanée Conti 3 Echezeaux Grand Cru – 2 Grands Echezeaux Grand Cru – 1 Richebourg Grand Cru 2015 | 16 209,60 € | TAIWAN |
| 12 | Burgundy | 1 Bottle Romanée-Conti Grand Cru Domaine de la Romanée-Conti 2012 | 14 858,80 € | FRANCE |
| 13 | Burgundy | 1 Bottle Romanée-Conti Grand Cru Domaine de la Romanée-Conti 2002 | 14 736,00 € | FRANCE |
| 14 | Burgundy | 1 Bottle Romanée-Conti Grand Cru Domaine de la Romanée-Conti 2010 | 14 736,00 € | POLAND |
| 15 | Burgundy | 3 Bottle Richebourg Grand Cru Leroy (Domaine) 2002 | 14 613,20 € | ETATS-UNIS |
| 16 | Burgundy | 1 Bottle Romanée-Conti Grand Cru Domaine de la Romanée-Conti 2006 | 14 244,80 € | FRANCE |
| 17 | Burgundy | 1 Bottle Romanée-Conti Grand Cru Domaine de la Romanée-Conti 2004 | 14 244,80 € | FRANCE |
| 18 | Burgundy | 1 Bottle Romanée-Conti Grand Cru Domaine de la Romanée-Conti 2006 | 14 244,80 € | UNITED KINGDOM |
| 19 | Burgundy | 1 Bottle Romanée-Conti Grand Cru Domaine de la Romanée-Conti 2001 | 13 937,80 € | POLAND |
| 20 | Burgundy | 1 Bottle Romanée-Conti Grand Cru Domaine de la Romanée-Conti 2004 | 13 753,60 € | FRANCE |
| 21 | Burgundy | 1 Magnum Montrachet Grand Cru Domaine de la Romanée-Conti 2007 | 13 630,80 € | FRANCE |
| 22 | Burgundy | 1 Bottle Romanée-Conti Grand Cru Domaine de la Romanée-Conti 2000 | 13 508,00 € | FRANCE |
| 23 | Burgundy | 1 Bottle Romanée-Conti Grand Cru Domaine de la Romanée-Conti 1992 | 13 508,00 € | FRANCE |
| 24 | Burgundy | 1 Bottle Romanée-Conti Grand Cru Domaine de la Romanée-Conti 2000 | 13 508,00 € | FRANCE |
| 25 | Burgundy | 1 Bottle Romanée-Conti Grand Cru Domaine de la Romanée-Conti 2014 | 12 832,60 € | FRANCE |
| 26 | Burgundy | 1 Bottle Romanée-Conti Grand Cru Domaine de la Romanée-Conti 2007 | 12 771,20 € | SWITZERLAND |
| 27 | Burgundy | 1 Bottle Romanée-Conti Grand Cru Domaine de la Romanée-Conti 2004 | 12 402,80 € | FRANCE |
| 28 | Burgundy | 1 Bottle Romanée-Conti Grand Cru Domaine de la Romanée-Conti 2004 | 12 280,00 € | FRANCE |
| 29 | Bordeaux | 6 Magnum Château Lafite Rothschild 1er Grand Cru Classé 1986 | 9 946,80 € | CHINE |
| 30 | Burgundy | 1 Bottle Musigny Grand Cru Georges Roumier (Domaine) 1990 | 9 824,00 € | FRANCE |
| 31 | Burgundy | 1 Bottle Musigny Grand Cru Leroy (Domaine) 1998 | 9 701,20 € | UNITED KINGDOM |
| 32 | Bordeaux | 6 Bottle Château Mouton Rothschild 1er Grand Cru Classé 2000 | 9 701,20 € | FRANCE |
| 33 | Bordeaux | 12 Bottle Château Lafite Rothschild 1er Grand Cru Classé 1986 | 9 517,00 € | FRANCE |
| 34 | Bordeaux | 9 Bottle Caisse Collection Duclot 1 Petrus – 1 Cheval Blanc – 1 La Mission Haut Brion – 1 Haut Brion – 1 Margaux – 1 Lafite Rothschild – 1 Latour – 1 Yquem – 1 Mouton Rothschild 2010 | 9 455,60 € | DANEMARK |
| 35 | Burgundy | 1 Magnum La Tâche Grand Cru Domaine de la Romanée-Conti 2000 | 9 210,00 € | FRANCE |
| 36 | Burgundy | 1 Bottle Musigny Grand Cru Georges Roumier (Domaine) 1990 | 8 964,40 € | FRANCE |
| 37 | Burgundy | 1 Bottle Romanée-Conti Grand Cru Domaine de la Romanée-Conti 1969 | 8 872,30 € | CZECH REPUBLIC |
| 38 | Bordeaux | 3 Bottle Château Le Pin 2016 | 8 841,60 € | FRANCE |
| 39 | Bordeaux | 12 Bottle Château Trotanoy 1971 | 8 804,76 € | FRANCE |
| 40 | Bordeaux | 9 Bottle Caisse Collection Duclot 1 Petrus – 1 Cheval Blanc – 1 La Mission Haut Brion – 1 Haut Brion – 1 Margaux – 1 Lafite Rothschild – 1 Latour – 1 Yquem – 1 Mouton Rothschild 2009 | 8 596,00 € | SWITZERLAND |
| 41 | Bordeaux | 9 Bottle Caisse Duclot Haut Brion – Latour -Margaux – Mouton Rothschild – Mission Haut Brion – Yquem – Pétrus – Cheval Blanc -Lafite Rothschild 2005 | 8 596,00 € | FRANCE |
| 42 | Burgundy | 1 Bottle Musigny Grand Cru Georges Roumier (Domaine) 1999 | 8 473,20 € | FRANCE |
| 43 | Burgundy | 1 Bottle Musigny Grand Cru Georges Roumier (Domaine) 2002 | 8 473,20 € | SWITZERLAND |
| 44 | Burgundy | 3 Bottle La Romanée Grand Cru Comte Liger-Belair (Domaine du) 2003 | 8 473,20 € | UNITED KINGDOM |
| 45 | Burgundy | 1 Magnum La Tâche Grand Cru Domaine de la Romanée-Conti 2003 | 8 350,40 € | FRANCE |
| 46 | Bordeaux | 6 Bottle Château Lafleur 2000 | 8 350,40 € | UNITED KINGDOM |
| 47 | Bordeaux | 1 Magnum Petrus 2000 | 8 227,60 € | IRELAND |
| 48 | Bordeaux | 1 Magnum Petrus 2000 | 8 104,80 € | FRANCE |
| 49 | Bordeaux | 1 Bottle Caisse Collection Duclot 2009 2009 | 7 982,00 € | FRANCE |
| 50 | Bordeaux | 12 Bottle Château Lafite Rothschild 1er Grand Cru Classé 2005 | 7 982,00 € | DENMARK |
Top 50 highest-priced bottles of 2020 (scaled to 75cl)
| | | | | |
| --- | --- | --- | --- | --- |
| Rank | Region | Name | Price per unit (scaled to 75cl) | Buyer country |
| 1 | Burgundy | 1 Bottle Musigny Grand Cru Leroy (Domaine) 2001 | 17 499,00 € | SWITZERLAND |
| 2 | Burgundy | 1 Bottle Romanée-Conti Grand Cru Domaine de la Romanée-Conti 2009 | 16 578,00 € | SWITZERLAND |
| 3 | Charente | 1 Bottle Cognac Louis XIII Rémy Martin Rare Cask —- | 16 578,00 € | FRANCE |
| 4 | Burgundy | 1 Bottle Romanée-Conti Grand Cru Domaine de la Romanée-Conti 2012 | 14 858,80 € | FRANCE |
| 5 | Burgundy | 1 Bottle Romanée-Conti Grand Cru Domaine de la Romanée-Conti 2002 | 14 736,00 € | FRANCE |
| 6 | Burgundy | 1 Bottle Romanée-Conti Grand Cru Domaine de la Romanée-Conti 2010 | 14 736,00 € | POLAND |
| 7 | Burgundy | 1 Bottle Romanée-Conti Grand Cru Domaine de la Romanée-Conti 2006 | 14 244,80 € | FRANCE |
| 8 | Burgundy | 1 Bottle Romanée-Conti Grand Cru Domaine de la Romanée-Conti 2004 | 14 244,80 € | FRANCE |
| 9 | Burgundy | 1 Bottle Romanée-Conti Grand Cru Domaine de la Romanée-Conti 2006 | 14 244,80 € | UNITED KINGDOM |
| 10 | Burgundy | 1 Bottle Romanée-Conti Grand Cru Domaine de la Romanée-Conti 2001 | 13 937,80 € | POLAND |
| 11 | Burgundy | 1 Bottle Romanée-Conti Grand Cru Domaine de la Romanée-Conti 2004 | 13 753,60 € | FRANCE |
| 12 | Burgundy | 1 Magnum Montrachet Grand Cru Domaine de la Romanée-Conti 2007 | 13 630,80 € | FRANCE |
| 13 | Burgundy | 1 Bottle Romanée-Conti Grand Cru Domaine de la Romanée-Conti 2000 | 13 508,00 € | FRANCE |
| 14 | Burgundy | 1 Bottle Romanée-Conti Grand Cru Domaine de la Romanée-Conti 1992 | 13 508,00 € | FRANCE |
| 15 | Burgundy | 1 Bottle Romanée-Conti Grand Cru Domaine de la Romanée-Conti 2000 | 13 508,00 € | FRANCE |
| 16 | Burgundy | 1 Bottle Romanée-Conti Grand Cru Domaine de la Romanée-Conti 2014 | 12 832,60 € | FRANCE |
| 17 | Burgundy | 1 Bottle Romanée-Conti Grand Cru Domaine de la Romanée-Conti 2007 | 12 771,20 € | SWITZERLAND |
| 18 | Burgundy | 1 Bottle Romanée-Conti Grand Cru Domaine de la Romanée-Conti 2004 | 12 402,80 € | FRANCE |
| 19 | Burgundy | 1 Bottle Romanée-Conti Grand Cru Domaine de la Romanée-Conti 2004 | 12 280,00 € | FRANCE |
| 20 | Burgundy | 1 Bottle Musigny Grand Cru Georges Roumier (Domaine) 1990 | 9 824,00 € | FRANCE |
| 21 | Burgundy | 1 Bottle Musigny Grand Cru Leroy (Domaine) 1998 | 9 701,20 € | UNITED KINGDOM |
| 22 | Burgundy | 1 Magnum La Tâche Grand Cru Domaine de la Romanée-Conti 2000 | 9 210,00 € | FRANCE |
| 23 | Burgundy | 1 Bottle Musigny Grand Cru Georges Roumier (Domaine) 1990 | 8 964,40 € | FRANCE |
| 24 | Burgundy | 1 Bottle Romanée-Conti Grand Cru Domaine de la Romanée-Conti 1969 | 8 872,30 € | CZECH REPUBLIC |
| 25 | Burgundy | 1 Bottle Musigny Grand Cru Georges Roumier (Domaine) 1999 | 8 473,20 € | FRANCE |
| 26 | Burgundy | 1 Bottle Musigny Grand Cru Georges Roumier (Domaine) 2002 | 8 473,20 € | SWITZERLAND |
| 27 | Burgundy | 1 Magnum La Tâche Grand Cru Domaine de la Romanée-Conti 2003 | 8 350,40 € | FRANCE |
| 28 | Bordeaux | 1 Magnum Petrus 2000 | 8 227,60 € | IRELAND |
| 29 | Bordeaux | 1 Magnum Petrus 2000 | 8 104,80 € | FRANCE |
| 30 | Burgundy | 1 Bottle Musigny Grand Cru Georges Roumier (Domaine) 2013 | 7 613,60 € | UNITED KINGDOM |
| 31 | Burgundy | 1 Double-magnum Echézeaux Grand Cru Domaine Bizot 2009 | 7 368,00 € | FRANCE |
| 32 | Burgundy | 1 Bottle Montrachet Grand Cru Domaine Leflaive 2006 | 7 122,40 € | JAPAN |
| 33 | Bordeaux | 1 Magnum Petrus 1998 | 6 999,60 € | FRANCE |
| 34 | Burgundy | 1 Bottle Musigny Grand Cru Georges Roumier (Domaine) 1987 | 6 876,80 € | FRANCE |
| 35 | Bordeaux | 1 Magnum Petrus 2016 | 6 876,80 € | BELGIUM |
| 36 | Bordeaux | 1 Magnum Petrus 1998 | 6 876,80 € | FRANCE |
| 37 | Bordeaux | 1 Magnum Petrus 2016 | 6 754,00 € | FRANCE |
| 38 | Burgundy | 1 Bottle Montrachet Grand Cru Domaine de la Romanée-Conti 2002 | 6 385,60 € | FRANCE |
| 39 | Burgundy | 1 Bottle Montrachet Grand Cru Domaine de la Romanée-Conti 1999 | 6 385,60 € | UNITED KINGDOM |
| 40 | Vallée du Rhône | 1 Bottle Hermitage Ermitage Cuvée Cathelin Jean-Louis Chave 1990 | 6 140,00 € | FRANCE |
| 41 | Bordeaux | 1 Magnum Château Latour 1er Grand Cru Classé 1949 | 6 017,20 € | AUSTRALIA |
| 42 | Burgundy | 1 Bottle Montrachet Grand Cru Domaine de la Romanée-Conti 2008 | 5 894,40 € | FRANCE |
| 43 | Burgundy | 3 Bottle Criots-Bâtard-Montrachet Grand Cru d'Auvenay (Domaine) 2011 | 5 771,60 € | UNITED KINGDOM |
| 44 | Burgundy | 3 Bottle Chevalier-Montrachet Grand Cru d'Auvenay (Domaine) 2011 | 5 526,00 € | FRANCE |
| 45 | Champagne | 1 Bottle Dom Pérignon Moët & Chandon 1959 | 5 526,00 € | CHINA |
| 46 | Burgundy | 1 Bottle Criots-Bâtard-Montrachet Grand Cru d'Auvenay (Domaine) 2005 | 5 526,00 € | FRANCE |
| 47 | Burgundy | 1 Bottle Criots-Bâtard-Montrachet Grand Cru d'Auvenay (Domaine) 2005 | 5 403,20 € | FRANCE |
| 48 | Burgundy | 1 Bottle Montrachet Grand Cru Domaine de la Romanée-Conti 2007 | 5 403,20 € | HONG KONG |
| 49 | Bordeaux | 1 Impériale Château Cheval Blanc 1er Grand Cru Classé A 2000 | 5 403,20 € | FRANCE |
| 50 | Burgundy | 1 Magnum Richebourg Grand Cru Domaine de la Romanée-Conti 2000 | 5 280,40 € | TAIWAN |