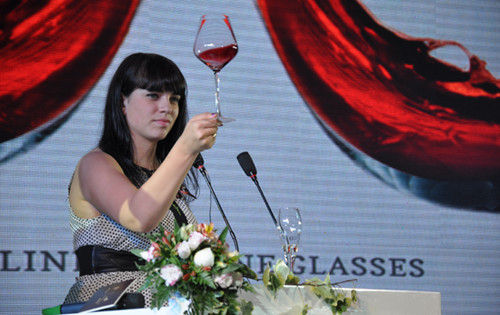 Marion began her professional path as an ambassador for Bordeaux wine in China, and she has experience on the technical side of things, too, helping with the harvests and vinifications in Pomerol for the 2014 vintage. She worked with Châteaux Legay, Montviel and La Violette, and you might have spotted some bottles from these properties at iDealwine. Her interest was piqued by the production of a kosher wine made based on traditional requirements. After Bordeaux, she headed to the Loire to get closer to her family, and there she worked with Domaine de Rocheville as an export assistant. Then to Château Guipière, a Muscadet domain, where she worked to expand the property's brand with a shop, communications and a website…She managed the challenge of branding in just 4 months, an achievement she's understandably proud of. She then discovered another facet of the wine world at Gamba1Rota, a logistics company for wine and spirits, where she had the role of customs manager.
"All of this allowed me to discover so many things: the technical side, sales, wine tourism, and now I'm here!"
What does wine mean to you?
As we say, distance makes the heart grow fonder, and Marion only fully realised how much wine meant her when she spent two years working in an unrelated industry. "What I missed was everything that can be passed on, wine is a product of the earth and our grape varieties make it to all four corners of the globe. It's about joy and bringing people together. Having seen how it's made, as well, I can appreciate the masterful work behind the scenes. It's a very noble product and I had to get back to it!"
This passion was born whilst Marion was completing her studies, and she explains how "Bordeaux is the perfect playground for getting to know wine". Convinced that wine is what she was made to do, she let us in on a little secret…one day, she'd like to have her own domain!
Your favourite region?
"I love the Loire because it's so diverse! You can find a bit of everything, I know we often associate the Loire with dry white wine, but there are also the fine Côteaux de Layon in Anjou, rosé from Saumur and Touraine".
As for her future domain, she is thinking about the Lot et Garonne region: "it's a really beautiful region where you can make something good with just a few hectares. I think a bit of feminine influence would be interesting there! There are some women making wine, but there's still a way to go…"
A wine you discovered recently?
"The rosé by Triennes, I hadn't heard of that before arriving at iDealwine. It's true that there are so many rosé cuvées to discover in France, and a cuvée from Triennes is perfect to serve at a barbecue!"
Your dream bottle?
"Haut-Brion 89 is a wine I have to try one day, it's a symbolic bottle, and not just because it's the year I was born. I know it's a truly magnificent vintage, so maybe for my 40th birthday…"
What would you like to try from iDealwine's summer selection?
"Guigal's 2015 Tavel is a good alternative to red wine when it's a bit warm. The 2015 white Château Carbonnieux has a really pure character. I'd also like to taste Louis Latour's 2018 Chardonnay Grand Ardèche which is vinified with a real Burgundian spirit. A must-have from the Loire is the Sancerre from Domaine Vacheron et Fils. And to pick a red, I'd say a young, fruity Marsannay from Domaine Sylvain Pataille or a classic 2016 Château du Taillan which has lovely balance."