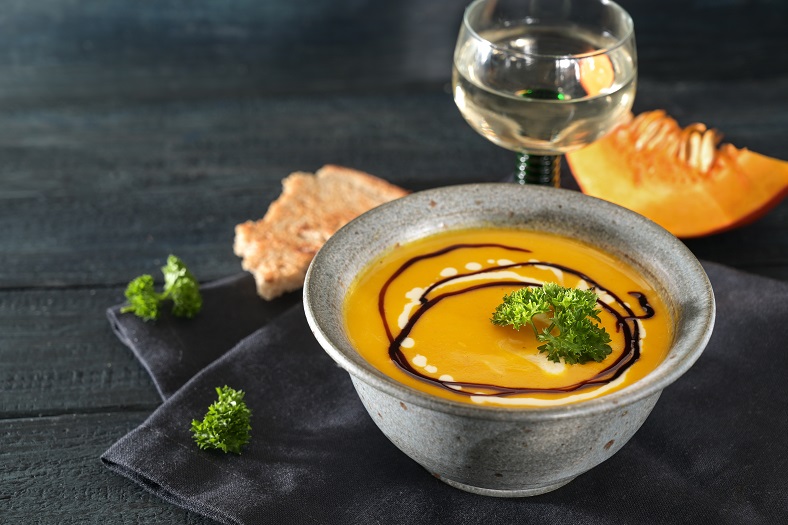 There's a chill in the air and the nights are drawing in. As the curtains close on this year's long summer, it's time to embrace cosy evenings of comfort food with a glass of something nice to warm you up. Introducing the star of autumn veg, bright and enticing in the season's fiery colours: the squash is back! And finding its perfect wine partner is a challenge we've loved getting into.
From October to December, a dizzying array of squash varieties brighten up market stalls and kitchen counters alike. Each different kind has its own character, with some lending themselves to savoury dishes and others making a surprising but delicious appearance in sweeter recipes. The squash is a versatile vegetable and a key ingredient for all home chefs as the leaves start to turn.
How do you cook a squash?
Thick-skinned and hard to handle, the squash isn't the most approachable of vegetables. Don't give in to intimidation, though (I know your trusty courgettes and carrots are tempting right now). You'll need a brush and a bit of water to get rid of any excess earth on the outside of the skin, then a large, sharp knife to cut into the squash. The heart of this vegetable is stringy with lots of seeds – this part should be removed.
As for their character, butternut squash and onion squash have that beautiful nutty flavour we associate with the season, as well as an unctuous texture. The custard marrow (or pattypan squash) and the pumpkin – not just for Halloween deco! – have a sweeter profile for you to experiment with.
Talking of versatility, you've got a wealth of cooking options for your squash, including making it into soup, roasting (a personal favourite!), stuffing, grilling, mashing, even baking, and serving alongside meat or fish if you like that sort of thing.
Which wine with which dish?
Now you've got the different cooking methods in mind, it's time to think about which wine might pair best with each of these sumptuous squash dishes.
Squash soup: like a bowl of pure comfort, this concoction is the perfect way to ease your way into the colder months. Thicken your squash soup with some crème fraiche or fromage frais, and sprinkle on some warming spices like paprika and cinnamon. The creaminess of this dish will pair nicely with a lively white wine (Sancerre, Pouilly-Fumé, Chablis), as a touch of sharpness makes for a pleasant contrast. On the flavour front, you might also want to opt for a Gewurztraminer from Alsace, a wine that will complement your soup if you've really raided your spice rack.
Grilled squash: minimalist and infinitely chic on the plate, cut the squash into thin slices, drizzle with olive oil, and pop it in the oven. Once ready, it can be tossed into salads of green leaves, legumes, hard cheese, and topped with a drizzle of dressing. Grilled in this way, squash has an almost candied flavour profile that pairs nicely with a well-developed red. For a bottle like this, we recommend something from the Rhône, a region whose fine wines (Cornas, Hermitage, Côte-Rôtie) tend towards a smoky profile as they mature. Certain Côtes-du-Rhône cuvées will pair nicely, too, thanks to their generous character and lightly peppery finish.
Squash gratin: a hearty French dish to warm the soul, gratin brings together some of the most sumptuous ingredients into one, oven-cooked delight. Layers of squash, béchamel sauce, and grated cheese melt into a dish that smells and tastes divine. It calls for a lively but round and fruity white wine. The south of France is the place to go for inspiration here, with Rhône Viognier, sunny whites from the Languedoc, and dry Jurançon all fitting the bill.
Stuffed squash: this one is a bit more hands-on, but it'll be worth it. Cut the squash in half, scoop out the very centre, and stuff with a filling of your choice before letting the oven do its magic. Filling ideas might include apple and sausage, quinoa and beans, Moroccan-inspired chickpeas, or chicken and mushroom…but your options are endless! Such a flavourful meal calls for a wine that is ample and structured, with tannins that are present but silky. Bordeaux is just right here, such as the elegant cuvées from Pomerol, Saint-Emilion, and Pessac-Léognan. Alternatively, Burgundy's Gevrey-Chambertin and Pommard appellations also produce the kind of wine that would pair beautifully with this dish.
Mashed squash: a variation on a classic, the squash can be mashed on its own or blended with potato or carrot for a creamy and filling plate. If you serve your mash on its own (as it so deserves), it will pair nicely with a Chenin Blanc from the Loire, especially one that's nicely ripe with a little residual sugar. If you serve the squash with white fish, it'll go with a maritime-influenced white from the south (Provence or Corsica, for example), as the salty edge will bring it all together. With white meat, you might want to opt for a light and fruity red cuvée; we recommend a Gamay from the Beaujolais or Auvergne, a red Sancerre, or a Pinot Noir from Alsace.
Squash-based dessert: this truly versatile veggie can even satisfy the sweet-toothed among you. If you incorporate custard marrow into a chocolate pudding, it adds a nutty flavour and melts in the mouth. This rich dish will pair well with a fortified wine such as a Port or Maury. US favourite Pumpkin Pie is a seasonal treat that could only be improved by the accompaniment of a sumptuous drink. Why not serve it with a sweet or dessert wine, such as a Sauternes, to finish your meal on a truly heavenly note?
Now go and choose your lovely squash and get stuck in!