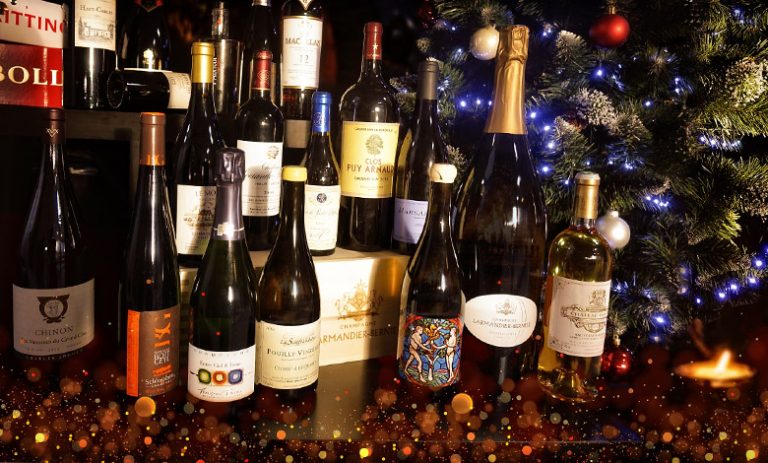 Enter the Aladdin's cave of Christmas wines that is iDealwine! Whatever you're looking for, rest assured we have it! Below, our advice to make your meal a success and tips on Christmas presents that even your most difficult guests won't turn their nose up at.
How did we put together our Christmas selection? We simply curated a tailor-made list of our finest champagnes and sparkling wines, added our favourite dessert wines, our best wines from Alsace, Savoy, Jura, the northern Rhone and Châteauneuf du Pape, Bordeaux, Burgundy, Languedoc and Roussillon, Corsica, the Loire, the south-west and of course wines from further afield! We've also slipped in some large-format bottles and spirits. A selection that will have you dreaming no matter your wine preferences (and the size of your wallet!). Without further ado, here they are:
Sublime wines for your Christmas dinner
Aperitif:
Nothing like a champagne or sparkling wine to get your meal off to a sumptuous start. The bubbles will soon have you feeling festive, even while waiting for those latecomers. If you're on a tight budget but want the best quality possible, the Montlouis Brut from La Taille aux Loups (€15), the Savoy wine Don Giachino (€15) or Les Perles du Mont Blanc from Belluard (€17) and Les Bulles d'Alain from Domaine Alain Voge (€18) are delicious options. For those of you for whom Christmas isn't Christmas without a glass of champagne, look no further! The cuvée Signature Extra-Brut from Huguenot-Tassin (€23), produced with a majority of Pinot blanc (a rarity in itself) and completed by Pinot noir will awaken your taste buds with its tautness and freshness melded in with a delicious fruitiness. The almost equally pleasantly-priced (€26) brut cuvée Tradition Premier Cru from Gonet-Medeville is an excellent choice. In addition to this, we have the most famous signatures from Champagne, whether they are grower-producers (Agrapart, Françoise Bedel et Fils, Chartogne-Taillet, Olivier Horiot, Francis Boulard, Laherte Frères, Bourgeois-Diaz, De Sousa, Jeaunaux-Robin, Pierre Moncuit, R. Pouillon & fils, Bérêche et Fils, Petit & Bajan, Vincent Couche) or prestigious houses (Deutz, Bollinger, Taittinger, Philipponnat, Pol Roger, Louis Roederer, Drappier, Pol Roger, Jacquesson, Larmandier-Bernier, Ayala, Charles Heidsieck, Billecart-Salmon).
Starter:
You can continue your meal with many of the champagnes cited above, especially iodine foods (smoked salmon, oysters, caviar scallops…), for which you should favour Blanc de Blancs champagnes produced with a majority of Chardonnay. Foie gras also goes fantastically with more vinous champagnes (blanc de noirs, or with a majority of Pinot noir). The most vinous champagnes can often go with an entire meal, especially if you are having poultry). But as variety is king, we're not short of ideas for other wines… Chablis (Dauvissat, Pattes Loup, Louis Michel et Fils, William Fèvre…), Muscadets (Domaine de l'Ecu), or dry Alsatian wines (Weinbach, Zind Humbrecht, Valentin Zusslin, Bott-Geyl, Trimbach, Ostertag…) also represent very good potential pairings for iodine foods. Foie gras can of course be paired with a Sauternes, but we also advise sweet wines from Alsace (Deiss, Weinbach) or from the Loire (Huet, Chidaine…), or unctuous white wines such as some fine Burgundy wines (Meursault from Ballot Millot, Comtes Lafon, Chavy-Chouet or François Mikulski; Chassagne-Montrachet and Puligny-Montrachet from Bruno Colin, Etienne Sauzet, Alex Gambal). You could also try a red wine, for instance a mature Bordeaux (2010 Haut Carles, 2004 Haut Marbuzet, 2009 Léoville Las Cases) or a wine from the South-West (Cosse-Maisonneuve, Château du Cèdre, Clos Triguedina, Mas Del Périé, Bouscassé, Montus).
Main course:
You will have probably opted for poultry or game. In the first case, the possibilities are endless, from white wines from the South (Oro de Peyre-Rose, Mas Daumas Gassac), Burgundy (Leflaive, Louis Latour) as well as Macon and Savoy (Louis Magnin), up to medium-bodied red wines (Loire, Burgundy), vin jaune (Château d'Arlay, Berthet-Bondet, Marnes Blanches, Jean Macle), especially if you are pairing your dish with a vin jaune sauce and wild mushrooms.
Or rather, have you got some delicious game in preparation for the big day? Go for a powerful Bordeaux red (Lynch Bages, Langoa Barton, Ducru Beaucaillou), from the Rhône (Côte-Rôtie from Guigal, Othéguy, Clusel Roch, Duclaux; Châteauneuf-du-Pape from André Brunel, Beaucastel or Charvin). If you've chosen a most classic red meat (beef, venison), or you've paired it with refined, savoury ingredients such as truffle, the time has come to open a Burgundian Pinot noir… The choice is vast, ranging from lovely Mercurey wines from the Côte Chalonnaise (Chamirey) to Grands Crus from the Côte de Nuits (Romanée Saint-Vivant, Richebourg…)
Dessert:
Dessert is the hardest part of the meal to pair with wine… If your dessert is predominantly fruity, choose a sweet or suave wine such as a Gewurtztraminer from Zind-Humbrecht or Bott-Geyl, a Montlouis from La Taille aux Loups or a Jurançon from the superb domain Camin Larredya. If on the other hand, you're having a chocolate dessert, just this once we would advice against wine! A classic wine, in any case… Only a VDN (natural sweet wine) can do the job, such as a Rivesaltes, Banyuls or Maury).
For later on in the evening, how about a digestif? You'll find what you're looking for in our carefully chosen selection of cognacs, whiskies, rums, and Armagnacs.
Ideal wines for your loved ones… or yourself!
For most wine lovers, receiving a good bottle in a mature vintage is about as good as it gets. Bordeaux for the classics and lovers of powerful wines with tertiary aromas (Château l'Évangile 2005, Latour 2004, Pape Clément 1998, Cos d'Estournel 1990, Angélus  1986…), Burgundy for lovers of finesse (Nuits Saint-Georges 1er Cru Clos des Forêts 2009 from Domaine de l'Arlot, Chorey-lès-Beaune 2003 from Leroy SA or Clos de Vougeot 2009 from Bertagna), but all regions have their share of wines which age beautifully.
Finally, if you were looking for a gift for a member of the iDealwine team, know that Roulot's Abricot is just about the perfect present (the whole team is fighting to get their hands on one of the few bottles in stock!).
And there you have it, there's nothing left for us but to wish you happy shopping and best of luck with the last-minute preparations. Most importantly, a very happy festive season from all of us at iDealwine 😊