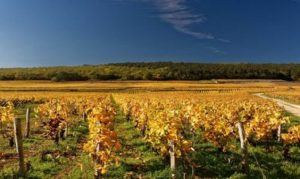 Domaine Rossignol-Trapet
is the product of two great Burgundy families being united through marriage. Determined and committed, the two Rossignol brothers, Nicolas and David, look after their part of Burgundy's history. The two brothers have incorporated practices that respect the environment, including organic and biodynamic methods, into their work. This alliance between traditional and modern practices makes for some brilliant wines which are among the best from the region.
A pair going against the flow
The Rossignol brothers took over the running of their parents' domain in 1990 and in 1997, they made the decision to convert to biodynamic agriculture – a daring move at the time. It took them a few years but the whole domain was biodynamic by 2004 and released its first certified organic vintage in 2008. The brothers remain loyal to traditional methods while also adding organic and innovative practices to the mix. This perfect alliance, which balances knowledge and modernisation, allows the pair to create elegant, exacting wines.
A high-quality terroir for highly precise creations
Nicolas and David mainly work with Pinot Noir vines on an area of 13 hectares that is spread between the villages of Beaune, Savigny-lès-Beaune and Gevrey-Chambertin. From Villages appellations to the most prestigious Latricière-Chambertin and Chambertin Grands Crus, the brothers offer a range of wines, including some of the best ones from the Côte d'Or. On average, their vines are 60 years old, and they grow on a limestone-clay soil in plots with remarkable sun exposure.
Once the manual harvests have been completed, the grapes are placed in vats in order to start gentle vinification. Destemming varies from 60% to 100% depending on the vintage and the wines don't undergo any fining or filtration in order to preserve their quality. After that, they are placed in barrels, some of which are new, for 12 to 20 months.
Wines from Domaine Rossignol-Trapet
This wine contains notes of red cherry, blackberry, undergrowth and spices – perfect for those who like light, fine wines.
Gevrey-Chambertin Vieilles Vignes Rossignol-Trapet
Very balanced, this slightly woody wine with notes of cherry sits on fine, velvety tannins.
Beaune premier cru Les Teurons Rossignol-Trapet
The Pinot Noir grapes ripen more quickly on this protected plot, which creates a fuller, chewier wine with beautiful aromas of forest fruits and a long finish.
All Domaine Rossignol-Trapet wines on iDealwine