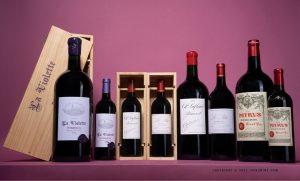 It's evident from this collection that our seller is a fan of Bordeaux wines and châteaux. He has been acquiring large formats bought en primeurs since 2004. The cellar is overflowing with mature vintages, from 1953 and 1982, for example, which shine just as brightly as the large formats in the collection – a magnum of Le Pin 2007, a double magnum of Château Lafleur Pomerol 2016, an Imperial of Petrus 2015, and a Salmanazar of Haut-Bailly 2018.
A buyer of primeurs
Have you already experienced the Primeurs de Bordeaux, the sale of young wine that is yet to be released? The seller of this private collection likes purchasing Bordeaux wines in this way. His passion for wine came from his father, who also had a well-stocked cellar and who took him to the Primeurs de Bordeaux in 1982 as it was such an exceptional vintage for Bordeaux.
2004 marked the beginning of our collector's own purchases at the famed sale. Armed with an education in oenology, he has bought bottles, magnums, double-magnum, Jeroboams, Nebuchadnezzars and Salmanazars every year since. He quickly became loyal to certain wine merchants on the Place de Bordeaux, who invited him to the annual event to discover the latest vintage. Each bottle has therefore been chosen and bought with great care, according to his tastes, the characteristics of the vintage, and its ageing potential as well as its sensitivity. The seller pays attention to the history of the château, its structure, its character, its values, and to those who work there and their production secrets. "If I were passionate about fashion, I would be eager to know every little thing about the piece, its designer, the inspiration behind it, the methods used to create it. But I'm not; I'm passionate about wine."
What were our collector's reasons for buying large formats? Well, they were to age the wines in the best possible conditions and open them during large family celebrations or with a group of friends. "For me, a good meal calls out for great wine." Therefore, those of you who seek mature vintages will not be disappointed with these bottles that have aged in the best possible way. In order to complete his collection, the seller also bought some very old bottles, which you will find in this auction; they are from 1953, 1955, 1982, 1986, 1988 and 1990.
Ideal storage conditions
Between 2004 and 2015, these wines were stored in ideal conditions (correct temperature, humidity, etc.) in the seller's personal cellar at his house and since 2015, his bottles have been placed in the wine storage facilities of a wine trader from whom he bought the wine. Therefore, there cannot be any doubts about how these wines have been kept.
"Why am I selling? I have too much wine, but I am keeping certain bottles from meaningful vintages – the birth year of a niece or nephew, a specific year, etc., but I hope that someone else enjoys these treasures I have been able to amass. I have a number of projects which mean that I have to separate with a number of bottles."
Visit the Bordeaux greats
Large-format bottles are at the heart of this auction, and you absolutely cannot miss the following:
Our seller's recent favourites? The Palmer 2000, drunk recently, which was made from top-quality grapes and had sufficient acidity, had aged beautifully, and the Évangile 2005, which was served with a truffle dish.
The collector is especially fond of Pomerol wines so it's not surprising you can find so many in the auction: Petrus (an astonishing collection), Château la Conseillante, and Château Lafleur as well as lesser-known domains with smaller yields such as Châteaux la Violette, L'Evangile, and L'Eglise Client.
Even if the majority of the wines in this auction come from Bordeaux, this collection also contains some bottles from Burgundy and the Rhône Valley (including Rayas, Hermitage La Chapelle 2015 from Paul Jaboulet Ainé (double magnum), and Romanée Saint Vivant 2011 by Arnoux-Lachaux).
21/12/2022 – 10H30 : CP – Burgundy 2005-2016 – White
21/12/2022 – 11H00 : CP – Burgundy 1996-2010 – Red
21/12/2022 – 11H30 : CP – Burgundy 2011-2016 – Red
21/12/2022 – 12H00 : CP – Rhône 1995-2016
21/12/2022 – 12H30 : CP – Bordeaux Sec 2005-2016 – White
21/12/2022 – 13H00 : CP – Bordeaux Sweet Wines 1995-2006 – White
21/12/2022 – 13H30 : CP – Bordeaux Sweet Wines 2007-2011 – White
21/12/2022 – 14H00 : CP – Bordeaux Sweet Wines 2012-2015 – White
21/12/2022 – 14H30 : CP – Bordeaux Sweet Wines 2016-2018 – White
21/12/2022 – 15H00 : CP – Bordeaux 1953-2004 – Red
21/12/2022 – 15H30 : CP – Bordeaux 2005 – Red
21/12/2022 – 16H00 : CP – Bordeaux 2005 – Red
21/12/2022 – 16H30 : CP – Bordeaux 2006 – Red
22/12/2022 – 10H30 : CP – Bordeaux 2008 – Red
22/12/2022 – 11H00 : CP – Bordeaux 2009-2010 – Red
22/12/2022 – 11H30 : CP – Bordeaux 2011 – Red
22/12/2022 – 12H00 : CP – Bordeaux 2012-2013 – Red
22/12/2022 – 12H30 : CP – Bordeaux 2014 – Red
22/12/2022 – 13H00 : CP – Bordeaux 2015 – Red
22/12/2022 – 13H30 : CP – Bordeaux 2015 – Red
22/12/2022 – 14H00 : CP – Bordeaux 2016 – Red
22/12/2022 – 14H30 : CP – Bordeaux 2016 – Red
22/12/2022 – 15H00 : CP – Bordeaux 2017 – Red
22/12/2022 – 15H30 : CP – Bordeaux 2017 – Red
22/12/2022 – 16H00 : CP – Bordeaux 2018 – Red
22/12/2022 – 16H30 : CP – Bordeaux 2018 – Red
21/12/2022 – 10H30 : CP – Burgundy 2005-2016 – White
21/12/2022 – 11H00 : CP – Burgundy 1996-2010 – Red
21/12/2022 – 11H30 : CP – Burgundy 2011-2016 – Red
21/12/2022 – 12H00 : CP – Rhône 1995-2016
21/12/2022 – 12H30 : CP – Bordeaux Sec 2005-2016 – White
21/12/2022 – 13H00 : CP – Bordeaux Sweet Wines 1995-2006 – White
21/12/2022 – 13H30 : CP – Bordeaux Sweet Wines 2007-2011 – White
21/12/2022 – 14H00 : CP – Bordeaux Sweet Wines 2012-2015 – White
21/12/2022 – 14H30 : CP – Bordeaux Sweet Wines 2016-2018 – White
21/12/2022 – 15H00 : CP – Bordeaux 1953-2004 – Red
21/12/2022 – 15H30 : CP – Bordeaux 2005 – Red
21/12/2022 – 16H00 : CP – Bordeaux 2005 – Red
21/12/2022 – 16H30 : CP – Bordeaux 2006 – Red
21/12/2022 – 17H00 : CP – Bordeaux 2007 – Red
22/12/2022 – 10H00 : CP – Bordeaux 2008 – Red
22/12/2022 – 10H30 : CP – Bordeaux 2008 – Red
22/12/2022 – 11H00 : CP – Bordeaux 2009-2010 – Red
22/12/2022 – 11H30 : CP – Bordeaux 2011 – Red
22/12/2022 – 12H00 : CP – Bordeaux 2012-2013 – Red
22/12/2022 – 12H30 : CP – Bordeaux 2014 – Red
22/12/2022 – 13H00 : CP – Bordeaux 2015 – Red
22/12/2022 – 13H30 : CP – Bordeaux 2015 – Red
22/12/2022 – 14H00 : CP – Bordeaux 2016 – Red
22/12/2022 – 14H30 : CP – Bordeaux 2016 – Red
22/12/2022 – 15H00 : CP – Bordeaux 2017 – Red
22/12/2022 – 15H30 : CP – Bordeaux 2017 – Red
22/12/2022 – 16H00 : CP – Bordeaux 2018 – Red
22/12/2022 – 16H30 : CP – Bordeaux 2018 – Red
22/12/2022 – 17H00 : CP – Bordeaux 2019 – Red