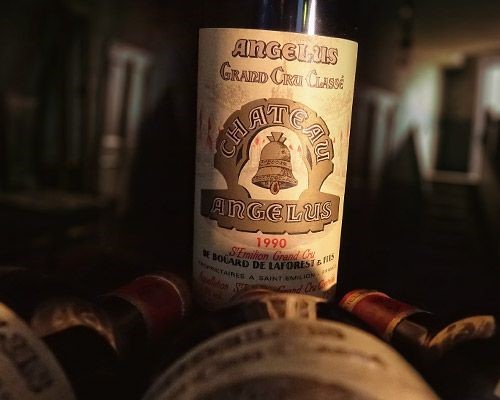 Fellow wine lovers, this autumn sale sees the arrival of a passionate oenophile's private collection. An amalgam of Grands crus classes, mythical names and old vintages, the level of wines in this collection is likely to amaze you. Let us show you around this exceptional cellar brimming with almost 3,000 bottles, plus a conversation with the collector himself.
Bordeaux at the top  
iDealwine has seen its fair share of Bordeaux enthusiasts, but here, the abundance of mature vintages and Grands Crus Classés simply stunned us all. Several 12-bottle lots stand out, with the liquid gold in an excellent vintage that the 1989 Château Climens is. Then we have the Château Léoville Las Cases 1982 and Château Montrose 1990, the owners of which – the Bouygues brothers – have just bought property in the Côte de Nuits. You will see for yourself, this sale offers a multitude of Grands crus from the region's different classifications, such as the 1855 classification, that of Sauternes and Graves, Saint-Emilion (have you spotted the 1990 Angelus?), or the more accessible Crus Bourgeois.
The Grands crus of the Rhone valley
We like to think that this collector has a soft spot for complex, intense wines that are made for aging. The proof: a large part of his cellar is dedicated to the very best of the Rhone valley both north and south. Are you looking for the finesse and concentration of Syrah in northern Rhone wines? Why not try to get your hands on Guigal's LA-LA-LAs and Jean-Louis Chave's Hermitage. Are you fascinated by the aromatic intensity, body and incredibly aging capacity of Viognier? Don't let the Condrieu Terrasses de l'Empire from domain Georges Vernay pass you by, whose emblematic property (which today no longer exists) contributed to the renaissance of this appellation a few decades ago. There are also several exceptional crus from the south. Domaine de la Janasse, domain Raymond Usseglio or even de Beaucastel embody Châteauneuf-du-Pape, the first viticultural area to have gained protected designation of origin (AOC) status. Don't forego Tavel or Lirac, which produce excellent wines for aging, both reds and rosés. La Mordorée and Guigal's bottles will prove this to you.
Burgundy: rarity and excellence
In keeping with the image often associated with Burgundy, in this sale, there are few Burgundy wines but they are of excellent quality. The refinement of Pinot noir is further elevated in the Grands crus and figures such as Bruno Clair, Dominique Laurent, Georges Roumier, or Henri Rebourseau, whose domain was recently bought by the Bouygues family.
Pearls from the Loire
Silex, Dagueneau's Puilly-Fumé, Clos de la Coulée de Serrant from Nicolas Joly, Alphonse Mellot's Sancerre or the Vouvreys produced by Huet… these gems from the Loire valley are almost irresistible and often the object of bidding wars in our auctions.
Alsatian terroirs
Heading East, you will find Alsace's star domain Marcel Deiss. We simply can't hide our enthusiasm: Deiss is in fact one of our partner domains who produces superb cuvées which go against Alsatian tradition as they showcase terroir rather than grape variety. The result is wines that are built on their purity and have excellent aging potential. Those who cannot wait will be able to get their hands on mature wines such as the excellent 1996 Grand Cru Altenberg de Bergheim.
Stunning Jura
We have a selection of vins jaunes (1972 and 1978) which deserve to be tasted this winter in the company of a good Comté or poultry with morels.
This tour de France of our various auction lots could go on and on. But rather than reading about these wonderful bottles, why not admire the auction sale collection for yourself… Happy bidding 😊
INTERVIEW
When and how did you start your cellar?
In 1975, a family-member introduced me to the world of wine when I was only 23 years old. At the outset I was interested in Mercurey and Givry. As I was a student, I travelled a lot and was able to visit lots of winegrowing regions. I then began buying Bordeaux en primeur, and my cellar very quickly grew. The, with time, I became more interested in the Rhone and dessert wines. Given that my wife and daughters have a real sweet tooth, we bought many Sauternes, Jurançons and Coteaux du Layon.
How did you store your bottles? What did your cellar look like?
I live in an old, restored farm house which has an old 1.5m-high mushroom storehouse. I dug it out in order to make standing up possible. It's therefore an underground cellar, I added some dehumidifiers in order to stabilize the moisture-levels.
Why did you choose to sell your wines with iDealwine?
I read about iDealwine on La Revue du vin de France and soon became a loyal customer. As we are practically neighbours, I would often come to the warehouse to pick up my orders. I appreciated the seriousness and the rich experience of this company, so it seemed logical, and practical, to get in touch with you.
This cellar is composed primarily of prestigious regions such as Bordeaux, Burgundy and the Rhone valley, which are your favourite regions?
As I mentioned earlier, I bought a lot of Bordeaux en primeur, because back then, the prices were very good. In Burgundy, I set my sights on Dominique Laurent and Guigal and domain de la Mordorée in the Rhone.
We would like to thank this passionate collector and seller for the time that he afforded us, and we hope this sale will be a great success… thanks to our fellow wine lovers 😊
Access the sales catalogue:
31/10/2018 – 1pm: Other regions 1972-2009
31/10/2018 – 1.30pm: Loire 1989-2003
31/10/2018 – 2pm: Rhône 1985-2006
31/10/2018 – 2.30pm: Burgundy 1985-2009
31/10/2018 – 3pm: Bordeaux 1982-1989 – red
31/10/2018 – 3.30pm: Bordeaux 1990-2012 – red
31/10/2018 – 4pm: Bordeaux 1985-2009 – white