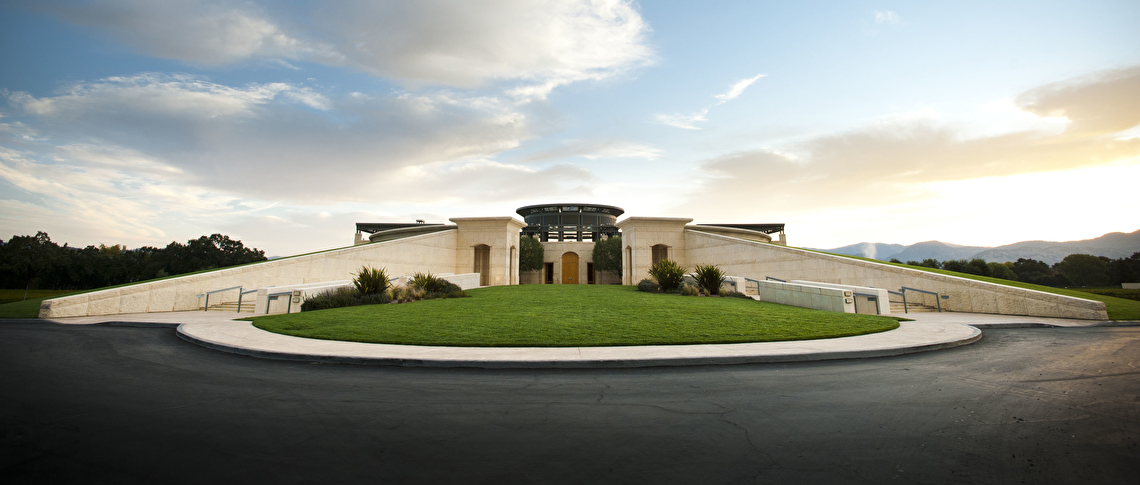 The hues and contours of California's Napa Valley are infused with bright sunshine, framed by a broad backdrop of hills and an expanse of vineyards that stretch far, far further than the eye can see. When the sun sets behind this immense landscape, though, what's revealed is a different world. During harvest season, the workers at Opus One don their woolly hats and scarves to pick the estate's all-precious fruit by night, so far does the temperature plummet. Such a quick shift in the climate sets the scene nicely for a Californian domain born of contrasting cultures, and whose wines we were lucky enough to taste as a team last June.
Here's what we learnt with Gwendoline La Burthe, Export Manager France for Opus One. 
Opus One has been an ambitious project since the day it was thought up. When Philippe de Rothschild took a liking to California's character, the idea of bringing his vast wine-making experience over the Atlantic was self-evident. Teaming up with Robert Mondavi, the Baron de Rothschild's mission was to bring Bordeaux's viticulture to life on totally new ground, which meant initially importing Bordeaux's classic grape varieties, oak barrels for the same kind of ageing, and more than a suitcaseful of ancestral know-how. Yet, however much the traditional, 'old-world' approach could be imitated, such a project was bound to grow legs (or roots!) of its own. We wouldn't want it any other way, either! The result of this hybrid culture is a meeting of minds and methods that produces truly special wine.
Philippe de Rothschild once said that "making a great wine is easy; it's just the first 100 years that are difficult". Opus One's first vintage was the 1979, though, and the estate seems to be doing rather well so far. Counting 90,000 visitors a year at its peak, a world-class winery, and 69 hectares of highly diverse terroir, it's clear that planting Bordeaux vines in foreign soil was a risk worth taking. Far from home, the Cabernet Sauvignon, Petit Verdot, Cabernet Franc, Merlot, and Malbec plants have nonetheless learnt to thrive. And the environment they've adapted to is quite something. Very little rain falls on the Napa Valley, and the vines are grown tall and in high density to protect the grapes from the intense sun. Then, at night, even in the summer, they cope with temperature drops of at least 20°C, a particularity of Opus One's location not far from the San Francisco Bay. This has two key advantages: firstly, the wave of cool air keeps the grapes from burning, and secondly, the evaporation that follows these chilly nights creates a humidity that, in turn, refreshes the vines.
Irrigation is also a big question in the Napa. Largely unpermitted, or at least frowned upon, in French vineyards, large quantities of water can be used at estates like Opus One to counteract the drying effects of the hot climate. Bearing in mind, though, how intensive this method is in terms of energy and dwindling resources, the estate is training its vines to be a bit less thirsty. They've also been made aware of a water reserve that sits deep underneath the soil and would like the roots to grow deep enough to access this plentiful source.
These differences in climate and viticulture, and the challenges they present, mean that whilst there is some common ground between the Bordelais and Californian production, they can't be compared from vintage to vintage. Tasting a 2009 Opus One next to a 2009 Mouton-Rothschild, for example, won't give you many clues of their shared parentage.
A place where these lines of heritage come into contact, though, is in the winery. Far from traditional on the outside, it resembles some kind of spaceship nestled into the greenery and blending harmoniously into the surrounding landscape. And this is where the fusion of cultures works its magic. Whilst the Cabernet Sauvignon and Petit Verdot grapes aren't grown together, they undergo a co-fermentation, before spending 18 months in stainless steel vats. After this, the wine gets a real taste of home, as it ages for another 18 months in new French oak barrels, a way of honouring the ancestral side of this historic partnership.
Looking ahead
Far from lingering in the past, however, the team at Opus One are constantly thinking about the future, especially with regards to the climate crisis. The domain was the first to display a Napa Green label for both its winery and vineyard practices, a certification that considers saving water and energy, lowering volumes of waste, and reducing carbon footprint, among other methods. Napa Green isn't just about ticking boxes, though; it's confirmation that the team at Opus One are actively taking steps for the climate, with their approach to social equity equally taken into account. One of the concrete developments is a very nifty kind of recycling system in the form of biochar. Organic waste from the vineyard is reduced using the heat of a huge oven, before being returned to the soil. Carbon sequestration is the key term here; carbon is held in the biomass then put back into the ground, instead of being released into the atmosphere.
Whilst these questions of energy, recycling, and respect for the soil are all pertinent for Bordeaux's winemakers, too, one element of the climate crisis that stands out specifically in California is fire. The raging flames that rip through the region's natural landscape are highly destructive, and it appears they're only getting fiercer. The fire season is overflowing into earlier months. 2020 stands out in Gwendoline's mind for the 'orange sun' that glowed behind a vast blanket of smoky fog for weeks on end. Grapes are especially vulnerable to smoke in the time leading up to harvest, as their skins are more porous, so the wines of this vintage were spoiled across the Napa Valley. They tended to carry a 'cold ashtray' bitterness which, unsurprisingly, masks all the fruity aromas we'd expect, along with the rest.
The wines
The wines we got to taste that day, though, were nothing short of excellent. Opus One's aim is to craft wines that vary every year, letting the vintage talk and distinguish itself from its predecessors. Gwendoline took us through a series of Opus One cuvées: Overture (the estate's second wine), followed up with a flourish of the 2009, 2013, and 2016 vintages. Here are some of our impressions (and we were very impressed…)
Overture, the estate's second wine, opened our tasting session (quite naturally). A multi-vintage cuvée that, therefore, reflects the terroir rather than a specific year. This is a classic Californian wine, with a charming nose of dark fruits, especially blackcurrant, and a spicy underscore. There's a nice attack on the palate, its tannins are nicely blended, and it's quite balanced overall. The spiciness continues, with notes of black pepper standing out. This is a wine that can already be uncorked and enjoyed.
Opus 2009 came next, a vintage with an unusually 'high' amount of Cabernet Franc for the estate, at 9%. The glass is simply full of aromas – cherry and plum come out on top – followed by tertiary notes of wet leaves. It has a forest-like character to it, with a lingering finish of ripe fruits. Revealed at the very end is a welcome dash of mint. It's a very sunny vintage with a delicious freshness, nonetheless.
2013 was a massive vintage for California, and Opus' produce was no exception. This one is made of 80% Cabernet Sauvignon, and is immediately more restrained on the nose than its 2009 cousin. There's a lot of subtlety in the glass, with a relative lightness that we can sense straight away and small black fruits that come through. Its incredible balance is revealed as soon as it hits the palate with quite a powerful attack. A full and silky mouthfeel carries notes of ripe fig, cacao, and even coffee. An instant favourite for many of the team!
We weren't sure whether the 2013 could be outdone, but the Opus 2016 was truly excellent, too. At 87% Cabernet Sauvignon, this was again a different style on show. It's more floral on the nose with some herbaceous notes alongside the spicy ones we'd found in the other vintages. A powerful attack gives way to a more complex palate that lets the Cabernet Franc shine through. Its finish is equally rich with notes of caramel, vanilla, and a hint of aniseed.
If you've been tempted by the sound of this tasting, you'll find a selection of Opus One cuvées at iDealwine!