Tempted by the world of auctions but not sure where to start? Intimidated by the specialist language used, or unfamiliar with how bidding works? We're here to explain what happens behind the scenes and how to navigate this niche but exciting way of buying fine wine!
How do iDealwine's auctions work?
As an auctioneer, we differ slightly from others in the industry; even though our sales follow the same model as a traditional, in-person auction house, they are all organised electronically via our website. We should stress, though, that every bottle up for auction is subject to the same assessment, verification, authenticity checks, and payment security as a more classic auctioneer. Indeed, we have a whole team of experts dedicated to this very task, and they make up around a quarter of our in-house workforce.
But where do we get these fine wines from in the first place? Before appearing on our website, the bottles belong to wine enthusiasts and collectors, mainly in France but increasingly from other European countries, too. Anybody who wishes to sell their wine with us gets in touch with our selling team, who estimate how much the wine is worth and how much it is likely to auction for.
If the seller/consignor is happy with the estimate given, they send their bottles to our warehouse in Colombes (just outside central Paris), where the wine is assessed and verified. If they're selling a large quantity of wine, our Logistics team can even go and collect the bottles directly from their cellar! In either case, the wine is evaluated by us (we check the cork, level, label, colour, etc.), then kept in an adapted warehouse until the closure of the sale.
At iDealwine, an auction generally lasts ten days. This is the window during which bids can be placed by interested buyers. When a collector wishes to sell a large portion of their collection of all of it, the bottles can be put up for auction as "Private Collection" or if there are not enough bottles to make up a full auction, they can be added to other bottles we have going up for auction at the same time to form a "Special Catalogue".
Most of the wines on our site will have a starting bid (also known as a reserve price), which is the lowest bid you can place on the bottle. You can find this information on the right-hand side of the product page, along with the amount of time remaining and the number of bids already placed:
Other bottles, however, have a starting bid of just €1, giving you more freedom to bid however you see fit. You can filter these bottles using Advanced search > Bid > Without reserve (on the left-hand side).
You must already be fully registered with an iDealwine account before you can place any bids. This includes filling in your chosen payment details. Once you have placed it bid, it cannot be revoked! And if you are outbid by another client, we'll let you know by email.
There are useful functionalities on the site, such as setting your maximum bid on a bottle. This means that the system will automatically increase your bid if it is overtaken, without you having to log in and do it manually each time. You can also choose to track a lot, which means we'll send you an email half an hour before it closes in case you'd like to place a last-minute bid!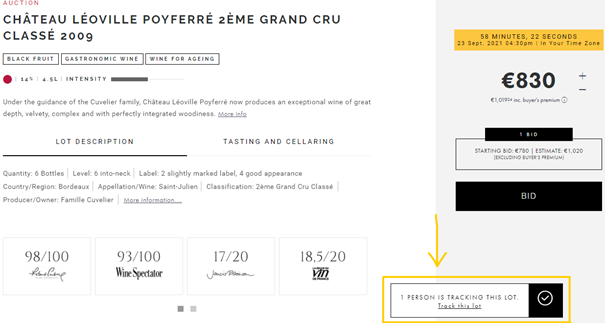 You can bid up until the very last second, which is thrilling if two or more people have their heart set on a particular bottle! Once the auction is closed, we'll send you an email summarising the results of the sale and detailing any bottles you've won!
Auctions: a glossary of iDealwine terms
Alert: a alert you can place on any bottle that you are looking for in our auctions. You can manage your alerts from the "Alerts / Watch" tab in the My account menu.
Auction report: the monthly reports published by iDealwine detailing all recent auction outcomes and an analysis of the results.
Bidder: the client placing a bid on a lot.
Bidding increment: the minimum amount needed to make a higher bid. For example, if a lot is priced at less than €50, the minimum bidding increment is of €3; if the bottle is priced at between €50 and €100, the minimum bidding increment is of €5. The bidding increments are preset: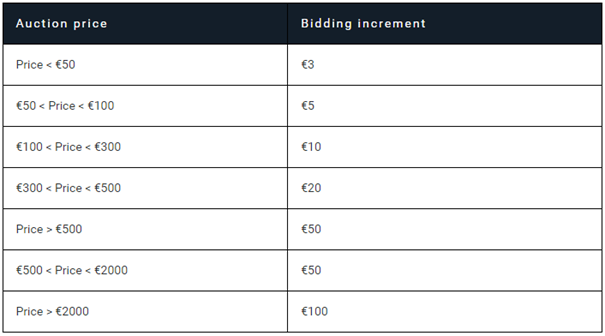 Catalogue: a document summarising all the lots featured in a given auction, including their provenance, the amount of wine in the bottle, the price estimate, and the reserve price.
Commission: the successful bidder must add the cost of the buyer's fee to the hammer price of their purchase. At iDealwine, this is 25.2% including VAT (as of 1 March 2023).
Estimate: how much a bottle of wine is worth, according to our sellers' team. They base their decision on a comprehensive database of market data and previous auction results.
Hammer price: the highest bid placed on a lot by the time the auction closes. This phrase comes from the idea of the hammer used by an auctioneer to confirm the sale of a lot.
Licensed auctioneer: even with an entirely digitised platform, iDealwine has a licensed auctioneer! This is a civil servant outside the company who ensures the smooth running and regularity of our auctions.
Lot: the bottle or set of bottles in question. It can be made up of one bottle or several, and these can be bid on by clients.
Maximum bid: set by the bidder, this is the maximum bid they are willing to place on a given lot. It isn't visible to other bidders, and is used by our online system to place incrementally higher bids when another client overtakes.
Reserve price/starting price: the initial price that can serve as a starting bid; it is usually set below the value of our lower price estimate.
Successful bidder: the client who has placed the highest bid at closure and who has thus 'won' the lot.
To find out more, you can head to the FAQ section of our website, or you can contact our very friendly customer service team!
If you're interested in selling your wine with us, the details are here.
And you can explore our latest auction here (now that you've got all the info!)