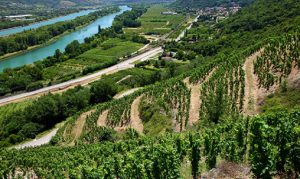 Maison Delas Frères has overcome a few challenges in its time, and its history is an atypical one, mixing tradition and innovation. Today, the property's wine come from the greatest Rhône appellations.
Standing between heritage and rejuvenation
Maison Delas, a famous Rhône valley property, was created more than 175 years ago following the meeting of two passionate avant-gardists: Charles Audibert and Philipe Delas. These two pioneers in Rhône wines started their adventure in 1835 when they took over a wine merchant business. They continued to develop it and soon found themselves trading Châteauneuf-du-Pape and Hermitage wines before going on to conquer other terroirs.
This expansion helped them to gain international recognition, which changed the fortunes of the domain forever. In fact, Maison Delas became particularly well known in the United States of America and on the European market in Brussels, London and Amsterdam. Its legendary status continued to grow and was cemented when the domain partnered with Maison Deutz in 1977 and then with Famille Rouzaud in 1993, a majority stakeholder in the Roederer Group. 1997 marked a new step for Maison Delas as Fabrice Rosset, President of Maison Deutz and Maison Delas invested in the property. The cellar was updated, which included a new vat room, and numerous plots were acquired. You could feel the winds of change blowing through the domain.
The domain does not just produce its own, but it also operates as a wine buyer and matures wines from several partner winemakers. These partnerships allow them to present a wide range of wines, in terms of both the appellations and varieties it offers. They stock wines created from all the usual Rhône varieties: Marsanne, Roussanne, Bourboulenc, Clairette, Viognier, Grenache, Mourvèdre, Cinsault and Syrah. Today, Maison Delas cares for 30 hectares of vines in the Northern Rhône Valley. 18 of these are found in Crozes-Hermitage, 10 hectares are located in the Hermitage appellation and a further two hectares are situated in Saint-Joseph. However, their trading/maturing business allows them carry wines from the Southern Rhône, most notably Châteauneuf-du-Pape, Gigondas, Vacqueyras and Côtes-du-Rhône.
Wines from the domain available on iDealwine
The whites
Côtes du Rhône Saint Esprit Delas Frères 2021
A fresh wine with notes of stone fruits, white blossom and citrus fruits.
Condrieu Clos Boucher Delas frères 2019
Aromas of peach and pear rise from the glass while there is a beautiful concentration of flavours on the palate.
The reds
Crozes-Hermitage Le Clos Delas Frères 2018
Made as if it were a Pinot Noir, this Crozes-Hermitage is delicate and elegant, yet it also has a certain power to it.
Saint-Joseph Sainte-Epine Delas Frères 2018
The very powerful palate reveals notes of blackberries, blueberries as well as liquorice and black pepper.
See all Maison Delas wines on iDealwine