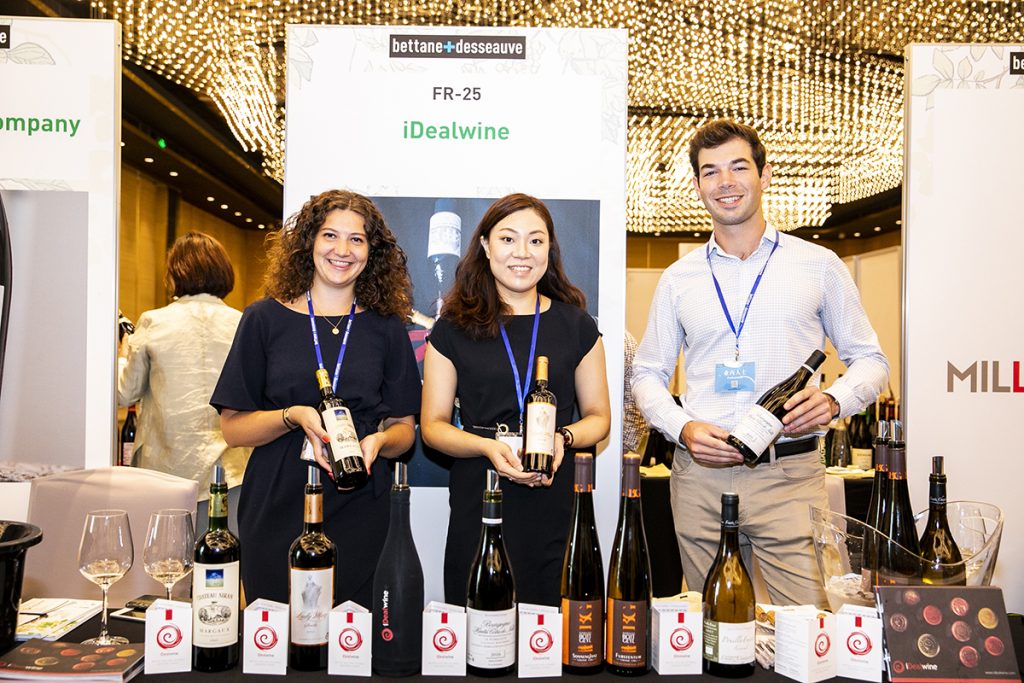 In the context of a trade war between the USA and China, the purpose of this trip was to better understand the profile of our Chinese clients. From Monday 10th to Thursday 13th June, a hectic trip to China's economic capital allowed us to monitor the state of the market.
Our clients are always pleased to meet us, to share their latest experiences and to talk with us about the wine market. The economic climate seems rather tense, yet the wine market continues its growth and is seen as a safe investment. The Chinese are now in 5th place concerning global wine consumption and drink 1.46 billion litres of wine a year (+12%). They sit firmly behind America, France, Italy and Germany. There is an emerging generation of extremely knowledgeable millennials. Natural wines are in fashion and bars specializing in these wines are beginning to open. These young consumers travel a lot, they speak English and they hope to obtain ever more allocations from France. Heirs of large Chinese fortunes created in the 1980s, this generation uses its "guanxi" (network) to access the finest bottles and see wine as a luxury object. On social media, it's best to show oneself with a luxury watch, a collectable car and a great bottle! In this mass consumption of luxury, the highest attainable level of 'chicness' is not only to consume but to really know your stuff.
The trend still favours the best of Bordeaux. Lafite, Petrus, Haut Brion, Mouton Rothschild are unmissable and are consumed by the case at business dinners or just among friends. Curious enophiles are, however, turning their attention to the fine wines of Burgundy (DRC, Leflaive, Armand Rousseau, Comte Lafon). Wine culture in continental China is still relatively minimal. A loyal Chinese customer and proprietor of a natural wine bar in Shanghai told us: "more and more wine lovers are turning to natural wines. The young generation is extremely knowledgeable. My customers are on average 25 years old and some taste dozens of wines a week, for the pure pleasure of it!"
There is also a growing appetite for spirits. Cognac, Armagnac and Whisky are becoming prized drinks in Chinese high society.
Friday 14th and Saturday 15th June, our team was at the Grand Tasting organized by Bettane+Desseauve. Our superb selection delighted visitors: La Poirelotte from Laurent Roumier, Hautes Côtes de Nuits 2016, the Pastoral cuvée from Frantz Chagnoleau, Pouilly Fuissé 2017, the South-African Lady May from Domaine Glenelly, Stellenbosch 2011, Château Siran 2005 and 2 Grands Crus from Bott-Geyl in the 2009 vintage:  Pinot Gris Sonneglanz and Gewurztraminer Furstentum.
We also surprised them with two mystery wines:
E.Guigal Château d'Ampuis, Côte-Rôtie 2008
Château Beychevelle 4ème Grand Cru Classé 1990
The popularity of red wines is still very much apparent and sweet white wines are also coveted. On the whole, visitors were attracted by known labels and Bordeaux wines: our 2005 Siran was almost fought over!
The future of this market is still full of hope, and the Hong Kong 'hub' remains an essential platform in getting mature wines to China.