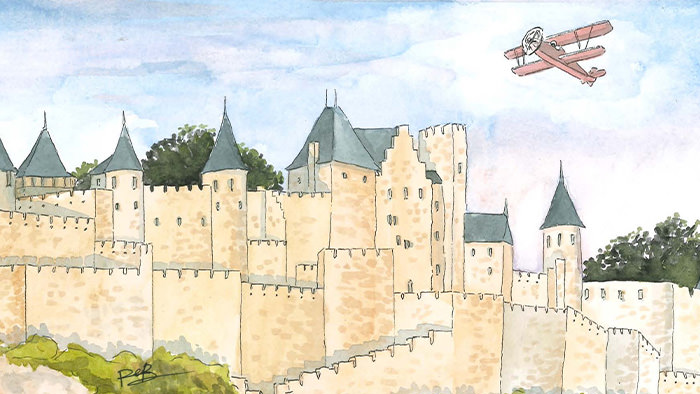 Being the number one wine-producing region of France, Languedoc and Roussillon are multi-faceted areas which offer a variety of remarkable wines. Wine enthusiasts also value the regions' viticultural products, buying 6,906 in last year's auctions on the iDealwine website, which amounts to 3.5% of total auction sales.
Rich and evolving terroirs
Enthusiasts are not wrong when they return year after year to find and revisit new winemakers who've deployed their talents in a viticultural region considered an Eldorado with plenty of promise. The vines of Languedoc and Roussillon extend across four departments, with the vines forming a crescent shape curving around the Mediterranean Sea from Nîmes in the French department Gard to Spain at the foot of the Pyrenees.
The region boasts 23 AOCs (and 9 IGPs), spread over 39,000 hectares of vines in Languedoc, and 9 AOCs (and 3 for Vins Doux Naturels) on 20,000 hectares in Roussillon (Languedoc-Roussillon covers almost 267,000 hectares in total, when considering both AOC and non-AOC). For comparison, Burgundy's AOCs cover 25,000 hectares, and those of Bordeaux – the most important AOCs in France – 118,000 hectares… Wines labelled as AOC only represent 12% of Languedoc's total production, and these are typically the ones we find at auctions.
While the region produces large volumes (almost 9M hl), or in other words, a little over 20% of France's total wine production, at auctions, the reality is quite different. The proportion of Languedoc wines sold in 2022 on iDealwine remained stable, both in terms of volume (3.5% of sales) and value (1.7%).
Grange des Pères, the jewel of auctions
The average price for bottles from the region settles at €94 in 2022, an amount which is certainly much lower than the overall average price in our auctions (€194), but still very high in the context of typical prices for wine from this region. The first explanation we have this comes from the types of wines that are present at auction, primarily AOC wines (or AOP, according to their European classification), and exceptional cuvées which are sometimes labelled as IGP or Vin de France. The other explanation we have, and without a doubt the primary one, comes from the position typically occupied by the region's flagship producer, Grange des Pères, in iDealwine auctions. The wines produced by Laurent Vaillé, an inspiring winemaker with rare talent who passed away in 2021, are always sought so much so they have become collectors' items.
In 2022, the volume of bottle from this great producer fell by 17% in iDealwine auctions. The average price of wines from Grange des Pères remained at the highest level (€359 per bottle), the domain's first vintages having brought the price upwards: A bottle from 1992, the first every that Laurent Vaillé crafted his noble nectar, was sold for €7,812 in June 2022, the regional record for the year. In 2022, the reduced presence of bottles from this producer in auction catalogues (-17% in terms of volume) explains the decrease in the average price per bottle for the whole region.
Note however, that if we removed the 1,053 bottles of Grange des Pères sold in 2022 from the calculation, the average price of wines sold from Languedoc and Roussillon would fall to €46.
The region's factors of success at auctions
Wines from the plateau of Larzac come out on top when ranking the lots by their prices. Of the 20 best-selling producers at 2022 auctions, seven came from this area. These were Grange des Pères, Mas Daumas Gassac, Mas Jullien, Montcalmès, La Bergerie de l'Arcade, La Peira, and Domaine Vaïsse. The areas around Aniane and Montpeyroux are also highly prized by wine enthusiasts.
The amount of land a producer has also plays a major role in the success of the wines. Rarity is always amplified when quantities are limited and wines are difficult to find. This is both unfair and economically irrational, but small domains were the object of a real treasure hunt in 2022. And this could become a strategy in the future. Gérard Bertrand, the largest producer in the region, was able to leave his mark on the list of the highest-priced bottles thanks to a wine that is different to the rest of his production. Clos d'Ora comes from 9 hectares cultivated biodynamically in Minervois La Livinière. The 2012 vintage went under the hammer for €149 in August 2022.
While some winemakers, such as Hervé Bizeul, don't want to submit to the constraints of certification while practicing sustainable agriculture, the proportion of domains working organically or biodynamically is significant when we look at the highest-priced estates from Languedoc and Roussillon.
The region lends itself to these practices with a little help from the warm, windswept climate (tramontane winds) which prevents rot and disease more readily than in other regions where the humidity can cause problems. There are 11 estates that operate organically (some of them biodynamically) in the list of the 20 highest-priced bottles, without forgetting a few from the natural wine universe as well (Pedres Blanques, Clos du Rouge Gorge, and Léon Barral).
This rich and varied region produces spectacular wines whose names might not be on everyone's lips, but it is certainly worth diverting away from the usual Burgundy, Bordeaux and Rhône mix to discover what southern treasures are waiting to be unearthed. With the volume of wines passing through iDealwine's auctions increasing by 15% in respect to the previous year, this region has found some new admirers and we are sure it will find some more with every harvest.
Shop all Languedoc and Roussillon wines