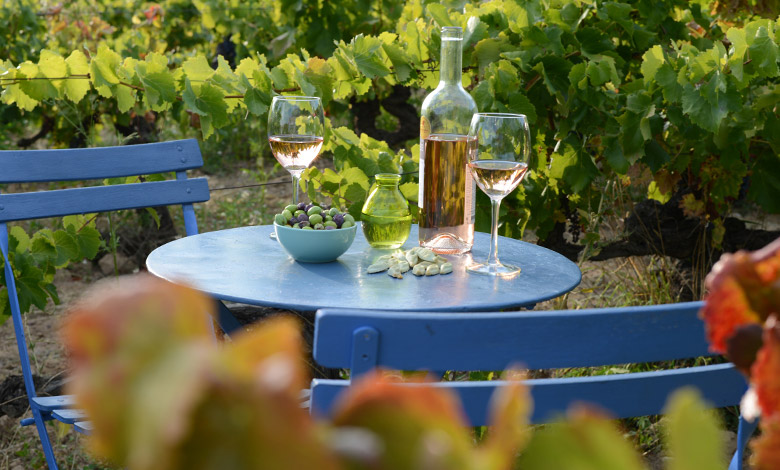 Often dismissed as a second-class wine, for our team of passionate enophiles, rosé very much has its place on your tables and in your glasses. From cool aperitif rosé to more complex gastronomic rosé, our selection and our team will show you just how essential these bottles are.
With summer sneaking up on us and Paris' terrasses filling up, glasses filled with rosé are become a common sight. iDealwine has thought up a selection perfect for lovers of aperitif rosé such as, for instance, Clos Cibonne's Côtes-de-Provence Tentations: light and fresh with aromas of peach, perfect with your tapas. Fanny, from our seller advisor team, highly recommends Château Canadel's Bandol. If you're looking for something a little original, Hannah, our marketing intern suggests you try the cuvée Six Roses from Domaine de la Porte Saint-Jean, a pét-nat produced with macerating rose petals. Its subtle floral notes are delicious and make it perfect for enjoying right away!
Emmanuel from marketing can't get enough of François Cotat's Sancerre rosé, a vinous and complex Pinot Noir that would go very well with a tomato and goat's cheese tart for example. Sylvain Pataille's rosé Marsannay is also excellent, one could even compare it to a fine white wine. Further to the south, why not try La Bégude in the Bandol appellation, a rosé wine that would pair dreamily with Provençal flavours, herbs and tomatoes…
Continuing with our meal, it's now time for more serious, gastronomic rosés. Gaspard, our latest recruit in marketing, is an aficionado of fuller-bodied rosés to be paired with more substantial foods. With grilled meats for a barbecue, he highly recommends Corsican domain Clos Canarelli and Olivier Horiot's Riceys, a still wine from Champagne with concentrated aromas of red fruits. With grilled meats, Astrid from customer services is a big fan of Château de Roquefort's Côtes de Provence cuvée Corail and Domaine Tempier's Bandol.
With grilled fish, Constance recommends Triennes' rosé, a light IGP Méditerranée that would be perfect with a filet of mullet à la Provençale. An out-and-out fan of Provence, Constance also often opts for the Côtes-de-Provence R from Rimauresq, a cru classé of Provence. Grace in international marketing would choose Château de Pibarnon, a wine that could age well in the cellar before sharing with your loved ones.
According to Elsa in our marketing team, some rosés can go very well with spicy and exotic foods such as fish tajines. A good example is La Tour du Bon, a lightly vinous and spiced Bandol that would lift the flavours of your tajine. We'd also urge you to discover a lesser known appellation, Palette, and its leading producer Château Simone, a noble wine with aromas of red fruits, from a blend of regional varieties.
For dessert, Justine from our seller advisor team recommends rosé wines with sour and slightly sweet desserts such as strawberry tart or a rhubarb crumble. Without fail, her go-to is Ruinart's brut rosé.
We hope we've convinced you that rosé isn't just for apéro, but can be enjoyed throughout your summer feasts… See the selection of rosé for yourself.