Our team travelled to Italy where they met our clients in Milan and Rome. Here's what they got up to.
Events in beautiful Milan
When you think of Milan, fashion week and a spectacular cathedral probably spring to mind, but Milan is also known for its gastronomy. And the local food and wine pairings should not be missed! Our visit to Milan showed us that the delicacy of French wines can also accompany Italian dishes.
Our event in Milan was the first time we met our Quintessence clients based in Northern Italy and it took place in the one-star Michelin restaurant, Contraste. The chef Matias Perdomo has a daring style of cuisine which showcases both the local produce and typical Italian dishes. While enjoying the menu he devised to suit the wines, we were blown away by a strawberry trompe-l'œil which revealed an exquisite vitello tonnato. There were also scrumptious spaghetti bolognaise donuts and even a carbonara in the shape of a small black ball.
We selected the wines with care, taking our clients on a Tour de France of French wine regions.
Champagne Les Rachais Francis Boulard 2013
Corton-Charlemagne Grand Cru Rapet Père et Fils 2020
Condrieu Lieu-dit Vernon Yves Cuilleron 2019
Clos de Vougeot Grand Cru Laurent Roumier 2018
Terrasses du Larzac Domaine de Montcalmès 2018
Pinot Gris Clos Jebsal Vendanges Tardives Zind-Humbrecht 2013
Our visit to Milan was also an opportunity to meet Italian journalists during several press lunches. For this visit, we decided to spice up the wine and food pairing challenge a little and chose a fish restaurant – La Langosteria.
While the white wines pairings were spot on, pairing the fish with red wines proved to be more challenging. Having said that, we found that smoked lobster spaghetti paired well with a Chambolle-Musigny 2017 from Laurent Roumier and tuna with chard and marinated tomatoes went will with a Château Troplong-Mondot 2014.
Here is a list of all the wines we used for this challenge:
Champagne Billecart Salmon 2009
Chassagne-Montachet 1er Cru Les Fairendes Coffinet-Duvernay 2019
Chambolle-Musigny Laurent Roumier 2017
Sancerre Monts Damnés Gérard Boulay 2019
Gewurztraminer Fronholz Vendanges Tardives Ostertag 2018
A weekend in Rome
We continued our Italian adventure by stopping off in Rome which gave us a chance to meet our clients based in the Eternal City as well as those based further afield in southern Italy.
The one Michelin star restaurant Per Me created a bespoke menu that would highlight the wines from our partner domains. Acqua in bocca : we chose the same wines that we had in Milan which gave us the opportunity to study how different food changes the way the wine tastes. The chef Giulio Terrinoni successfully completed this challenge. The restaurant's signature dish, a carpaccio of prawns, foie gras and red onion jelly, gently accentuated the qualities of the Corton-Charlemagne 2020 by Rapet. The pairing of roasted quail, pureed celery and quail and coffee gravy with the Château-la-Conseillante 2014 was perfect. If you're travelling through Rome, we would really recommend visiting Per Me.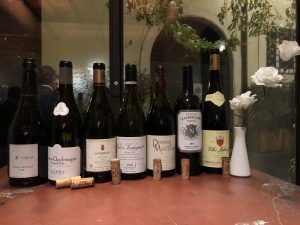 We then had the pleasure of meeting journalist from Rome in the elegant, Micilin starred Pipero. Demandez restaurant. It's said to make the best Carbonara in Italy. And we can confirm this rumour after trying it with Laurent Roumier's Chambolle-Musigny. The pairings were all wonderful but there's one that we cannot stop talking about and that is the orange sorbet with the Gewurztraminer vendanges tardives Fronhloz 2018 from Domaine Ostertag.
A huge thank you to our clients and to the journalists who met us during our time in Italy and a heartfelt thanks to our wine fairy, Sara Cintelli.
One last look at the Eternal City and it was time for Laura and Alix to leave. Arrivedeci!