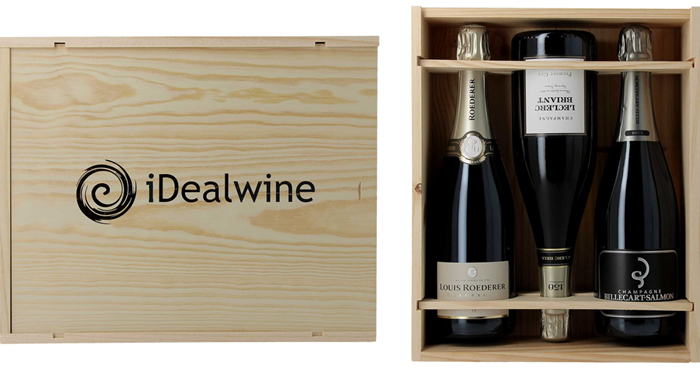 Discover the new and exclusive iDealwine wooden cases. We have two cases containing three brilliant Champagnes (one with vintage bottles and the other with non-vintage). Quantities are very limited as we only have 24 cases of each in stock. Roederer, Billecart-Salmon, Taittinger, Leclerc-Briant, AR Lenoble and Drappier in these beautiful cases… What a great Christmas present idea!
The iDealwine case of non-vintage Champagne
Our first case highlights non-vintage Champagnes that beautifully represent the style of their respective houses.
Roederer Collection 243: Mainly produced from the 2018 vintage, it is completed by a reserve wine that was started in 2012 which is continuously added to, and reserve wines aged in wooden barrels. Collection 243, the iconic Champagne produced by Louis Roederer, represents the 243rd blend created by the House since its creation in 1833.
Billecart-Salmon Brut Réserve: The Brut Réserve from Maison Billecart is a blend of 40% Pinot Meunier, 30% Chardonnay and 30% Pinot Noir. It wonderfully represents the style of this great House.
Leclerc-Briant Premier Cru Extra-Brut: This Premier Cru is produced with the 2015 vintage as its base wine, crafted from a blend of Pinot Noir (70%), Chardonnay (15%) and Pinot Meunier (15%). The dosage is very slight, sitting at only 3 grams of sugar per litre which is what makes it an Extra-Brut.
Purchase this case of non-vintage Champagnes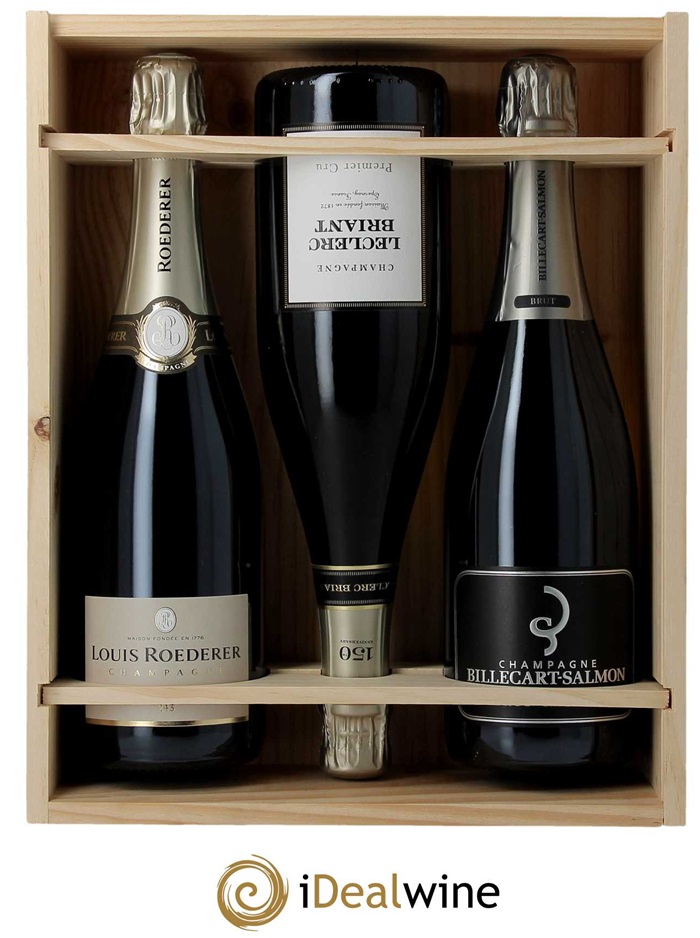 The iDealwine case of vintage Champagne
Our second wooden case showcases the charm of vintage Champagne. These three examples were crafted in vintages when the harvest was fantastic and the house could honour it with its own unique wine. Champagnes from 2012, 2015 and 2017 await you!
Drappier Millésime Exception 2017: Reflecting 2017, this Champagne is composed of 60% Pinot Noir and 40% Chardonnay. 40% of the juice is fermented in a large oak barrel, which imparts a beautiful structure onto the wine.
Taittinger Millésime 2015: A blend of equal parts Chardonnay and Pinot Noir, this Champagne can boast the fact that 70% of the grapes come from grand crus and 30% from premier crus! A superb vintage Champagne to savour with fine dishes.
AR Lenoble Blanc de Blancs Grand Cru Chouilly 2012: The grapes that go into this Extra-Brut (3g/L) Blanc de Blancs all come from the Chouilly Grand Cru. The stand-out feature of this Champagne house is that the vast majority of the reserve wines are conserved in magnums on their lees. That gives the blend a greater complexity.
Buy this case of vintage Champagnes