This event, which takes place every year, bringing together 100 of the most prestigious producers from all over the world, has become one of the most important dates in our calendar – and one of the events we look forward to most! We look back on these two days of tastings.
On a fine November morning, three members of the iDealwine team headed to London to meet English wine lovers and share some of our favourite wines. The much-awaited final of the rugby world cup happened to fall on that very morning; as we made our way to the event, the streets of London were deserted and the pubs full. After the match (let's not talk about that…), it was time to cheer up our fellow wine lovers: what better than a first-class tasting of fine French (and South African!) wines… 😉
The Landmark Hotel – one of the most iconic of the capital – was the perfect location for such a prestigious event. As the doors of the event opened, the stand soon filled up, with visitors succumbing to our beautiful selection of wines, which were the following:
Chablis Premier Cru Les Vaillons 2017 from domain Jean-Paul & Benoit Droin: an exemplar of purity and frankness. Attendees were bowled over by the minerality and freshness of this cuvée.
Château Haut Marbuzet 2000, in the words of Robert Parker, "the most sensual Bordeaux wine". It was perfectly ready to drink and simply sublime: melted tannins, chocolate and black fruit aromas, a never-ending finish. The favourite of the weekend for many.
Château Prieuré Lichine 2005 was also thoroughly enjoyed for its suppleness, perfect balance, intense aromas of black fruits and its freshness.
In a not unbegrudging nod to South Africa's victory, we also served one of our favourite wines from the country: Stellenbosch Estate Reserve 2012 from domain Glenelly. Power, elegance and depth in a bottle.
Last but certainly not least, we poured Château Guiraud 2001, a rich, aromatic and perfectly balanced Sauternes. This bottle attracted the crowds, and we all known how much British wine enthusiasts tend to love Sauternes… They weren't disappointed!
The stand full of keen tasters
At iDealwine, wine shows are also an opportunity to test attendees' palates with our blind tastings. These 'mystery wines' always go down well with visitors, especially given the prizes were €40 gift cards to spend on iDealwine… enough to turn vinous dreams into reality 😉
Saturday's mystery wine, Haut-Carles 2016, an iDealwine classic
Sunny skies on Sunday morning, ready for another day of tasting
New day, new mystery wines. We were really impressed by the blind tasters on Sunday. The first mystery wine was a sublime Chinon Clos du Chêne Vert from Charles Joguet, nearly perfectly guessed by the first person to try it! Not one but two participants found the grape variety and appellation, well done to them!
And finally, the lucky winner of mystery wine number two, a Château Chasse-Spleen 2010, having found both the appellation and vintage, was Instagrammer Geordie Wine Guide.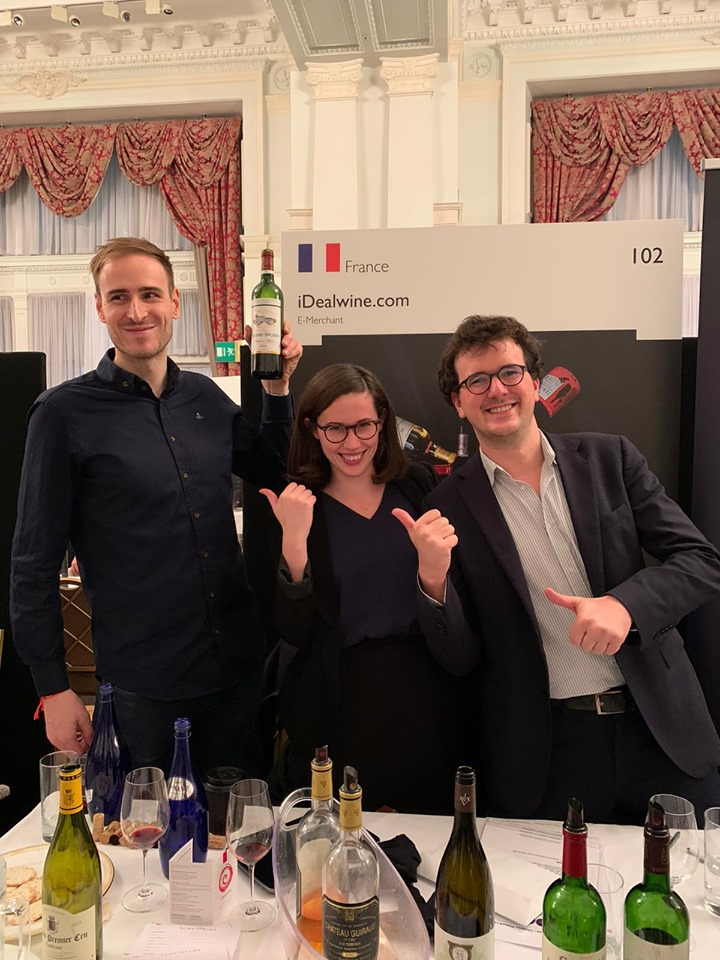 All good things must come to an end, and so, on Sunday afternoon, we packed up our bags and headed back to Paris. We would like to thank Decanter for organizing such an excellent event and thank you to everyone who came; it was a pleasure to talk about all things wine with you and we hope to see you at an iDealwine stand again soon.
Till next time, London!