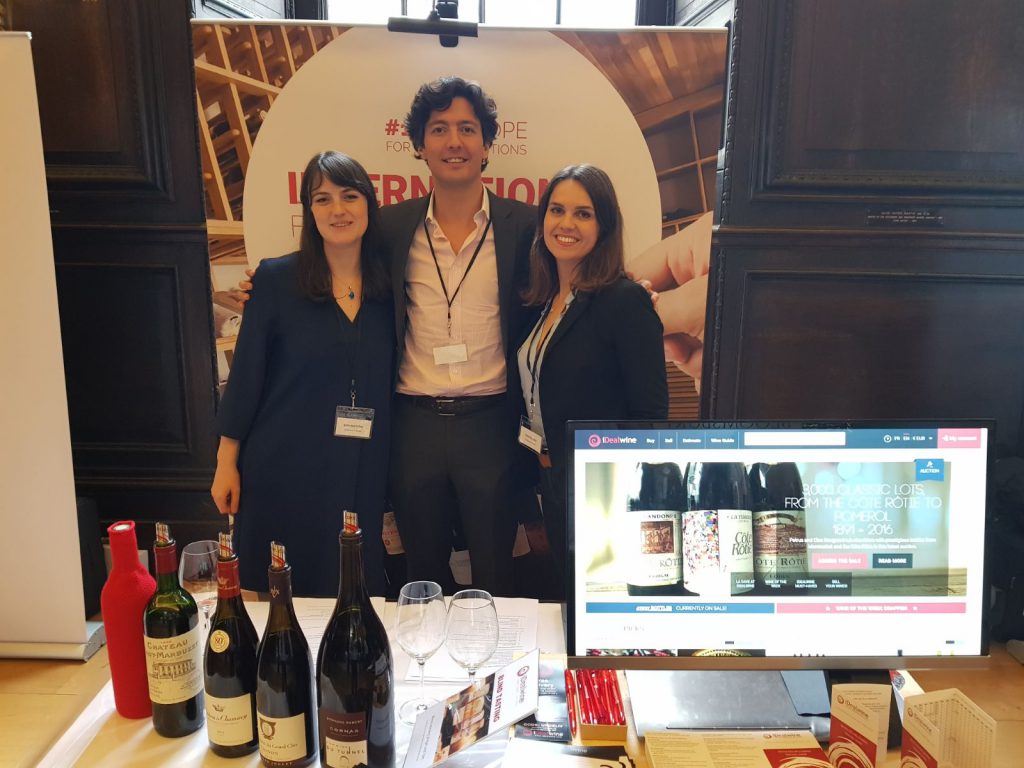 We joined in the fun at The City Wine Show in London last weekend, pouring some nice bottles for fellow wine lovers and introducing new faces to some of the iDealwine classics. Read on to find out what we got up to.
Just a stone's throw from St Paul's Cathedral, the beautiful Stationer's Hall was the perfect venue. London even graced us with some pleasant weather and the oak panelled 17th century hall was bathed in glorious sunlight that glimmered as it shone through the intricate stained glass windows. A beautiful setting!
With plenty of stands from producers and merchants offering wine from all over the world, London wine enthusiasts were very intrigued by our selection of bottles from just across the channel. The Pouilly-Vinzelles La Soufrandière 2015 from the Bret Brothers drew quite a crowd. The greengage aromas and its lovely saline minerality wowed those who tasted it and, at €24 a bottle, it was an example of a great white Burgundy at a great price. We were also pouring a white Bordeaux, the Graves Clos Floridene 2016. Crisp and fresh, this Sémillon, Sauvignon Blanc and Muscadelle blend has spent some time in new oak and left many wanting to try more examples from the "pope of white Bordeaux", Denis Dubourdieu.
For the reds, a Mercurey 2014 from Château de Chamirey with its ripe, silky tannins pleased all lovers of Burgundy while the fresh red fruit and long finish of the Chinon 2013 from Charles Joguet was an exciting new taste for some. Wines from the Loire are becoming a big hit and English wine enthusiasts loved discovering more about this exciting region and the pioneering spirit of Charles Joguet, the first winemaker in the Loire to produce single vineyard cuvées.
Participants flocked to try the Cornas 2014 from Domaine du Tunnel. Characterised by its intense fruit, this firm iDealwine favourite seduced everyone with its floral notes and silky mouth feel. The Cornas appellation is producing some incredible wines on a par with some Côte-Rôtie and Hermitage. The consensus amongst those who tasted it was that this is a northern Rhône appellation to watch!
Being the claret loving country that it is, the Bordeaux went down particularly well at the weekend. The Saint-Estèphe 1996 from Château Haut-Marbuzet was drinking beautifully. Described by Robert Parker as "the most sensual wine of Bordeaux", the concentrated fruit and chocolate aromas pleased many taste buds.
As we traditionally do, we presented blind tasting wines and as always, people got caught up in the game and really impressed us! On Friday, we opened the Meursault 2014 from Domaine Mikulski and the Morgon 3.14 2014 from Domaine Foillard, while on the Saturday it was the turn of the Listrac Medoc 2009 from Fourcas Dupré and the Saumur La Ripaille 2013 from Domaine du Collier.
THE IDEALWINE MASTERCLASS
On Friday evening, Arthur de Lencquesaing, head of international development at iDealwine co-led a masterclass with Patrick Schmitt MW, editor in-chief of The Drinks Business and organiser of The City Wine Show.
This masterclass was themed on a Tour de France of wines, giving an overview of the key regions from France. Arthur explained the regional and national market trends at auction, presented the appellations and producers whilst Patrick added some key insights, describing the wines in the most poetic of terms!
First up was the Cuvée Emile 2007 from Domaine Trimbach. The Riesling specialist par excellence in Alsace, this wine boasted a complex and mineral palate with intense and persistent fruit. This was followed by the Volnay Premier Cru 2011 from Domaine de la Pousse d'Or, nicely defined with blackcurrants and wild strawberry. Arthur gave an insightful overview of Burgundy's transformative year: wines from this region now represent a quarter of wine sold through iDealwine at auction in terms of value.
Next, it was the turn of the Saumur La Ripaille 2013 from Domaine du Collier. Owned by Antoine Foucault, son of Clos Rougeard's Charly and nephew of Nady Foucault, the next few years look bright for this organic Loire domain. With wines from this producer selling at a similar price to those from Clos Rougeard a few years ago, this domain will surely follow the same trend. Now popular amongst American and Asian customers too, the Loire is benefitting hugely from the natural wine boom and registered a large increase in sales in 2017. Domaine du Collier is a rising star of the Loire and we foresee a great future. You heard it here first!
The penultimate wine in this masterclass was a wild card. We strayed off the beaten path to show you an incredible offering from…Provence. Domaine de Trévallon is an example of some of the great wines currently coming out of this region (and no, it's not rosé!). With an equal partnership of Cabernet Sauvignon and Syrah, this cuvée from the eccentric René Dürrbach may well be the most delicious "vin de table" you will ever try. Downgraded from its AOC in 1993, Dürrbach's wine breaks all the rules. The result: a full-bodied, full-flavoured and character filled wine with terrific length.
Finally, the Pessac-Léognan 2001 from Domaine de Chevalier impressed with its aromas of smoke, earth, black cherries and crème de cassis. Patrick put an end to any Bordeaux bashing and proudly waved the flag for this region. Indeed, as explained by Arthur, wine buyers are certainly not allergic to Bordeaux and grands crus from this region accounted for 46% of sales in terms of volume and 47% in terms of value at iDealwine in 2017.
All in all, a weekend of excellent wine and excellent discussion. We thoroughly enjoyed meeting you all and hearing about your coups de cœur. Thank you to everyone who came and participated in our blind tasting and masterclass. You can keep up to date with our upcoming events right here on Le Blog, or sign up to our bimonthly newsletter here.
A bientôt!
See all wines currently on sale
Search the price of a wine
Not yet registered to buy wines with us? Sign up here for free!
Other things to read on the iDealwine blog:
Refer your friends on iDealwine