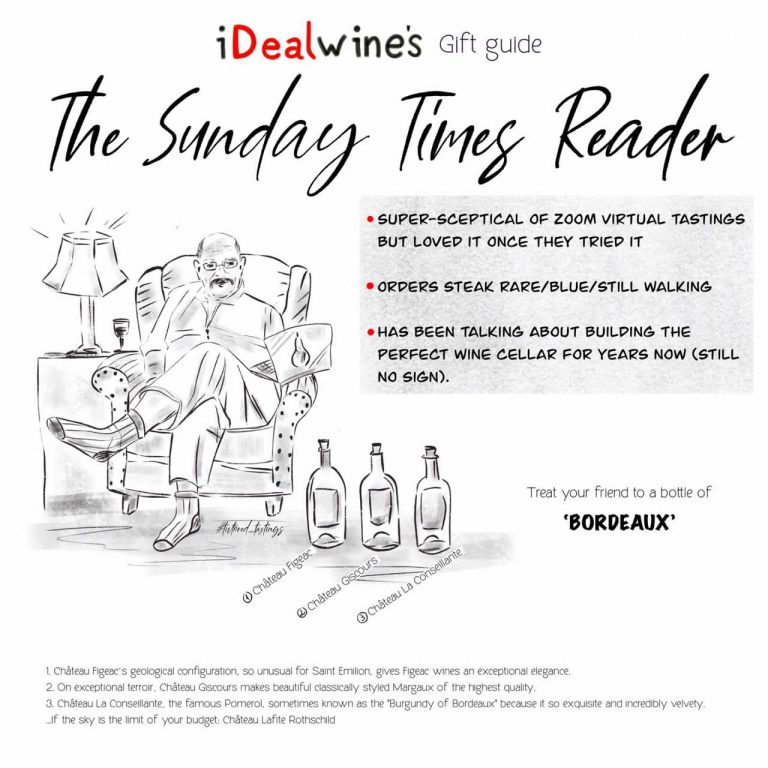 Choosing something special for a loved one is one of the best bits of the festive season. But when it comes to gifting wine, it's difficult to know where to start! Do you offer them a classic cuvée? A once-in-a-lifetime wine? Or something a little bit off-piste, perhaps? Well, with the help of tutored_tastings from Instagram, we've put together a guide based on the kind of person you're buying for. Here's profile number one! 
Finding comfort in tradition, this person likes to keep things classic. Sunday is for the newspapers, steak should be rare, and they took a bit of convincing when wine tasting moved online. They also fancy getting a proper cellar started, but perhaps haven't quite put their plans into action yet. Well, you can help them with their collection by offering a bottle from Bordeaux!
A mature vintage makes a wonderful gift, and this is the go-to region for that kind of thing as Bordeaux cuvées are usually a masterclass in beautiful cellaring wine.
I'm sure you can picture this person settling into their armchair with a classic glass of red. How about a cuvée from Château Figeac? This is one of the most renowned estates in Saint-Emilion, making racy and refined wines from an exceptional terroir.
Château Giscours is the go-to for a typical Margaux vintage; a full-bodied and powerful wine that isn't lacking in elegance.
The famous Pomerol estate Château La Conseillante is sometimes known as the 'Burgundy of Bordeaux', so superb is the characteristic finesse and velvety texture of its cuvées.
And if money really is no object for this gift…if you're offering the wine of a lifetime…if you want to thoroughly outshine the hoards of re-gifted aftershave and novelty socks…it has to be a bottle from Château Lafite Rothschild.
You'll find our full Bordeaux selection here. And keep an eye out for the next instalment of our gift guide!