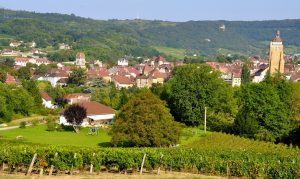 Domaine du Pélican is the result of a Burgundy winemaker falling in love with the Jura terroir. This is not the owner's, Guillaume d'Angerville, only domain; Domaine Marquis d'Angerville in Volnay also belongs to him. However, he was drawn to the Arbois region by its charm and went on a quest there to find his new vineyard, which turned out to be the Pélican.
The domain is composed of 15 hectares of vines, of which 11 hectares are white and 4 hectares are red. The main varieties are Savagnin (60% of the planted white vines), and Pinot Noir (45% of the red vines). The many years spent searching for just the right spot in Jura were not in vain. All of Guillaume d'Angerville's stipulations when it came to finding a domain meant that he stumbled upon a rare gem whose unusual terroir creates quality wines.
The domain, which has held biodynamic certification since 2015, takes great care of its soils, using various mineral or organic solutions, and yields remain moderate. Always on a quest for the best quality, the hand-harvested grapes move through in the cellar with only the help of gravity. A pneumatic press is then used to get the juice out of the berries. After being aged in barrels and vats, the wines are precise, vibrant and bold.
The wines
Arbois Savagnin Ouillé Pélican 2018 et 2019
The nose is perfumed with apricot interspersed with intense floral aromas. The first drop of wine to reach the palate is candid Then exotic fruit flavours take over before moving into the slightly saline finish.
Arbois Trousseau Béranger Pélican 2018
Perfectly balanced between power, volume and delicacy, this wine needs to spend several years ageing to be able to enjoy it properly.