iDealwine is well-known for stocking fine wines: mature vintages, large formats, legendary domains of yesteryear and today, illustrious regions, sought-after appellations, etc. You know that you can always find the unfindable on our website! But does the same go for spirits? The nearly 300 bottles available at fixed price is nothing for us to blush at. Just like the wines we stock, these spirits are all highly prized. Read on to discover five exquisite Scottish whiskies. Today, we're highlighting the work of Milton (Strathisla), Dalmore, Macallan, Glen Grant and Kinclaith.
WHISKY KINCLAITH 40 YEAR OLD – 1969
The Kinclaith distillery is known throughout the world. It unfortunately closed its doors from the final time in 1975 but when making its whiskies, it would use water from the majestic Loch Katrine, a lake of more than 1,200 hectares.
A symbol of its rarity, only 217 bottles were made of its 40 year old 1969 single malt, which was aged in hogshead barrels and bottled in 2009.
WHISKY DALMORE CONSTELLATION CASK 10 – 1973
Launched in 2012, the Constellation is a suite of 21 vintages spanning from 1964 to 1992. It is the result of a radical selection by Richard Paterson (OBE) over 15 years. Each bottling demonstrates the influence of the choice of barrels has on the style of whisky, all while illustrating the consistency in quality that Dalmore has retained over the years.
The 1973 vintage was aged for 32 years in American white oak barrels, then for three years in barrels that had previously housed Château Haut Marbuzet's wine (Saint-Estèphe) before spending three years in old Kentucky bourbon barrels. Meaning that that it was aged for 38 years in total.
The 1969 and 1989 vintages can also be found on iDealwine, waiting for you to discover them.
WHISKY MILTON (STRATHISLA) 72 YEAR OLD, GORDON & MACPHAIL – 1949
Did you know? Between 1890 and 1951, the Strathisla distillery went by the name of Milton.
Distilled in 1949 and aged for 72 years in Sherry puncheon, this Milton single malt is an exceptional whisky produced in tiny quantities. Only 180 bottles are available of it in the entire world.
WHISKY GLEN GRANT 67 YEAR OLD SHERRY CASK ANTIPODES GORDON & MACPHAIL – 1955
Founded in 1840 by John and James Grant, Glen Grant is one of the only distilleries to bear the names of its founders. It is reputed for its light and fruity whiskies but this one which has been aged for more than half a century takes on deeper tones and infinite complexity.
This single cask distilled in 1955 spent 67 years in sherry barrels, acquiring an amber colour and a large range of aromas over the years. Despite the decades that have past, it has retained a brilliant freshness.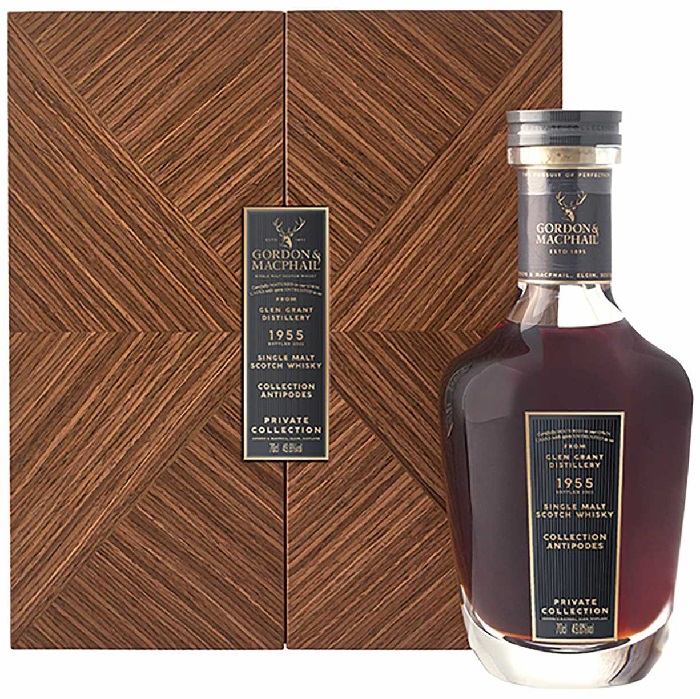 WHISKY THE MACALLAN 30 YEAR OLD DOUBLE CASK (2022 RELEASE)
Take the best single malts from an illustrious Scottish producer, The Macallan, and age them for 30 years in American and European oak barrels (seasoned with Oloroso sherry) – oak from northern Spain, the Pyrenees, Ohio, Missouri and Kentucky – and you get a prestigious whisky.
Shop all spirits available on iDealwine