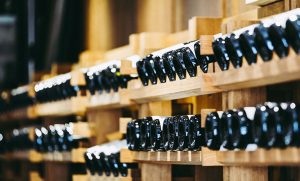 Looming post-pandemic economic concerns spurred by recent interest rate hikes and tech-industry layoffs have many of us worried about our current investment portfolio. Diversification is perhaps the most effective hedge against portfolio risk, but it can seem like a difficult task when undertaken outside of professionally managed mutual funds and retirement plans. Alternative investments such as fine wine or art can sometimes provide a fantastic counterbalance to traditional asset classes such as stocks and bonds. Historically, fine wine has been a particularly strong option. Keep reading below to learn more about fine wine as an investment and how iDealwine offers a 360-degree solution to take advantage of this opportunity.
The fine wine opportunity
Generally speaking, the attraction to alternative investment classes tends to be focused on their low corelation to standard assets like stocks and bonds. While alternatives such as fine wine can change quite a bit in value, they have historically experienced lower volatility over time. Lower volatility, coupled with the fact that there is a physical asset behind the investment (the bottles themselves) can make fine wine particularly interesting during complicated economic periods such as a recession.
With some alternative investments, it can be difficult to access data, creating a steep barrier to entry. However, there are a vast array of companies that offer insights into the fine wine market. For example, iDealwine uses a proprietary algorithm, Cote iDealwine© (iDealwine's price estimate), to estimate auction prices by vintage, appellation and label based on a database of more than 3 million prices registered at French auctions since 1992. These estimates are readily available free of charge on iDealwine's website.
According to most reputable sources (including our own in-house price index – iDealwine-100®) the market for fine wine has historically grown at a CAGR in line with the S&P 500 (around 10% annually). For a recent example we can look at auction prices at iDealwine in 2020 versus those in 2021, where we experienced exciting growth rates nearly across the board. During this time period, average bottle prices for Rhone, Jura, Languedoc-Roussillon, and Burgundy all grew by over 20% at iDealwine auctions. Due to this recent surge in prices, the Cote iDealwine© has even had to be manually updated at times in order to be as current as possible. There are plenty more examples like this to be found throughout the industry which point to both positive and stable growth figures. It is important to note, however, that the speed of recent price increases could of course lead to elevated volatility in the short term.
At the end of the day, placing your hard-earned money into an investment will always feel more comfortable when you have support along the way. When it comes to purchasing, conserving, and reselling fine wine, iDealwine offers uniquely personalised customer service and industry leading data throughout every step in the process. With the interconnected range of iDealwine services outlined below, customers can seamlessly move through the steps of the buying and selling process without ever having to use another platform.
Benefits of investing and reselling through iDealwine
There are many benefits of compiling a fine wine investment portfolio through iDealwine. Chief among them is the 360-degree nature of our platform. iDealwine offers clients the opportunity to buy, store, estimate, and eventually sell their wines all within the same website ecosystem.
First and foremost, iDealwine is the #1 online wine auctioneer in Europe, managing over 50 auctions per year with nearly 200k bottles sold at auction in 2021. In addition to our online auctions, iDealwine also offers a large selection of fixed price bottles, where customers can benefit from iDealwine's partnerships with over 800 producers. Through this multi-channel approach, clients have access to a plethora of rare and exciting products with great aging potential and high price expectations.
Not sure where to start? iDealwine also offers a Tailor-Made Cellar service, giving clients access to in-house experts with years of experience in the industry. The consultation service is free of charge and upon placing an order with one of the iDealwine experts, clients will also receive a complimentary bottle of wine, a cellar booklet with the details of their new collection, and a personalised follow up.
In between the buying and selling process, it is of the utmost importance that the wine you've purchased is appropriately stored and evaluated. iDealwine offers an in-house storage solution, the iDealwine Storage Cellar, which assures clients and future buyers alike that the bottles were aged in an environment worthy of fine wine. The temperature- and humidity-controlled facilities include high-tech security equipped with video surveillance as well as insurance for the bottles in case of damage. The wines are also professionally photographed and estimated by our team of experts, providing even more piece of mind that the process is being handled as responsibly as possible.
When it comes time to sell, clients will have access to a vast array of potentially interested buyers from all corners of the globe. Additionally, if the client purchased and stored their bottles entirely through iDealwine, they will receive a 20% reduction in seller fees at auction, further increasing the value of their investment.
In brief, a quick example of this 360-degree investment opportunity would look like this:
Having fun while boosting your portfolio
Choosing wine as an alternative investment can be both productive and enjoyable at the same time. Of course, there is a financial opportunity here, but there is also the opportunity to learn more about a world rich in history, language, creativity, and culture. Behind every layer of the wine business there is a deep passion for the product shared between producers, merchants, consumers, and investors. This type of passion is what drives iDealwine to help our clients find the products they care about and believe in most. There is a lot that goes into the changing value of a bottle of wine, but an increase in value is often a signal of excitement and belief. Belief in the rarity, the vintage, the terroir, and the producers. These are the things that go beyond numbers on an excel sheet, and they are what make investing in fine wine such a uniquely enjoyable pastime!
Final notes about using iDealwine to invest in fine wine
iDealwine offers wine lovers all the necessary tools to make buying decisions, manage their collection, and follow price estimates. Certain products experiencing high demand could see a rapid evolution in their price during a short period of time. This speculative phenomenon results in disequilibrium between supply (which is limited) and demand (which can be global for some bottles). Please note that wines acquired by iDealwine via allocation by our partner domains are not resold at auction. These wines are exclusively destined to be sold at fixed price.
Lastly, iDealwine would like to remind readers of a few key points:
As with many other investment vehicles, investment in fine wine should be considered a long-term commitment (minimum of 8-10 years). This is necessary to realise both the potential for large increases in collection value and the relatively low volatility. These will typically occur more often in the long run than in the short run.
We also recommend that those choosing to invest in fine wine possess a minimum knowledge and appreciation for the products that they are purchasing. There are many factors that influence the price of fine wine. However, it is very important that customers choose products that they would someday like to taste, having identified value in the producer, the label, and the vintage.
If a customer finds that they are in need of short-term liquidity, they do have the choice to sell their wine back to iDealwine at a fixed price.