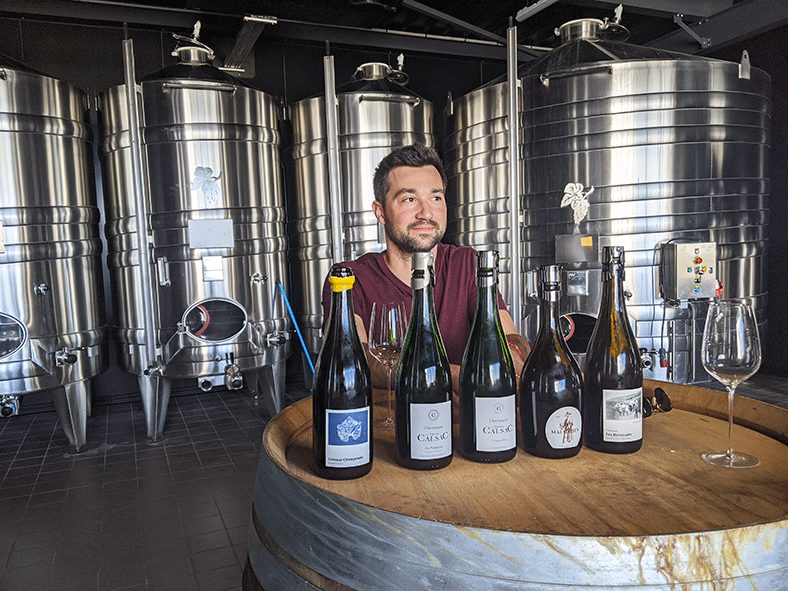 Founded in 2010, Domaine Etienne Calsac has already gained a nice reputation among champagne lovers. A careful viticulture with precise and natural vinification brings together respect for tradition with innovative new methods.
A Champagne domain from scratch
Domaine Etienne Calsac arrived in the world of wine only recently, as it was in 2010 that this ambitious vintner decided to start the venture. His links with the industry were few and not so direct; he began by renting his grandparents' vines in Avize, a family who had grown and sold their grapes.
Whilst Etienne didn't have an established domain ready to inherit or a childhood in the vineyards to boast of, his interest was clear, having studied at a viticultural college and helped make wine in domains in France and abroad (California, New Zealand, Canada). Upon returning to France, he set up in his native Champagne.
We talked to Etienne about the challenge of starting a domain, both in personal and technical terms: 'The first years are pretty difficult, financially because you have to create stock before finding any kind of commercial outlet, but also mentally and physically. It took a lot of time and energy because I was on my own at the beginning, unlike on family domains where the workload and pressure can be shared between several people'. Whilst he didn't have a direct mentor, so to speak, he still found a network of wine making friends whose help and advice were crucial while taking his first steps.
Fortunately for Etienne, he was quick to see the fruits of his labour, but he hasn't forgotten the storms he weathered to get to where he is. 'I'm still really proud of creating all that', he told us. Now, there are four people working at the domain, all invested in its success.
Organic methods and forgotten grapes
This is a modestly-sized domain covering 2.8 hectares between Avize and the Marne Valley. To complete the produce from his own vines, Etienne buys grapes from his family. Notably, the doman features a 'clos', the Clos des Malandres, which is quite a rarity for the Champagne region.
To begin with, Chardonnay was pretty much the only grape grown on the estate, but Etienne decided to use some of his plots for cultivating ancient grape varieties: Arbane (or Arbanne), Pinot Blanc, and Pinot Meslier. Overall, these vine species represent just 0.3% of the kinds of grapes planted in the region. 'I have always been intrigued by these old varieties. I deeply love wine and enjoy blind tasting, and these grapes add something really interesting to the tasting experience, bringing a balance of alcohol and acidity. They are also a clever choice in light of climate change, as they've reacted well to hotter years. Petit Meslier is really my favourite with its great balance and freshness. Arbane is also enjoyable, but it's a capricious grape, sometimes late to ripen and producing low yields.' For now, these varieties can be found in his Les Revenants cuvée, as well as a small proportion in the Coteaux-Champenois. Whilst Etienne isn't the first to go down this path, it certainly isn't an easy one, and he remains very much a minority in his approach: 'It's long work, I have to replant vines and wait several years before getting results'.
Etienne's own vines are cultivated organically (he got certification this year), but his purchase of non-organic grapes means his wine can't be labelled as such. The goal is for the whole family domain to be certified before too long.
Natural vinification and original cuvées
Once the grapes have been harvested, what happens in the winery involves very little intervention. Fermentation is spontaneous, using yeasts that have been carefully selected from the domain's grape juice, allowing for a process that retains the identity of its terroir. At the same time, this method of selection keeps a certain continuity from one vintage to the next, marking it with Calsac character.
One of the more original steps taken by this domain is its bottling with cork. Only a couple of other producers in the region have returned to this method, such as Bedel and Bérêche. The idea is as follows: before the second fermentation, the bottle is closed with a cork instead of a capsule. This cork is then removed during disgorgement before being replaced with another cork. The process has to be carried out by hand, as there isn't yet a machine that can place the staple in place. Despite the extra work and extra cost of this choice, Etienne explains that it's worth it, as the cuvées undergoing this method are creamier in character and more vibrant.
Etienne Calsac likes to innovate. He is always questioning the way he works, experimenting, vinifying in new ways…His latest project is a brand new cuvée: a single-parcel blanc de noirs from Aube. This will be the estate's first ever blanc de noirs! Etienne also aims to develop a 100% Petit Meslier cuvée…
What about the 2021 vintage? Our vintner tells us that he's come out of it alright considering the catastrophic conditions. The Chardonnay grapes didn't suffer too much in this part of the world, though his Aube plots were affected by the frost. 'It wasn't simple but we got through it ok, plus we were lucky to have a bit less rain than elsewhere. The harvest is decent in the context of the vintage as a whole.'
These champagnes are fine, fresh, and pure, perfect for an aperitif. You can find our full selection of Etienne Calsac cuvées here.