A few days ago, the Barton family celebrated a remarkable anniversary in their own elegant way: the acquisition, 190 years ago, of 50 hectares of land in the Médoc that now forms the Léoville Barton vineyards.
A few days ago – first in Paris and then in London – the Barton-Sartorius family gathered to celebrate 190 years of its founding in the Médoc.  In the region, that sort of continuity is almost unheard of! The Bartons' Médoc association actually goes back a little further than even that, to 1722, when Irish-born Thomas Barton moved to Bordeaux to found a trading house. His grandson Hugh Barton bought the "Langoa" charterhouse, surrounded by 20 hectares of vines, in 1821. And in 1826 he took the opportunity of acquiring 50 hectares of vines from the partitioning of the De Léoville estate:  and thus Léoville Barton was born. A lunch at the Le Clarence restaurant in Paris, and then a similar event in London, brought together three generations of the Barton family: Eva Barton (wife of the current owner, Anthony Barton), daughter Liliane Barton-Sartorius – and her grandson Damien Sartorius, who now assists his family in running the estate. It was the perfect excuse for sampling five successive vintages of Château Léoville-Barton, as part of a lunch featuring food and wine pairings meticulously devised by Antoine Petrus, in consultation with Christophe Pelé, the chef of Le Clarence.
Lunch started with a newcomer… the Château Léoville-Barton 2006. Accompanying a delicately full-bodied broth dotted with hare ravioli, the acidity and tension of the very youthful 2006 resonated with the slightly acidic aromas of the ravioli, creating a delicious, mouthwatering pairing.
The 1996, a real Léoville-Barton classic, now just starting to reach its peak, formed a beautiful marriage with the red mullet decorated with lardo di Colonnata, which brought out the slightly smoky and spicy aromas of the 1996 to perfection. A beautifully concentrated wine, combining power and elegance to form a very balanced whole.
The majestic 1986 formed the regal high point of the lunch, served with a duck roasted to perfection, decorated with foie gras and wild mushrooms. A sumptuous example of a wine with incredible density – very elegant but not austere, with wonderfully mellow tannins. This 1986 is now at its peak, but should still be great for years to come. What power in the mouth, and what persistence!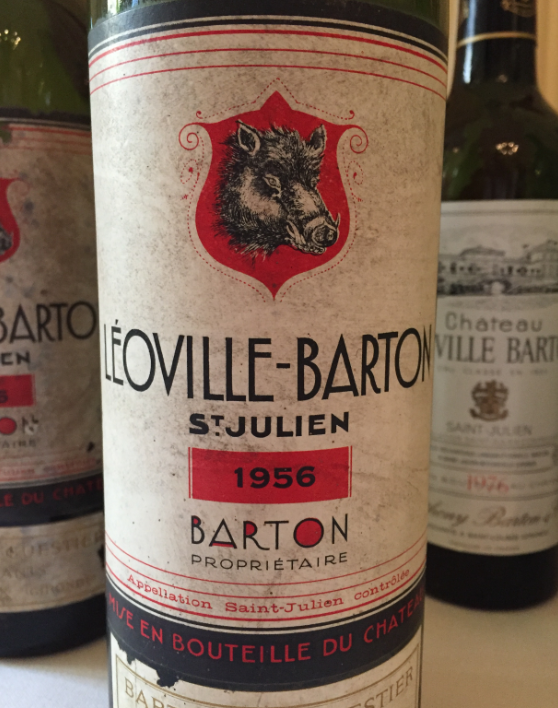 To round off this delicious set of years ending in six, the Barton family had chosen a 1976, with a very delicate fabric and a silky and fine texture, to accompany the Saint-Nectaire cheese – and, finally, a collector's wine: the Léoville-Barton 1956, a survivor of a difficult vintage, sporting the extraordinary "wild boar" label of that era.
Happy birthday to the Barton family, and may we wish you many more years in the Médoc to keep delighting us with your wonderful, dense, concentrated and admirably velvety wines.
Lookup a price estimate for a wine
Lookup all Léoville Barton for sale
To read further on iDealwine Le Blog:
Sulphure in Wine: is it good or bad? 
Not yet a member? Quick and free registation on iDealwine.com