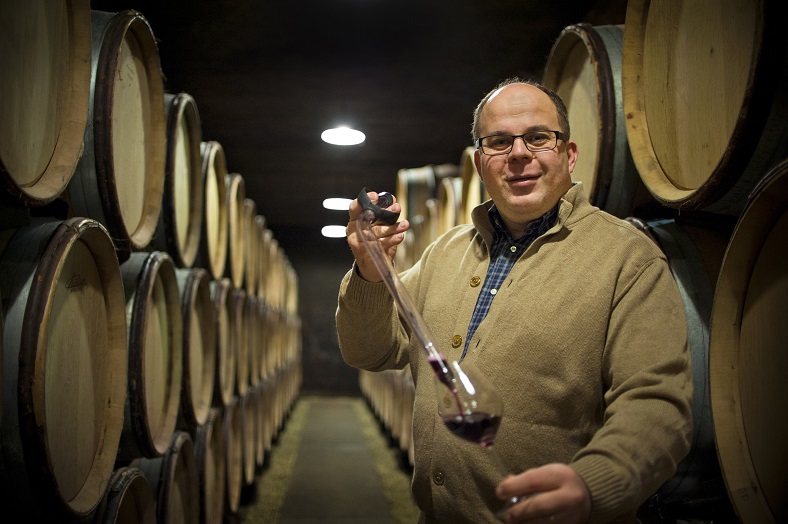 In Burgundy, perhaps more so than elsewhere, wine is a question of tradition. And the Juillot family is no exception to the rule. Established for generations in Mercurey, this domain now radiates across the whole Côte Chalonnaise. A true virtuoso of Chardonnay, Laurent Juillot likes to craft this grape variety in all of its styles, to everyone's great delight. Whilst his wines are still accessible, we suggest you don't wait too long…
Established at the heart of Mercurey for four generations, the Juillot family, still understated outside of Burgundy, is an integral part of landscape of Chalon. When Michel Juillot took over the family domain in the 60s, the domain only covered a few hectares in the Mercurey area. In the space of a few decades, the family vineyard grew to 31 hectares after expanding to Rully and then further north in the prestigious village of Corton.
In the mid-90s, whilst the domain was working splendidly, Laurent (grandson of Michel Juillot) returned from travelling with great ambitions. After having explored the vineyards of the New World, he wasn't scared to break certain rules in a region where tradition is deeply-rooted. It was with the support of his grandfather that Laurent began the transition towards sustainable agriculture, especially respectful of the terroir. Not fighting for certification, however, he didn't make the full conversion to organic production.
In the vineyard, he carries out massal selection and there's no question about the method, harvesting is always done by hand. He also makes use of meteorological equipment in order to minimise the effects of climatic variations. It's important to note that Laurent Juillot works only with indigenous yeasts. A true gauge of quality, this allows the winemaker to faithfully transcribe into his single-parcel cuvées the expression of each terroir without artifice. In the winery, he continues to take an innovative approach, with the vatting process making use only of gravity so as not to disturb the juicy and in order to create greatly elegant wines.
As you can see, Laurent Juillot puts everything into his wine, and the result is wonderful!
The Mercurey premier cru Les Champs Martin is bottled after 18 months of maturation in barrels (30% new wood). Planted in 1973, the vines are located at an altitude of 260 metres and are exposed to the south-west. What we have here is a wine that is charming to taste with a long, harmonious finish, perfect to serve with dishes like Dijon-style veal kidneys.
The Juillot domain here presents a magnificent Corton-Perrières. A concentrated wine which, after 5-10 years of ageing, will surely reveal its delicate substance and its fruity juice. Ideal with light meat dishes or perhaps an autumnal vegetable gratin.
This Mercurey has energy to spare! Enjoyed in its first five years, it will give off aromas of ripe, black fruits, as well as more earthy notes that give it character. Its texture and its complex finish make this cuvée a superb wine, perfect to accompany a meat dish in sauce. True to its principles, the domain carried out sustainable growth and vinification without intervention with indigenous yeasts. The wine was matured for 16 months in oak barrels.
The creation of this Corton-Charlemagne Grand Cru was a traditional one: harvest and selection by hand, whole grapes in the press, settling for 12 hours, fermentation in barrels…On the palate, the quintessential character of the Chardonnay is evident, as well as its aromatic complexity (toast, spices, floral and fruity notes). A fine, white wine with an ageing potential of 10-15 years.
The domain has here produced a Mercurey premier cru with aromas of raspberry liqueur, blackberry and spices. Its palate is rich and generous, and the finish particularly frank and persistent. Slightly austere, it softens little by little. It should be enjoyed within its first ten years. To make it, the domain carried out harvests by hand, meticulous sorting and total destemming. The vinification processes involve very little intervention and only indigenous yeasts. As for the élevage, it lasts for 18 months in oak barrels (25% new wood).
What do the guides say?
La Revue du vin de France
The history of the Juillot family is linked to the fame and quality of the Mercurey appellation. The domain, today led by Laurent Juillot, covers over thirty hectares between the Côte Chalonnaise and the Côte de Beaune. Combining the historic savoir-faire of his family with his own innovative spirit, Laurent crafts his wines in a way that is faithful to the terroir. Along with the plethora of Mercurey premiers crus, we should also mention the exquisite red Corton-Perrières and the especially rare Corton-Charlemagne, two of the domain's indisputable jewels.
The wines: The white Rully Les Thivaux, with its accents of chalk, flowers and light wood, is a model for the appellation, in terms of both flavour and price. We have tasted a great range of Mercurey wines: in white, Les Vignes de Maillonge has a charming balance with a fine, creamy profile. Les Champs Martins has a very strong, oaky character (perhaps a bit too strong), cause for those who love lush Burgundian wine to rejoice. Firmer, Clos des Barraults is equally marked by a slight oakiness: those who can wait are bound to experience a superb tasting moment. The Corton-Charlemagne stands its ground. This voluptuous grand cru is structured by a luxurious oaky profile and has begun to balance itself out. As for the reds, Clos des Barraults is, for the moment, quite austere, so should be left to refine in the cellar. Clos du Roi delivers an intense finesse. Its delicately fruity profile doesn't reduce its capacity for ageing. Les Champs martins offers the purity of mature Pinot Noir in a full, juicy palate. Its oaky character is very subtle, as with the 2016. The innate depth of a Pinot grand cru, scintillating and vivid, comes to the fore with the Corton-Perrières. A particularly fine 2017 which worthily follows its predecessor.
Bettane & Desseauve
Laurent Juillot is at the helm of this family domain of 31 hectares of vines, located in Mercurey and Corton. Careful growth of the vines, perfect mastery of balance in the cellar, without pumping and very little intervention to leave the fruit as intact as possible. Everything is thoughtful organised, creating superb cuvées, matured in casks and demi-muids. The new labelling on the bottles, more modern in their style, is in step with the spirit of the estate.