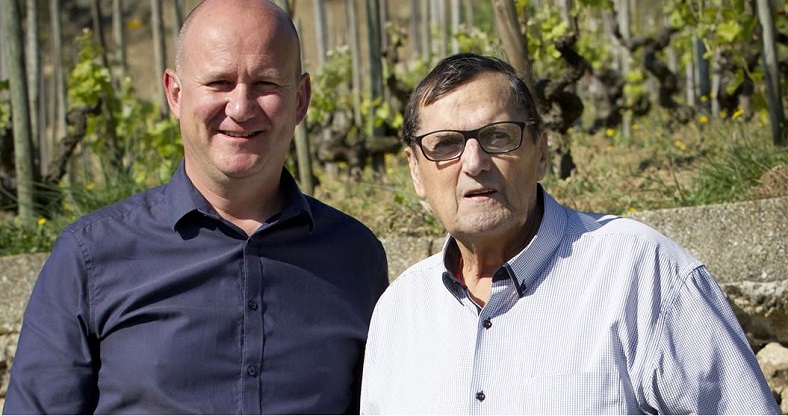 Less widely publicised than Côte-Rôtie or Hermitage, the Cornas appellation nevertheless produces particularly fine wines from Syrah vines. And, among the leaders of Cornas, Domaine Alain Voge creates cuvées capable of rivalling the best reds of the northern Rhône. We had the opportunity to interview Lionel Fraisse, the current owner.
This discrete domain of 13 hectares is well known among Syrah fans, and this has been the case for a long time, since Alain Voge was a pioneer of the Cornas appellation. He replanted several abandoned Syrah plots (for reds), bringing out the best of an old vineyard located on steep, pebbly slopes. In his capable hands, these grands crus of the northern Rhône were reborn…
The domain which, like many in the region, practices polyculture, has been established in Cornas for several generations. It was in 1958 that Alain Voge joined his father on the family smallholding and decided quickly to abandon polyculture to focus on wine. This was an audacious gamble since, despite their old age, the Cornas and Saint-Péray appellations were 'sleeping beauties' at the time.
Alain Voge went on to disrupt the tradition by replanting on slopes that had been abandoned for almost 30 years and developing direct bottle sales. Supported by his wife Eliane, he set out on a mission to spread the word about his wines on a regional and national level. Due to the quality of his products and this innovative approach, he quickly built up his domain's reputation. He spent some time under Albéric Mazoyer, manager and associate of Alain Voge from 2004-2018, before progressing further and making a start in organic production. Thus, since 2013, the whole vineyard is run using biodynamic agriculture, where an artisan and entirely manual viticulture is practiced on the slopes of the Rhône's rive droite.
In the cellar, the grapes are destemmed or vinified partially as whole grapes. Fermentation takes place in small, stainless steel vats of 30-50 hectolitres in carefully managed temperatures and stirring once or twice a day. Maturation then takes place in barrels. The length of this varies depending on the strength and needs of each wine, generally between 14 and 24 months.
Since 2018, Domaine Alain Voge has taken a new direction. Lionel Fraisse has taken up the torch from Albéric Mazoyer, of whom he had been the apprentice since 2012. Choosing to pivot his career in towards the wine sector at the age of 45 and hoping to reconnect with his family origins (the Saint-Péray vines cultivated by the domain belong to his uncle), Fraisse now manages a team of over 10 people. The number of employees could seem surprising considering the domain's surface area, but you have to remember the difficulties involved in cultivating vines on such challenging, sloped terrains whilst retaining clean principles.
Albéric Mazoyer's ambition was to introduce sustainable growth, not a widespread practice beforehand in this appellation (Fraisse reminds us that it was chemicals that allowed for the exploitation of the slopes in the 1970s), and his successor is no less of a visionary. He would like, whilst retaining the importance of human expertise, to embrace the technological revolution, perhaps using robotics and drones. His other objective, one that's bound to please us as wine enthusiasts, is to produce cuvées of advanced maturity – a challenge that requires the production of superb harvests.
But what has become of Alain Voge? Even though he's in his eighties, the owner hasn't left his vines. Quite the contrary! Still very invested (his house is the heart of the winery), he is committed to producing wines reputed for their freshness and finesse, whilst respecting the powerful structure of the two appellations. If you're a seasoned taster, you might have noticed that the transition to organic production has brought a lovely dose of freshness and salinity to the wines. You will all be able to appreciate the future 2019 vintage which holds some pleasant surprises: despite the drought, the old Saint-Péray Marsanne grapes and the Syrahs of Cornas benefited from some end-of-season rain, ensuring beautiful juice from the grapes.
This Syrah cuvée comes from terroirs near to Cornas and is matured for 12 months in 4-year-old barrels. It offers the typical aromas of the region: macerated fruit (blackberry, cherry), pepper, liquorice. As for the palate, it has a juicy, round, supple and elegant character with a hint of freshness. This wine is made to be enjoyed young, within 3-4 years.
With Les Bulles d'Alain, Alain Voge has chosen to continue the use of the traditional Saint-Péray method. A success owed to the careful work carried out in the Marsanne vines that he cultivates following biodynamic principles. These vines, around 30 years old, grow in granite soils. Voge opts for early harvests at the beginning of September which allows the grapes to preserve all their freshness and their fine, floral aromas. Once they get to the winery, the grapes are not crushed but directly pressed. The wine is then developed using the traditional method. This means that it is fermented for the first time in small steel and concrete vats before a second fermentation takes place in the bottle. This brut nature is then aged on slats for at least 3 years.
Rechristened in 2015, this cuvée was previously called Cuvée Boisée then Terres Boisée. This referred to the cask élevage on lees that built the avant-garde reputation of the winemaker, at the heart of the appellation. Grown biodynamically followed by élevage in oak barrels (30% new wood in 228- and 400-litre barrels), this wine offers a roundness and an exceptional aromatic richness. Notes of almond paste and vanilla are lifted by a mineral freshness which brings length and a good ageing potential.
At the heart of the Saint-Péray appellation, just above the eponymous village to be precise, the Marsanne vines, 80 years old and elders of the domain and the appellation, produce their fruit on a granite slope mixed with chalky deposits. The secret of reaching such a grand age? Voge treats the vines with biodynamic methods. The harvest is carried out by hand before the grapes are then vinified with indigenous yeasts in oak barrels (30% new wood). Newt, the wine is matured on lees for 16 months in order for the aromas, body and roundness to evolve. It offers an incredible aromatic bouquet: yellow fruits, white flowers, toasted brioche, as well as contrasting notes of salt and caramel. Surprising but divine!
This cuvée owes its name to the slope's proximity to the chalky Arlettes mountains which allow for the formation of a particular silica stone known as 'chailles'. The Syrah vines, 40 years old, have been certified as organic since 2016 but are grown according to biodynamic principles. This means that the harvests are, of course, carried out by hand. Fermentation occurs with indigenous yeasts and the grapes macerate for several weeks in stainless steel vats, with two sessions of stirring and pumping-over every day in order to extract all the substance and colour. Rich and powerful, Les Chailles is lifted by a pleasantly acidic touch. This wine can be enjoyed as easily in its youth as in the fifteen years following its creation.
The domain's classic cuvée, this wine is also the oldest. From 60-year-old vines deeply rooted in granite soils, it was crafted with a great respect for nature. The grapes were harvested by hand, partially destemmed, then fermented with indigenous yeasts before being macerated for several weeks in stainless steel vats. During this time, Voge and his team carry out regular stirring and pumping-over, up to twice a day. The success of this cuvée has indeed stood the test of time, as will your bottle – it has an excellent ageing potential. Leave it for a good twenty years in the cellar before enjoying it alongside a game dish.
What do the guides say?
RVF Guide of France's Best Wines (**)
This beautiful domain, led since 2004 by Albéric Mazoyer, has taken its place once more among the finest of the Cornas and Saint-Péray appellations. Previously of Maison Chapoutier, Mazoyer directed the transition to organic production on this rocky, sloped vineyard, cultivated entirely by a human workforce. The period of élevage has finished, and the wines offer an authentic, natural concentration with a much better level of freshness than previously seen. This year, we've awarded the domain with a second star.
The wines: To our knowledge the best sparkling Saint-Péray, Les Bulles d'Alain is a generous Brut (notes of sweet pear), with strong character (95% Marsanne), for a sparkling quality built on the boldness of the attack. To be savoured, it is kept on slats for 2 years. The Saint-Péray trilogy from 2012 is impeccable. Harmonie has a sweet and greatly elegant juice. A cuvée that has made superb progress. It is like the Terres Boisées in that its finish is marked by light tannins. In a slightly simpler tone (toasted sesame), Fleur de Crussol plays on its woody profile without losing any freshness. A red from 2012, the Saint-Joseph Les Vinsonnes is as light as lace, fine, fresh and juicy – a delicacy to be enjoyed young. There is naturally a less rich style for the Cornas cuvées, carried by the acidity of the granite that brings out the Chailles tannins without hardening them. The Vieilles Vignes makes up for this tension with a fresh, soft sweetness. As for the Vieilles Fontaines, it conserves beyond its vintage a density of silky tannins and an earthy character,making it one of the finest Syrahs of the Rhône.
Guide Bettane+Desseauve (***)
Alain Voge, still perky at the age of 80, transferred the operational direction of his domain to Albéric Mazoyer in 2004. Albéric has recently retired, passing on the job to Lionel Fraisse in 2018. Voge crafts referential Cornas and Saint-Péray cuvées on his 13 hectares of certified organic land, with an intelligently constructed range. At the top, the Cornas Les-Vieilles-Fontaines is not produced every year (2017 and 2018 have not been). You should try the delicious sparkling Saint-Péray, Les Bulles d'Alain, it's a wonder on the palate, reconnecting with the sector's traditional sparkling wines, which dates from way before the creation of AOCs.