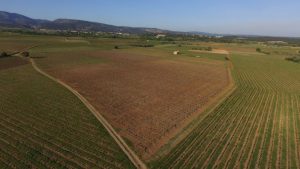 Take a young, ambitious couple, add an education from top winemakers, and round it off with an exceptional terroir – and you will end up at Clos de la Barthassade!
Hélène and Guillaume Baron lead us around their domain in the heart of the famous appellation Terrasses du Larzac, one of the most beautiful wine-growing areas in Languedoc. Driven by their sustainable beliefs, this promising duo have lit up the wine world with their take on southern wines which combine freshness, richness and elegance.
An ambitious and promising couple 
When youth, experience and boldness unite in the middle of Larzac, it can only produce sensational wines! And that is exactly what Hélène and Guillaume Baron have been up to the past 10 years. Having learnt at some of the best vineyards, these two thirty-somethings could only dream of doing something like this in the future. Hélène Baron learnt at a Domaine de la Pousse d'Or in Burgundy as well as in the vineyards of another Burgundy figure, Sylvain Pataille. Guillaume Baron was also taught by a winemaking legend, Dominique Derain at his Domaine de Trévallon in Provence.
Respecting the soil and the vines is top priority
Choosing the name "Barthassade" was not by chance. It comes from "bartas", a word in the local Occitanie language which means "undergrowth" or "shrub" and is a nod to the dense woods that frame the plots. Located in the communes of Jonquières, Saint-Saturnin and Montpeyroux, these parcels stretch over 13 hectares and are separated into blocks. The vines, which are between 30 and 40 years old, blossom on the soil made up of schist, limestone and sandstone from the Palaeozoic era. Syrah, Mourvèdre, Grenache Noir, Cinsault and Chardonnay all grow here as well as one surprise – Chenin!
To amplify the unique soils found on the property, Hélène and Guillaume follow organic and biodynamic practices. In fact, Dominique Derain and Sylvain Pataille were trailblazers when it comes to employing these methods that respect the environment and use as little intervention as possible. Hélène and Guillaume conduct most of the work in the vineyard by hand to protect the soil and the biodiversity found there. They choose not to use a tractor in the vineyard, which would compress the soil and therefore, damage it, opting to use a horse and plough instead. To top it all off, Hélène and Guillaume don't use any pesticides or insecticides and limit the use of sulphur and copper.
A vinification without chemical substances or agents
"Our plot-by-plot vinifications are all natural, and we age the wines using traditional methods," explain Hélène and Guillaume. They make the wine from each plot separately and only use natural yeasts in order to allow the terroir to shine through. The hand-harvested grapes are meticulously sorted before they are left to ferment without any added sulphur. The traditional aging process takes place in a mixture of casks, cement eggs, demi-muids (600-litre barrels) and stainless-steel vats.
Since their first vintage in 2014, a significant number of wines lovers have not stopped falling in love with their unique wines.
Wines from Clos de La Barthassade
The whites
IGP Pays d'Hérault vermentino Le Clos de la Barthassade 2020
If you were to summarise this wine in one word, it would be flavourful. The palate is full of wonderful aromas with yellow fruits being the standout one.
IGP Pays d'Hérault Blanc de cinsault Le Clos de la Barthassade
A lively wine enhanced by an ample, fruity palate with a long-lasting finish.
The reds
IGP Pays d'Hérault Billes de Grenache Le Clos de La Barthassade 2021
This wine will delight you with its notes of juicy cherries, cocoa powder and orange peel.
IGP Pays d'Hérault K Libre Le Clos De La Barthassade 2020
This 100% Carignan reveals intense notes of cherry and blackcurrants which are followed by woody aromas. A round wine with a fresh and balanced finish.
IGP Pays d'Hérault Pur C Le Clos de la Barthassade 2021
This completely supple and fine wine completely made from Cinsault brings together notes of elder, strawberry and red currants.
Languedoc Cuvée H Le Clos de la Barthassade 2021
Syrah dominates this cuvée which is full of black fruit flavours, creating a delicious ensemble.
Terrasses du Larzac Les Gravettes Le Clos de la Barthassade 2020
The extremely supple and voluminous palate hints towards woody notes and concludes with a velvety, fresh finish.
Terrasses du Larzac Les Ouvrées Le Clos de la Barthassade 2019 et 2020
This cuvée, dominated by Syrah, reveals a dense and supple palate punctured by notes of black fruits.